Blake Crouch's 'Dark Matter' novel adaptation coming to Apple TV+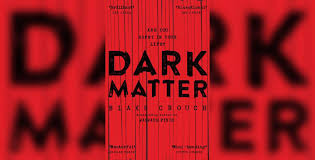 Apple has reportedly made a deal to bring Blake Crouch's "Dark Matter" to Apple TV+, with the author said to be doing the adaptation.
The move comes after a long period of pre-production at Sony, following a $1.25 million production deal with Sony in 2014. The property appears to be shaping up to be more of a series, rather than a feature film.
Other personalities associated with "Dark Matter" are Matt Tolmach and David Manpearl of Matt Tolmach Productions. Tolmach previousy produced "Jumanji," plus Hulu series "Future Man."
"Dark Matter" is a "high-concept sci-fi thriller int the vein of "Memento" and "Looper" says Collider who first broke news of the deal. Roland Emmerich was once attached to the project, but it isn't clear if he is still.
When asked to describe the premise of "Dark Matter," Crouch himself described the book as a cross-genre book, rooted in science fiction, and alternate realities.
A brilliant physicist named Jason Dessen is living in Chicago with his wife, Daniela, and son, Charlie. He is a true genius, and while there was a point in his late twenties when his research could have made him a star in his field, he instead chose a family-focused life. One night, while walking home, he's abducted by a mysterious masked man and injected with a drug. When he next awakes, his world has completely changed. He's no longer married, doesn't have a son, and has achieved professional success beyond his wildest dreams. This sets him on a thrilling, mysterious, and at times terrifying journey to learn what has happened to him, and to find his way home to the people and the life he loves.