TerraMaster D5-300C RAID Enclosure review: an inexpensive way to get bulk, local data storage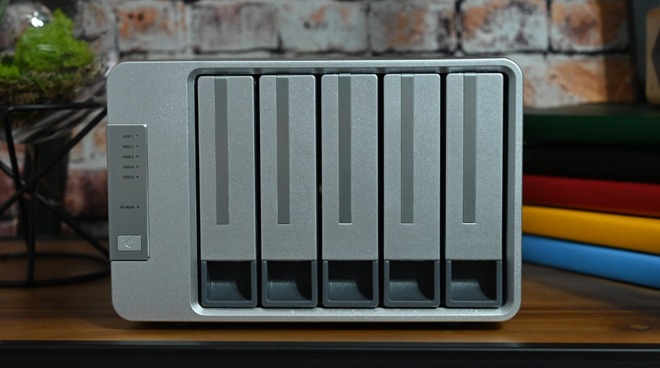 TerraMaster D5-300C
3.5 / 5
---
AppleInsider may earn an affiliate commission on purchases made through links on our site.
The TerraMaster D5-300C is external storage that can offer relatively speedy conenction to up to 80 terabytes across five drives, all connected to your Mac via USB Type-C.
The increased need for storage, especially in fields like video editing, can force some users to seek out external options to supplement their Mac mini or MacBook Pro's more limited internal capacity. The need for backups can also prompt a search for storage, and sometimes a single-disk external drive enclosure just won't cut it.
The TerraMaster D5-300C is an enclosure for your desk that adds considerable amounts of capacity to your computing setup. Sat not far away from your Mac, the enclosure can hold up to five 16 terabyte drives, with a maximum storage capacity possible of 80 terabytes.
Key specs
5 drive slots
Accepts 3.5-inch, 2.5-inch hard drives and SSDs
FAT 32, FAT 16, NTFS, and EXT4
80TB maximum capacity
Singe-disk, JBOD, RAID 0, RAID 1 support
USB Type-C 3.1 Gen 1 connectivity
410MB/s read, 400MB/s write speed
8.9 inches by 8.8 inches by 5.4 inches in size
Weighs 2.1Kg (4.6lb) unladen
External Appearances
Made from aluminum, the enclosure provides structure and heat dissipation, assisted by low-noise fans. The size of the enclosure itself isn't that much bigger than the five 3.5-inch disks you can fill it with, measuring 5.4 inches high and with a footprint of 8.9 inches by 8.8.
Around the back are the fan grills, as well as the USB Type-C port, power connection, and a selector to move between different RAID configurations. The front has indicators for each drive, power, and a power button.
Despite its small size, it can fit in up to five standard 3.5-inch hard disks, though it can also use smaller 2.5-inch versions and SSDs. The front sections lift up to show the drive sled, which can be pushed in and the cover clicked into place to securely install the drive.
Inside the box, you get the device itself, a power cord, a USB Type-A male to Type-C cable, a power adapter, and a veritable pile of screws for attaching drives to the drive bay sleds.
About those sleds — while the enclosure itself is aluminum, the sleds are decidedly not. The sleds are flimsy plastic, not even as sturdy as a thin Lego plate. While they get the job done, a better quality plastic or a metal tray wouldn't have been out of line here.
Drives are secured to the plastic sleds from the underside of the sled. The drive sleds slide into place along guides, and a front-mounted lever built in to the sled makes sure that the SATA connection is properly made.
Formats and RAID
The drives can be configured to be used in a few ways, including RAID 0, Raid 1, JBOD, and Single Disk. This is all done under a 2+3 RAID configuration, where the left two drives can be configured into RAID 0, RAID 1, or Single Disk, while the remaining drives work as separate independent drives without any RAID-related benefits.
This means users can enjoy the striping and mirroring benefits of RAID 0 and 1 for the first two drives.
The RAID configurations are selected with a hardware toggle on the back of the enclosure. This isn't as useful as using a software tool that could provide a finer interface and more customization options — but more on that in a bit.
The enclosure also includes support for HDD Sleep and drive hot-swapping, with the latter allowing for drives to be pulled and replaced without needing to turn the storage device off beforehand.
Once set up, it can be used as a storage location for Apple's Time Machine backup feature in macOS. While TerraMaster says you can hot-swap drives into and out of the unit, a drive reinserted into the unmounted drive bay wouldn't reliably mount on any Mac we tested from macOS Sierra to macOS Catalina, so don't count on this feature.
Connectivity and performance
This is not a network attached storage device. Connectivity is provided to a single host machine by a USB Type-C Gen 1 connector with up to 5Gb/s to play with for transfers.
External hard drive enclosures either have a hardware RAID controller that spans all the drives, or is just a bunch of disks, with no inherent RAID. The TerraMaster D5-300C is an oddity, as it gives RAID coverage for two of the five drive bays. This opens up an interesting use case of two SATA SSDs for max speed, and the three other drives for whatever you see fit. Alternatively, those three drives could be configured as a RAID 5 array with a tool like the newly Apple Silicon M1-compatible SoftRAID, as the TerraMaster RAID software doesn't work on the Mac.
In terms of what it actually pushes across to users, TerraMaster claims it is capable of a reading speed of 410MB/s and a writing speed of 400MB/s, using two SSHDs in RAID 0, namely striped drives.
AppleInsider's testing under Blackmagicdesign's Disk Speed Test with five 7200 RPM hard drives with 16GB of cache, configured with Apple's Disk Utility as a striped RAID, demonstrated a write speed of 412.9MB/s, effectively the same as the claimed writing speed, and a reading speed of 369.1MB/s.
To video professionals who may want to take advantage of the mass storage capabilities, the tool suggests it would be able to perform writing and playback of 4K60 footage in ProRes 422HQ, though it dips down to 4K30 for Cinema DNG RAW writes and reads, and 2K DCI 25 for 10-bit YUV 4:2:2.
While this isn't even close to as fast as an NVMe drive directly connected to a Mac, for example, the transfer speeds are still good enough for most normal data warehousing uses.
The enclosure isn't whisper-quiet but still noticeable. In a room with a 42 dBA background, the case filled with hard drives under no load is at about 45 dBA, Under heavy input and output with hard drives, it climbed to 51 dBA with drive chatter being more obvious than the fan. Under the same load with SSDs, it remained at 45 dBA.
The 90W power supply is easily able to handle five mechanical drives, with the company claiming a power consumption of 45.6W under load. We saw a bit less at 41.0W under load, but we do expect this to vary per user a bit, based on which drives are in the enclosure.
Good enough, for what you pay for it
We've used a lot of hard drive enclosures in our day. We've been impressed with some inexpensive ones, only to be let down by a failure during test, or too soon during private use. This seems to apply equally to cheap enclosures, and the best of them.
The TerraMaster D5-300C isn't the worst enclosure we've seen, and it isn't the best — but it does have a good price. And, we've been using it for almost a year, all day, every day, and it's still going strong.
The sheer quantity of storage capacity it can offer when fully packed with drives can be an attractive for power users who may want the benefits of a NAS, but with better access speeds — or on a budget. As a fairly good value enclosure, this is an inexpensive way for users to get this extra local storage without too much outlay on the enclosure itself.
You could potentially get both space for five drives, and better speed from the Thunderbolt-based version instead of this one that uses USB 3.1 Type-C Gen 1. You just won't get it for the $199 that the TerraMaster D5-300C retails for.
Five-bay capacity
Partial RAID options
Compact size
Low cost
Limited RAID option
Lack of fine-grain configuration
5Gbit USB-C isn't enough for even one SSD in the enclosure
Where to buy
The TerraMaster D5-300C is available on Amazon for $199.99. Drives are sold separately.