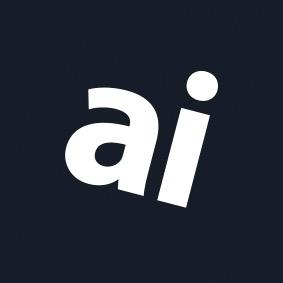 Why you can trust AppleInsider
AKKO World Tour Tokyo mechanical keyboard review: as functional as it is adorable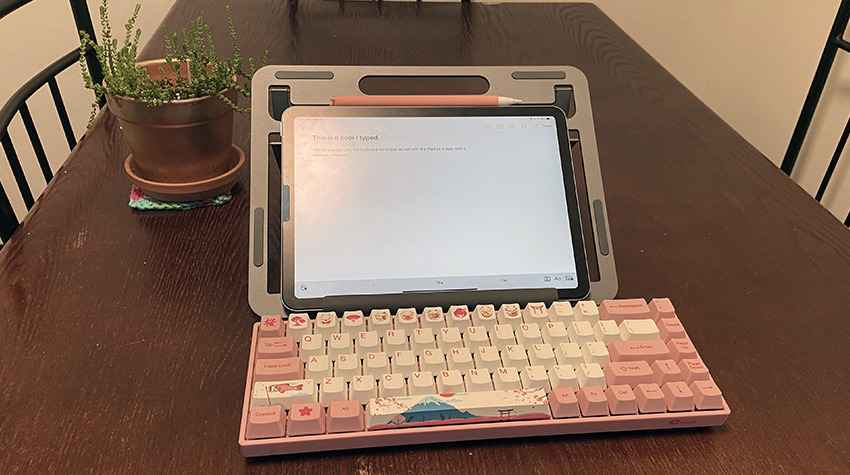 Akko World Tour Tokyo
4.0 / 5
---
If you're looking for a cute keyboard to liven up your desk or complement your iPad, you'll want to check out the Akko World Tour Tokyo mechanical keyboard.
Yes, we're aware that this keyboard isn't for everyone. It's cheerful pink and white design skews feminine, and the Japan-inspired keycaps don't exactly lend themselves to an office setting.
Yet, for someone who wants to add an instant pop of cuteness to their setup, you can't argue— the Akko World Tour Tokyo keyboard definitely makes a statement.
You'll notice that the top row of number keys have been replaced with Japanese-inspired decorative keycaps. This is optional. Included alongside the keyboard are nine decorative number keys, as well as a decorative key that can be used to replace a shift or enter key. You can use all or none of them.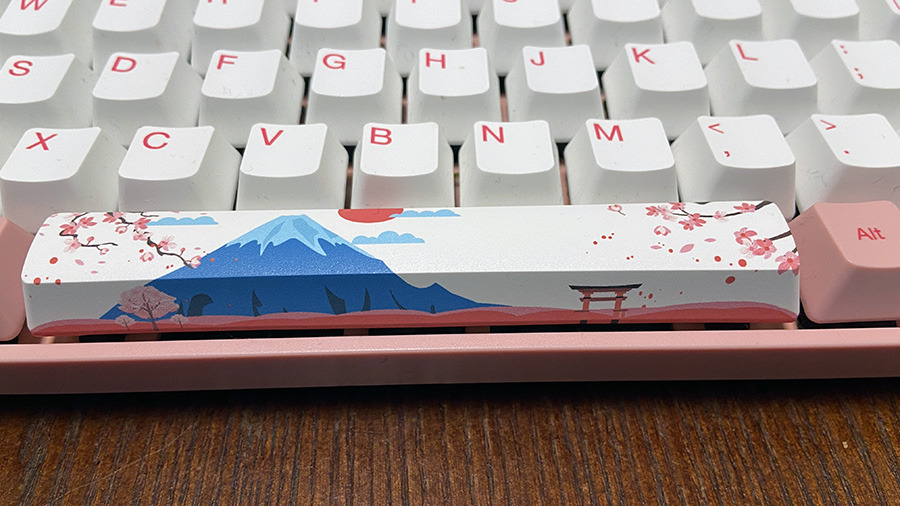 Our favorite part is the space bar, which features an adorable wrap-around Mount Fuji design, which looks fantastic.
Performance
If you like other mechanical keyboards, this one should be no different. It uses Cherry MX switches available in a variety of colors, including blue, brown, and red.
We tested the Cherry MX Red switches and found them to be very comparable to that of our K2's, though they feel ever so slightly more tactile.
The keyboard connects physically and charges with a USB-C cable. It can be used as a wired keyboard with either the USB-A to USB-C cable it comes with, or a user provided USB-C cable. It can also be connected wirelessly with Bluetooth 3.0, making it compatible with a wide range of devices, including the iPhone and iPad. Its diminutive size makes it easy to slip into your tech bag, and the company's battery claims of up to 150 hours of continuous typing before it needs to be charged are borne out by our testing.
What you'll miss
Because this is a compact layout, it only has 68 keys, which may feel extremely limiting. Most notably, it's missing the function key row at the top, which often is dedicated to some useful shortcuts. It's worth noting the manufacturer does make an 84-key version of this keyboard that features the function key row.
This keyboard also lacks a number pad, making it less useful for data entry tasks or certain types of gaming. Again, the manufacturer makes a 108-key version of this keyboard that also features the number pad, as well as the function keys, too.
We're willing to overlook the lack of function buttons and a dedicated number pad, but where we do feel it falls a little short is the lack of optional macOS keys. While this is hardly just a problem with this keyboard, it's always a little sad to see Apple users left out of the fun.
Making it easier for Mac
In the event that you do buy this to use with your macOS device, we should point out that you'll want to go into your keyboard settings and make a small modification. Because this is a Windows-designed keyboard, it swaps your Option and your Command keys. This can make adjusting to common shortcuts, like cut, copy, and paste, more difficult than it needs to be.
To fix it back to the correct layout, head into the Keyboard section of Settings and click the Modifier Keys button. From there, use these settings.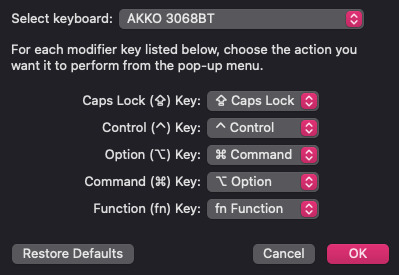 This works for all Windows-style keyboards, too, not just this one.
Overall
While not for everyone, we think that the Akko World Tour Tokyo keyboard is a fantastic portable solution to throw in your bag along with your iPad. It's a fun keyboard with a unique look that can help brighten up your workspace. If you wanna snag your own Akko World Tour Tokyo keyboard, you can head over to Amazon, where they retail for $99.
Unique, Japanese-themed keyboard
Cherry MX mechanical switches available in a variety of colors
Internal battery and Bluetooth allow it to be used with wide range of devices
Native USB-C connectivity
No optional Command and Option Switches
Defaults to Windows layout, takes some customizing