Apple investigating glass ear cups for AirPods Max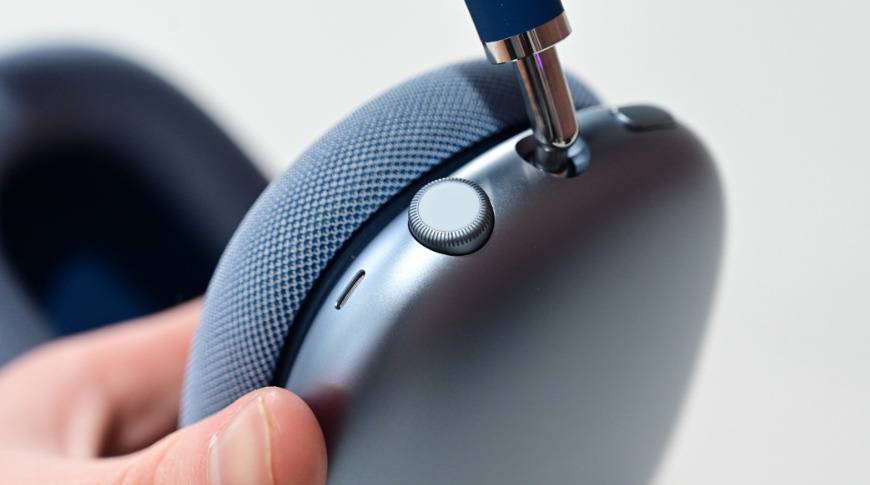 AppleInsider is supported by its audience and may earn commission as an Amazon Associate and affiliate partner on qualifying purchases. These affiliate partnerships do not influence our editorial content.
Glass can shatter when dropped, but Apple is investigating the use of it for future AirPods Max because it looks great — and can have better acoustic properties that aluminum.
Apple's current AirPods Max have earcups made chiefly from anodized aluminium, yet a newly granted patent shows this could change to glass. "Techniques for improving glass earcup drop performance," is chiefly concerned less with why you might want to do this, and more about the problems if you do.
"Headphones have been in use for over 100 years, but the design and performance of the earpieces that are held against the ears of a user by a headband have remained somewhat static," says Apple. "Thus, there is a need for improved design and performance of the headphone earpieces."
So Apple is happy with the headband, it's less keen on how the two earpieces, or earcups, perform. Apple wants to use the earcups to add touch sensors, and it wants to improve the look of them.
"Earcup[s] may include a touch sensor area that can be configured to allow a user to manipulate settings and the playback of media," continues the patent. "[And] may be made from various materials such as polycarbonate and/or glass."
"Polycarbonate is advantageous in that it is shatter resistant, however, it is prone to scratching," says Apple. "Glass is advantageous in that it is more scratch resistant and cosmetically more appealing than polycarbonate, however."
The patent keeps coming back to this issue of "the cosmetic appeal of the earpiece," when it's made from glass. It does not use the words "acoustic," or "audio," once, but these are issues that glass has an impact on.
If Apple does turn to using glass earcups, it will affect how much ambient noise gets through to the wearer. The $2,000 Sennheiser HD 820 headphones, for instance, incorporate glass to minimize resonances and contribute to a realistic, natural sound.
Glass can block some sounds, reduce others, and allow certain frequencies to pass through. So its very properties could make an improved AirPods Max, if it weren't for this issue of how glass "is more prone to shattering than polycarbonate."
Apple's proposal is to have "an outer exposed surface" made of glass, but then "an annular edge" plus "protective adhesive coating." An annular edge is a flattened ring, effectively made of two concentric circles.
Then the soft textile portion, which presses against the wearer's ears, may be extended to form "a gap between the textile and the annular edge."
Ultimately, Apple's patent is about having "a glass earcup" with "an outer exposed surface... and edges extending around the perimeter of the glass earcup." It's presumably this edge that is intended to absorb the impact of a drop.
This patent is credited to five inventors, including Christopher D. Jones. His previous related work includes a design for glass panels in the "Apple Car," which feature sensors.