Hands on: Brydge's new Pro+ keyboard trackpad firmware for iPad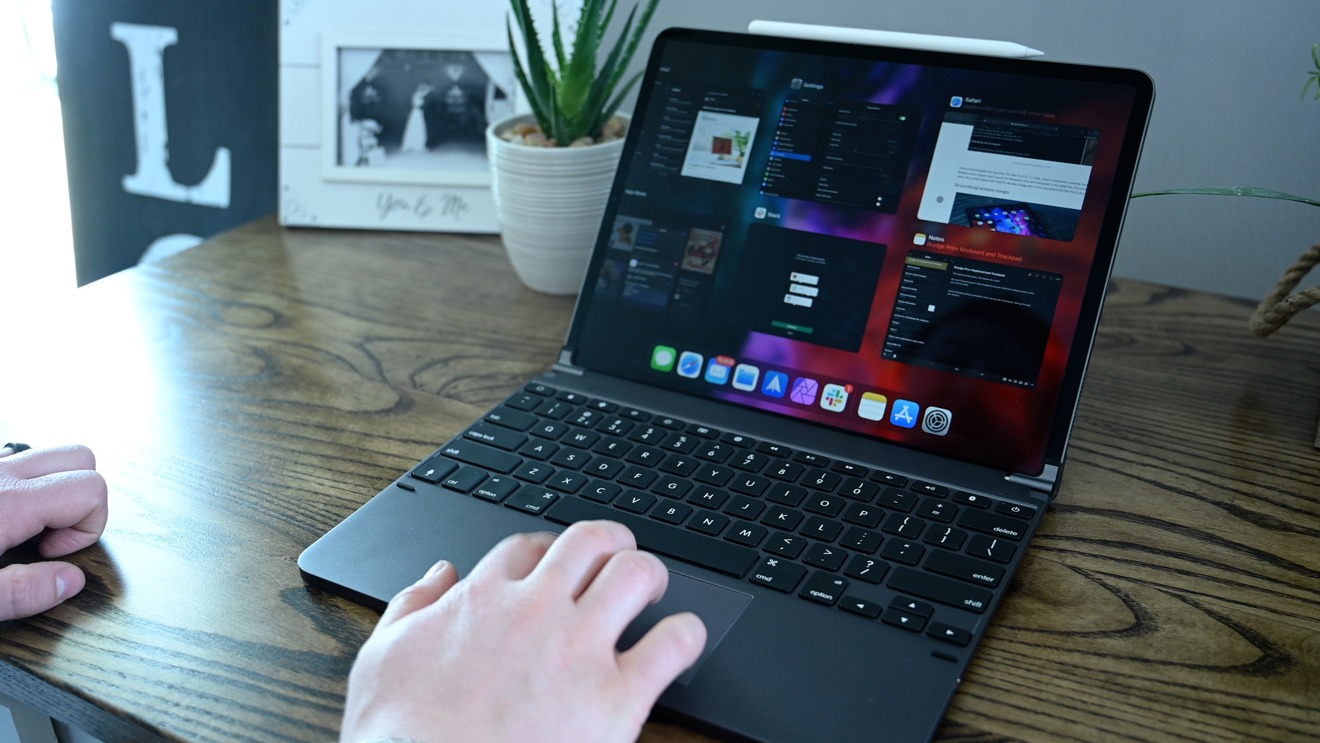 AppleInsider is supported by its audience and may earn commission as an Amazon Associate and affiliate partner on qualifying purchases. These affiliate partnerships do not influence our editorial content.
Accessory maker Brydge has announced a new firmware upgrade for its Pro+ keyboard/trackpad that fixes nagging issues that has plagued iPad Pro users since launch. We go hands on to see how much of a difference it makes.
The new firmware is launching now as a beta for existing users and, in our experience, the update provides a giant, positive difference in how the Pro+ trackpad interacts with iPadOS.
"We knew from day one that our firmware would be a key part in the continuous improvement of our iPad keyboards. This update is a true game-changer and we couldn't be more excited to deliver a user experience to both existing and future customers that is on par with the best." said Nick Smith, Co-CEO & Founder of Brydge
Long overdue
Apple released iPadOS 13.4 in early 2019 that brought long-awaited mouse and trackpad support to iPad. Shortly thereafter, it released the Magic Keyboard to take advantage of the mainstreamed features, once only available through Accessibility options. At the time, third-party devices lacked the precision and responsiveness as Apple's.
Any of Apple's peripherals — the Magic Keyboard, Magic Trackpad 2, and Magic Mouse 2 — were all smooth when used with iPad, but third-party ones were not so much.
One of the most notable ones was Brydge. The company introduced the Brydge Pro+ keyboard trackpad combo for iPad Pro, and while the hardware was spot on, the jumpy cursor made it frustrating to use at times.
This pivotal firmware update, called Brydge Pro+ 2.0, fundamentally improves the user experience. The firmware is currently in public beta and users can sign up to participate on Brydge's website. As the beta page clearly states, users need to be running iPadOS 14.5, which is currently in public beta testing. Users can join Apple's beta program from its website.
Taking a closer look
We will be doing more testing with our Brydge Pro+ keyboard and trackpad, but after a few weeks of use, it already provides a vastly better experience. Nearly gone is the jumping cursor that would bound across the screen, and in its place is a smooth, precise cursor as reliable as the Magic Keyboard itself.
It has full multitouch support, including four-finger swipes to move between open apps, a three or four-finger push forward to open the multitasking interface, and a long push forward to go back to the Home Screen. Anything you could do on Apple's trackpads will work here on Brydge's. It feels smooth and natural and what it should have been from the start.
A huge issue that we ran into all the time with the previous firmware was over-scrolling. As you'd scroll to the end of a webpage, the interface would continue to scroll past the end of the page. It would keep going filling your screen with blank white space before bouncing back. We would rather reach up and touch the display and avoid the annoyance.
This has entirely been resolved with this new firmware.
It isn't perfect yet, though, with the most notable issue being slight stutters while the cursor moves. These minor stutters are more pronounced within iPadOS as the cursor will naturally highlight on-screen elements like buttons and other touch points.
That jumping motion combined with even a little bit of stuttering can be jarring. But, when you disable the highlighting of on-screen elements, it makes it feel like less of an issue.
This is just the first beta for Brydge, under the second beta of iOS 14.5, so we wouldn't be surprised if this improved further by one or both parties by the time it gets fully released.
The Brydge trackpad is slightly larger than Apple's Magic Keyboard, making it even easier to use for multi-touch gestures — not to mention the lower price.
After almost a year of sub-par performance, we couldn't be more delighted by how much Brydge Pro+ has improved after this update. This shows how dedicated Brydge is to ensuring its product was as capable as possible.
Grab your Brydge Pro+
Brydge Pro+ has also seen a special price drop. The $229 12.9-inch model has dropped to $169 and the $199 11-inch has dropped to $159. You can pick up either size direct from Brydge.