Review: SanDisk Ultra Dual Drive Luxe USB-C Flash Drive is a stylish way to offload iPad Pro files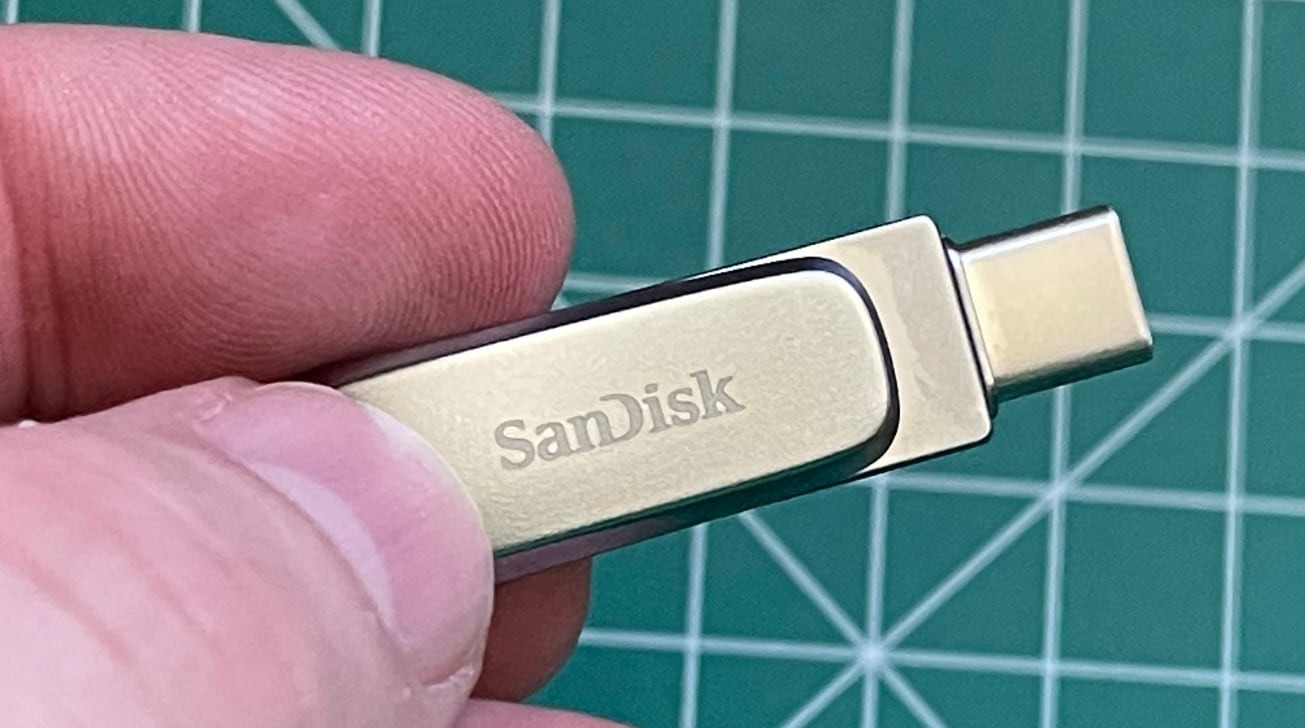 The SanDisk Ultra Dual Drive Luxe USB Type-C Flash Drive aims to not just be an external file support solution for the iPad Pro, but also for your older USB-A gear, with a splash of style.
All flash drives are not created equal. Flash media is used in everything from the extremely fast NVMe implementations, all the way down to the storage keys you can buy at the gas station.
In between, are the higher-performing storage keys, like the SanDisk Ultra Dual Drive Luxe USB-C Flash Drive. It isn't something you want to use as, say, a system drive, but it is a good solution to "sneakernet" files between a USB-A computer and a USB-C one, like a new MacBook Pro, or iPad Pro.
Ultra Dual Drive Luxe USB-C Flash Drive key specifications
USB Type-C and USB Type-A connections
32GB capacity. 64GB, 128GB, 256GB, 512GB, 1TB also available.
Up to 150MB/s read speeds
1.75 inches by 0.48 inches by 0.34 inches
Reversible swivel design
Five-year limited warranty
Ultra Dual Drive Luxe USB-C Flash Drive - design
On the face of it, the drive is a compact device that doesn't look that much different from other thumb drives. It's small and light, and has a covering section that swings around to protect some of its contacts. Pick protection for USB-A or USB-C, because you can only cover one at a time.
With an exterior enclosure completely from metal, the drive offers a premium appearance and construction, which is unusual for such drives. It also includes a hole in the swinging cover, so it can be attached to a keyring and be always available to users.
Being metal, the exterior of the drive case gets a little warmer to the touch when in use than a plastic enclosure does. But, this is a good thing, as the entire enclosure is a heat sink, keeping performance as high as possible.
Double duty connectivity
The metal body is only one of the differentiating factors for the drive that brings it another level up from the rest of the pack, and that it has two connectors. This drive falls into the category that a few other do, in that it can be used to connect to both USB Type-C devices as well as USB Type-A ports.
For some users, this can be invaluable, and offers the opportunity to make their data highly portable between devices. It could easily be used with an iPad Pro's USB Type-C port or the Thunderbolt 3 port of modern Macs, while USB Type-A allows it to work with older Macs and PCs that don't have either USB Type-C or Thunderbolt 3 connections.
As the connectors are on opposite ends of the main body, the swinging cover can protect one connection type at a time, leaving the other exposed. Given the smallness of the connector, it's probably advisable to keep the USB Type-C end protected as much as possible.
The drive boasts USB 3.1 Gen 1 support, which WD claims will facilitate read speeds of up to 150MB/s. The Blackmagicdesign Disk Speed Test tool showed this to be an accurate claim, as the drive managed 150.3MB/s read speeds for the USB Type-A connector, with it effectively the same at 150.6MB/s using Type-C.
While these are more than good enough for a portable flash drive, the write speeds are less stellar. On USB Type-A, the write speed was just 61.6MB/s, while Type-C didn't do much better at 63.7MB/s. This is to be expected, though, given the media.
The drive isn't ideal for those who need to write files to it on a very frequent basis. It'll get the job done — you just need to be more patient than you'd have to be with a more expensive NVMe drive.
Stylish with some uses
Flash drive manufacturers aren't generally known for innovation. Outside of making them faster or adding dual connectors to it, there's little else you can do to radically change the concept.
The SanDisk Ultra Dual Drive Luxe Type-C doesn't rock the boat, nor was it ever really intended to. It treads very well-worn concepts that other products in the past have come up with.
Its Luxe element with a premium metal construction goes beyond just design, bringing an effective heat sink to the table. The fact that it doesn't look too out of place on a keychain also works in its favor, as will its hardiness.
The dual connector system is nice for those who need to work with both types of ports on a variety of hardware, or simply want to transfer files from an iPad Pro or MacBook Pro made in the last five years to an older Mac. Its speed won't blow your hair back, but is better than many drives in its class, and good enough for occasional use.
This drive isn't really meant as an external storage upgrade for your Mac or iPad Pro. But, as a way to ferry files between devices or to make some space available on a constrained iPad Pro while on the move, it's not a bad choice.
All-metal construction
Compact size
Dual USB Type-A and Type-C connectors
Slow, yet expected, write speed
Partial connector protection
Rating: 3.5 out of 5
Where to buy
The SanDisk Ultra Dual Drive Luxe USB Type-C Flash Drive is available from the Western Digital Store, starting from $11.49 for the 32GB capacity and rising to $138.99 for the highest 1TB version.
It is also available at Amazon, with the lowest-priced 32GB model at $13.50 rising to $138.99 for 1TB.