Apple TV+ 'Cherry' is a personal homecoming for directors Anthony and Joe Russo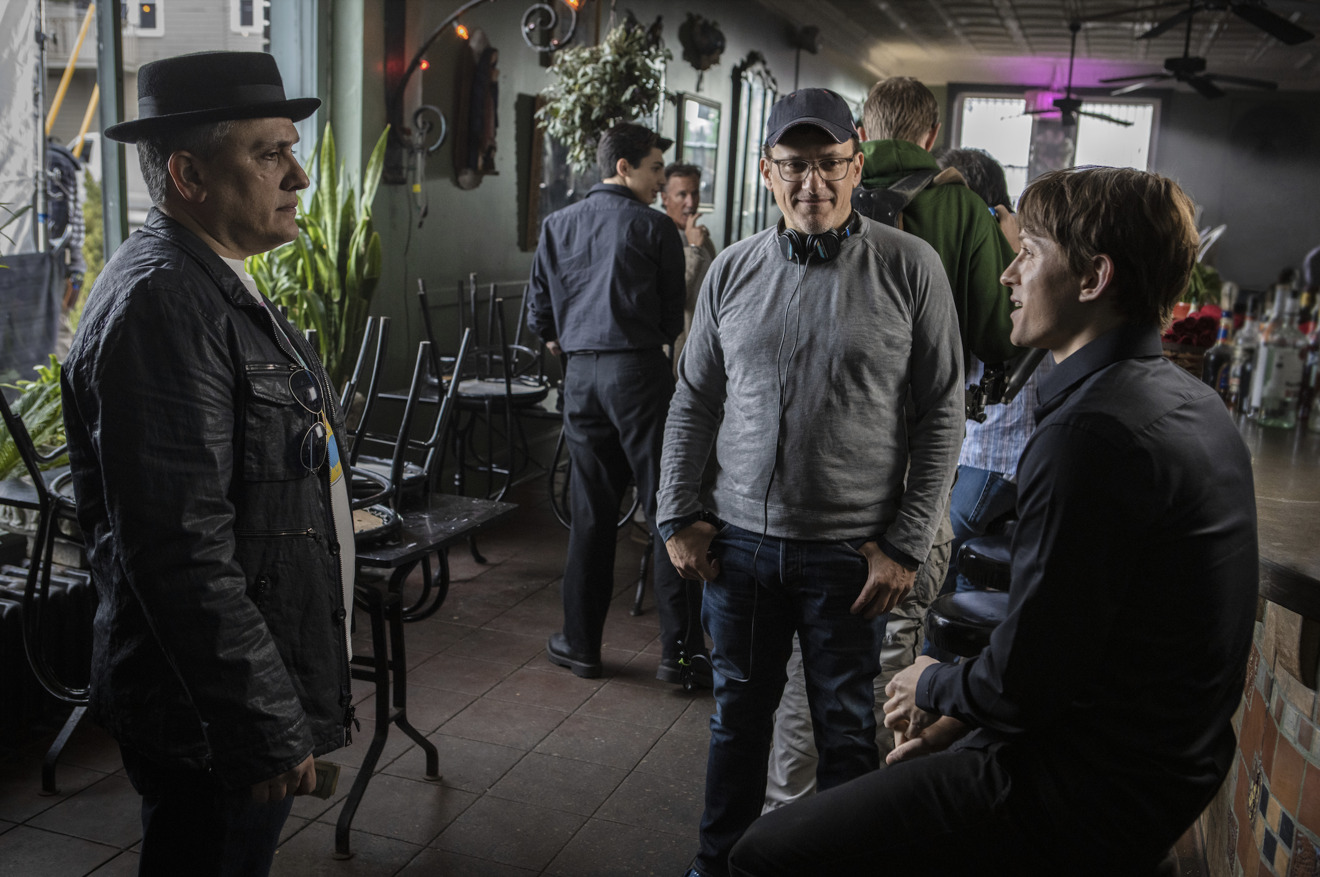 AppleInsider is supported by its audience and may earn commission as an Amazon Associate and affiliate partner on qualifying purchases. These affiliate partnerships do not influence our editorial content.
At the virtual Apple TV+ movie premiere of "Cherry," Cleveland-native directors Anthony and Joe Russo talked about filming a personal story of war and addiction, at home.
The directors Anthony and Joe Russo spent much of the last decade making films in the Marvel Cinematic Universe. Most recently, they directed 2019's Avengers: Endgame, which became the highest-grossing film of all time.
For their first post-Marvel film as directors, the Russos opted for something smaller and more personal in Cherry. They did bring along their Spider-man, in lead actor Tom Holland.
Apple held an online premiere for the film on February 23, which was followed by a virtual Q&A with the Russos, actors Holland and Ciara Bravo, and screenwriters Angela Russo-Otstot and Jessica Goldberg. The Q&A was hosted by Dave Kargar of Turner Classic Movies.
Hometown boys
In their first directorial effort after Avengers: Endgame, the Russo brothers — and their sister, co-screenwriter Russo-Otstot — took the opportunity to return to their hometown of Cleveland, OH for the shoot. They had shot their early movies Pieces and Welcome to Collinwood there, and also part of Captain America: Civil War.
"It's always an incredible experience shooting in Cleveland," Joe Russo said during the Q&A. "Every time we go there for a film, the cast and crew fall in love with the city. It's a great place to shoot, it's very welcoming, people are very friendly, obviously, it's great to see family there."
Cherry was also personal because of the story's subject matter.
"Like many of us, we've had personal experiences with loved ones who have had either addiction problems, overdose problems, even involving death," Anthony Russo said. "So the issue of the opioid crisis was very present in our personal lives."
"But even beyond that, it felt like it was a very timely issue, something that we really wanted to address now, in the hopes of being able to play some small part in how this issue unfolds for people and evolves."
About Cherry
Cherry was shot in 2019 and completed filming prior to the start of the pandemic. Based on the novel of the same name by Nico Walker — which Walker wrote while in prison for bank robbery — Cherry is the story of a protagonist of that name, played by Holland.
The film follows Cherry, a young man struggling in rust belt Cleveland, through several years of his life. He's introduced as an angry young man, in love with a woman named Emily (Bravo.) He soon decides to join the Army, leading to long segments set in both basic training and in the Iraq War.
Cherry then returns home from the war, wracked with PTSD. The film's second half focuses mostly on the characters' spiraling opioid addictions, as well as Cherry's risky adventures as a bank robber.
"We knew that we really wanted to appeal to Gen Z with this movie. They have a very particular way of processing visual information, a way that other generations haven't," Joe Russo said. "They're more advanced, sophisticated, they can process much quicker. And so we wanted to make a movie that appealed to their sensibility, which is why the movie is so dense stylistically."
While the Russos and others involved didn't have a lot to say at the premiere about what it was like to work with Apple, the filmmakers are looking forward to what Apple's reach can do for their film.
"[We're] very excited that Apple is going to get this movie to a very wide audience," Anthony Russo said. Apple acquired the movie in September 2020, after production was already complete.
How it began
The "Cherry" novelization was recommended to the Russos by someone they knew in the publishing world. It was then adapted for the screen by the two writers.
"The first thing we did was Angela took me to Cleveland," co-screenwriter Jessica Goldberg said in the Q&A. "We sort of walked the walk of the book, and felt the place, and ate in the restaurants, talked to people, and visiting different neighborhoods."
The directors had a lead actor in mind, to play a part that was a long way from Peter Parker.
Holland said in the Q&A that where he had been shooting that very day, on the next Spider-man movie, was the same soundstage where he first met the Russos at his audition for Captain America: Civil War.
"Initially, when I sat down with the [Russos], and I auditioned for you, I felt very comfortable, I felt like we'd be great friends and we'd be allies in this crazy world that we call Hollywood," Holland said. "So it was really from the get-go that I knew that if I had the opportunity to work again with these guys, that I should absolutely jump at it."
He added that Joe Russo had first talked to him about Cherry at the Disney lot in Los Angeles, when they were recording voice work for Avengers: Endgame.
"He sort of loosely pitched me the idea of the film without giving too much away, but he just basically said 'this is our next project, and we'd love you to be the lead,'" Holland added. "Knowing I had Joe and Anthony in my corner, I felt very confident that I'd be able to do a good job."
Holland remarked that the drug addiction section of the movie, while it takes place last chronologically, was shot first. This enabled the characters playing addicts to lose weight prior to the start of production.
Bravo, the lead actress, also expressed appreciation for being involved in the film.
"I'm sure there was some swift completion," she said. "All I know is, I saw the names attached, and I was so intimidated, but I knew I wanted to be a part of this project. I left it all on the table in this audition, and I gave it everything I had."
A distanced premiere
Cherry, due to the extended deadline and the February theatrical release, is eligible for Academy Awards consideration. GoldDerby.com gives the film 100/1 odds at a Best Picture win, while Holland has the same odds at Best Actor.
Oscars or not, the filmmakers were clear during the premiere that they couldn't have imagined shooting the film in any other city. "It's Cleveland to its DNA," Anthony Russo said, adding that he was disappointed that they weren't able to host an in-person premiere for the film in their hometown.
Cherry opens in theaters on February 26, before arriving on Apple TV+ March 12.