Apple TV+ review: 'The World's a Little Blurry' is a probing look at Billie Eilish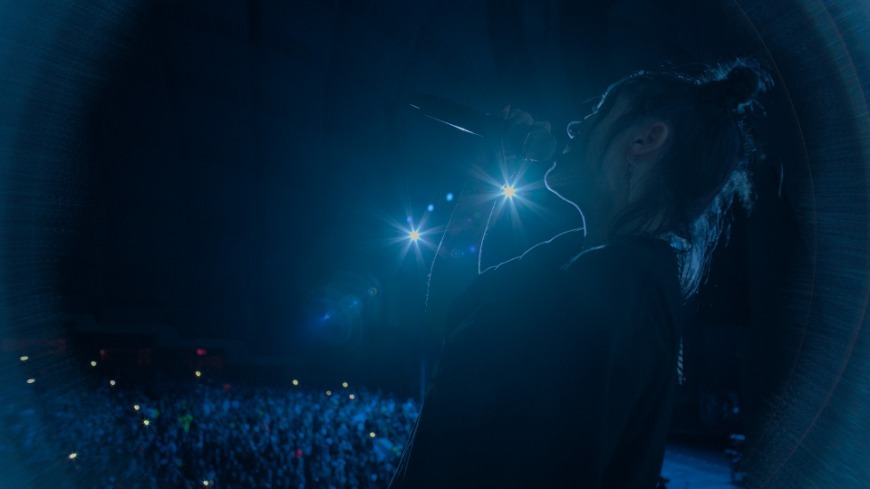 Director R.J. Cutler tracks the "Bad Guy" singer over a long year — and quite a few hair colors — in an outstanding Apple TV+ documentary about Billie Eilish.
Apple's music documentaries, since the launch of Apple TV+, have focused on established stars like Bruce Springsteen and the Beastie Boys, who first arrived on the scene decades earlier. The service's newest doc, for a change, is about someone much younger, who is much closer to the start of her career than the end.
That's Billie Eilish, the now-19-year-old pop star who won multiple Grammy Awards in 2020. The documentary, titled Billie Eilish: The World's a Little Blurry, was directed by R.J. Cutler, the respected documentarian best known for The War Room, and last year's Belushi. It's a compelling look at a one-of-a-kind pop star, one whose famous hair shifts in color many times over the course of the film.
The bedroom sessions
Billie Eilish, whose real name is Billie Eilish Pirate Baird O'Connell, first became famous in 2015. At 14 years old, she uploaded a song to SoundCloud that took off in a way reminiscent of Justin Bieber's original YouTube-driven rise to fame.
Eilish's relationship with Bieber is a well-made running theme throughout the film. There's also a memorable moment when Eilish meets and gets a pep talk from Katy Perry, along with lots of hugs and kisses from Perry's partner, actor Orlando Bloom.
A great deal of The World's a Little Blurry's first section consists of GoPro footage shot by Eilish herself, and her brother Finneas, with whom she wrote her hit songs. We even see the two of them working out the beginnings of "Bad Guy," which would become her biggest hit. Later on, the film mostly follows Eilish on the road as her star rises and rises.
R.J. Cutler's previous project for Apple TV+ was Dear, a 2020 documentary series that consisted of short-form portrayals of famous people like Spike Lee and Lin Manuel Miranda, and was really just a sycophantic promo piece. But that's not what this new documentary is at all.
While The World's a Little Blurry was made with the extensive cooperation of Eilish and her family, the filmmakers aren't shy about including the darker side of its subject. In the film, Eilish discusses her struggles with depression and Tourette's Syndrome. She breaks down on a bus after a fan meet-and-greet that doesn't go well.
The singer admits that she hates the process of songwriting, and the film depicts the entire debacle when Eilish sprained her ankle during a concert in Italy and tried unsuccessfully to continue the performance. Regardless of how things are going for Eilish, Cutler, in the cinema verite tradition, sticks with individual scenes and shots for a long time, whether Eilish is backstage or on stage.
Overall, the film paints a picture of a very compelling young artist and also features a great deal of her music over the course of its two hours and 20 minutes.
Billie, Britney and Taylor
Of course, any depiction of a teenaged pop star can't help but bring to mind Britney Spears, another singer who broke through in her late teens and was the subject of a recent documentary. Eilish, though, is a very different type of performer with a very different persona, and she appears from the film to be in better hands with her family than Spears ever was.
From a stylistic perspective, Billie Eilish: The World's a Little Blurry does share more with Miss Americana, the 2020 Netflix documentary about Taylor Swift. Both provide a much more intimate portrayal of their popstar subject than is typical of their media portrayals.
The differences is that the Eilish film arrives at a different point in the subject's career than Swift's movie did. Also, Miss Americana has a moment when Swift gets the phone call telling her she didn't get significant Grammy nominations for her most recent album. In Eilish's movie, she finds out on camera that she got several.
The big winner
Eilish would go on to sweep those January 2020 awards, winning Record of the Year, Album of the Year, and Best New Artist. The documentary wrapped shortly afterward, on the eve of the pandemic.
Despite its comprehensive feel, the film does omit well-known moments where it would have been good to see Eilish's view. For instance, it skips such episodes as when Eilish admitted that she'd never heard of Van Halen, or when she reacted to being badmouthed online about a paparazzi photo.
Whether you're a longtime fan of Eilish or new to her music, Billie Eilish: The World's a Little Blurry is a comprehensive and skillful examination of the first few years of her career. And it's another winning effort by Apple TV+ in the realm of music documentaries.