Apple launches Teacher Portfolio, updates curriculum and education apps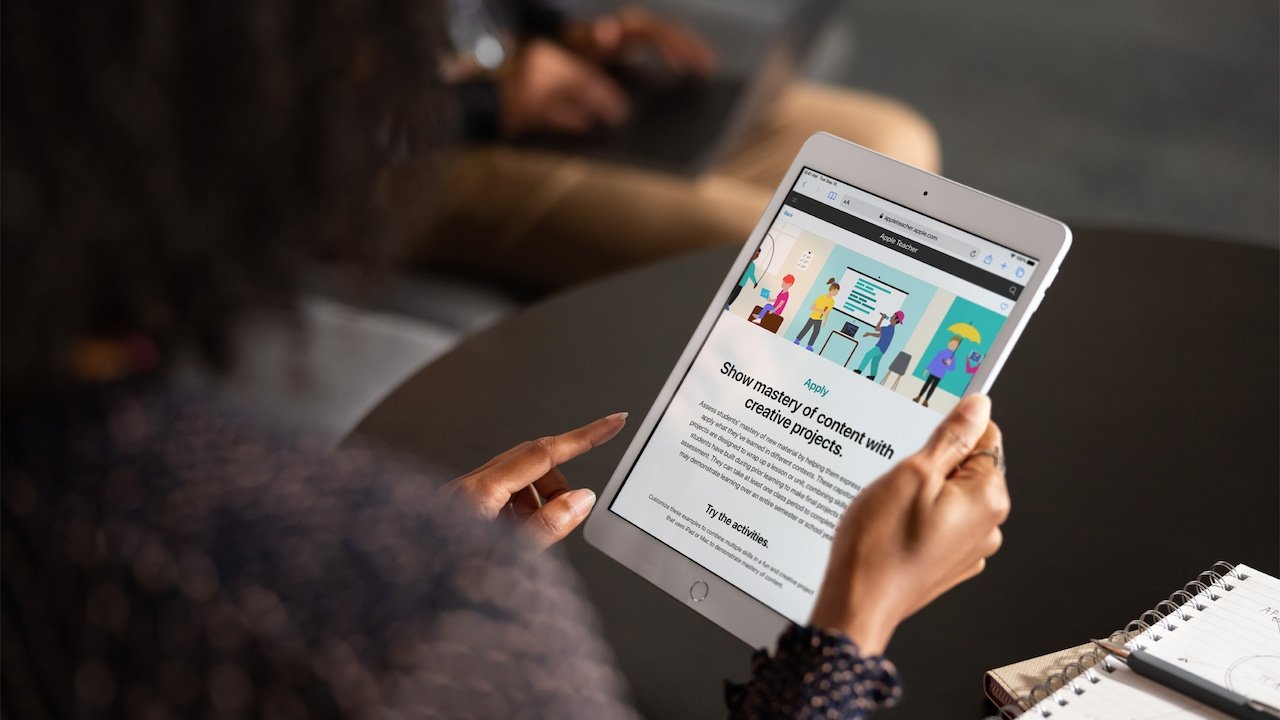 Apple has launched a new "Apple Teacher Portfolio" recognition badge for educators alongside updates to its educational apps and curriculum like Everyone Can Create, Schoolwork, and Classroom.
The Apple Teacher Portfolio is described as an offering that allows teachers to "make the most of Apple technology through each phase of their lesson planning to help students activate prior knowledge, explore a topic more deeply, and apply understanding."
It comprises 21 templates and lesson ideas inspired by the company's Everyone Can Create project guides. It allows teachers to incorporate Apple products like Keynote and GarageBand and create lessons for students. As the name suggests, the Teacher Portfolio also becomes a compilation of work and lessons that teachers can share with leadership and peers. The journal-like platform allows educators to reflect on what worked and what didn't, Apple added.
"Apple Teacher Portfolio gives districts a platform to ask the right questions and help teachers reflect on their work in meaningful ways. A portfolio is a way of showing pride in what you've learned or created. My very first educator portfolio still sits on my shelf at home, and I love looking back at it as an important chapter of my life's work. I'm excited to give this tool to teachers across our district, so they too can be proud of the work they create throughout their career, and to see their learning journey through tangible artifacts," said Felecity Treptow, technology integration specialist at D.C. Everest Area School District in Wisconsin.
Apple has also issued updates to its other educational offerings, including the Everyone Can Create curriculum and the Schoolwork and Classroom apps.
For Everyone Can Create, Apple has updated the Drawing guide to include motion graphics and animation in Keynote; the Photos guide to cover GIF creation using Keynote, Camera, and Photos; the Video guide to include green screen filmmaking; and the Music guide to add new podcasting features using GarageBand.
Schoolwork will also soon support the ability for teachers to share projects with colleagues or import projects from others. The sidebar has also been updated with improved navigation.
Apple has also updated Classroom to "support learning beyond the walls of a school." New features include remote student support, a refreshed design, and a seamless experience across Mac and Mac Catalyst.
The Cupertino tech giant says the Apple Teacher Portfolio and updated Everyone Can Create guides are available starting Tuesday from the Apple Teacher Learning Center. New versions of Schoolwork and Classroom are currently in beta.