Apple TV+ review: 'Tiny World' and 'Earth at Night in Color' keep up the wonder in second seasons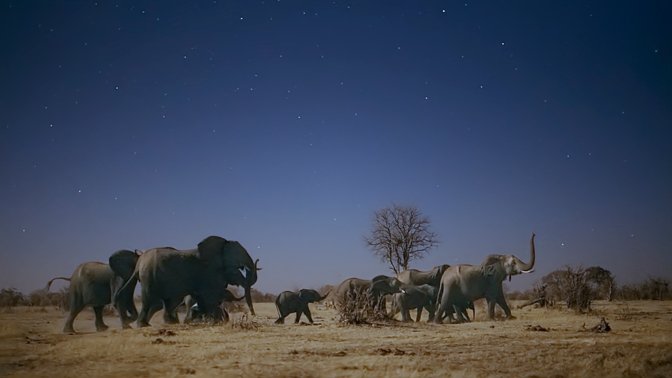 AppleInsider may earn an affiliate commission on purchases made through links on our site.
Just in time for Earth Day, Apple brings new seasons of its fine nature shows "Tiny World" and "Earth at Night in Color," mere months after their initial debuts.
Apple TV+ is going all out for Earth Day 2021. Not only has the streaming service debuted a standalone documentary called The Year Earth Changed, but Apple is also debuting second seasons of two nature shows just a few months after their hit first runs.
On April 16, Apple is unveiling the six-episode second seasons of both Tiny World and Earth at Night in Color. Both are nature shows that were obviously heavily influenced by the work of the BBC Natural History Unit, and now you can watch them side by side with the BBC-produced The Year Earth Changed.
Both shows have brought back their celebrity narrators, both of whom — Paul Rudd for Tiny World and Tom Hiddleston of Earth at Night in Color — are actors associated with the Marvel movies. Each show has also retained its hook, as Tiny World focuses on very, very small animals, while Earth at Night in Color depicts nature at night, with a special camera process that wasn't possible until recently.
Neither show has gotten especially far afield from what it did in its first season, but both have managed to keep doing the things they did well before. And both shows are so aesthetically gorgeous that they should be watched on the largest possible TV, as opposed to on a mobile device.
Welcome (back) to the jungle
In its first season, which debuted in October of 2020, Tiny World applied the established nature show formula to very tiny creatures. It featured a narration from Paul Rudd, whose Midwestern voice brings a very different feel than the nature genre's usual preference for British narrators.
Perhaps it also helps that Rudd gets to say such fun phrases as "the tiny superhero keeps things clean in the canopy" and "most run for their lives — but not the golden-tailed gecko." Tom Hugh-Jones, the creator, is also credited as the writer.
The new season of Tiny World brings back just about everything that was good about the first one: Gorgeous photography, glimpses of animals that we rarely see, and Rudd's enjoyable wit. My personal favorite Ruddisms this time around are his description of a snake as "four centimeters of insatiable fury" and "life is full of hazards — especially for a ground squirrel only the size of a taco."
Once again, each episode visits a different part of the world. The first episode goes to a hay meadow in the European countryside and introduces us to a tiny underdog called the harvest mouse. The tiny mouse lives in a meadow that we know is going to be plowed over within months- a process that we later see. The villain of the piece, meanwhile, is the meadow viper, described by Rudd as "the smallest venomous snake in Europe."
The first episode interrupts the usual musical score to use a snippet of Max Richter's version of "Spring 1," from Vivaldi's "The Four Seasons." It's a particular piece of music that's been used in quite a lot of movies and TV shows, but here it works, as it's played over the harvest mouse frolicking.
The second episode goes to the Sonoran Desert in Arizona, a place full of snakes, cacti, and other sharp things. The third adopts a winter flavor, heading up to Canada for a visit with the water shrew, a snapping turtle, and a water lily beetle. The last two installments go to the rainforests of Madagascar, a coral reef, and sand dunes.
Tiny World, created by Jones and produced by the British outfit Plimsoll Productions, could probably run new seasons forever, since they're not likely to run out of footage or new small animals to depict. The production is also reported to have collected 3,000 hours of footage.
Color of night
The appeal of Earth at Night in Color, when it debuted in December of 2020, was to depict things in nature that happen at night, that tended to escape the notice of nature documentary cameras until relatively recently.
The series, from production outfit Offspring Films, used a groundbreaking process to film at night, giving the footage a unique aesthetic look, one that doesn't look as though it's being viewed through night-vision goggles. And it featured the vocal stylings of Hiddleston, who in addition to his Loki duties is set to star in the upcoming Apple TV+ series The Essex Serpent.
Like Tiny World, the second season of Earth at Night in Color doesn't depart far from that of the first. Each episode focuses on a specific species in a specific part of the world, featuring the narration of Hiddleston, which is drier and a bit more straightforward than the memorable turns of phrase Rudd uses. But remains a visually stunning show.
The first episode focuses on a family of elephants in Zimbabwe, undergoing a migration to find water in the middle of the dry season. The highlight of that episode, and perhaps the entire season, is a later section. Scored like an action-adventure movie, we see elephants fight off an attack by a group of hyenas, who had designs on their month-old elephant cub.
The second episode of the second season goes to Patagonia in South America and introduces us to puma mountain lions. The third episode heads to Australia for a look at the nightlife of kangaroos. This leads to another action tableau, with the kangaroos hopping away from a possible threat from dingos.
Like Tiny World, this season of Earth at Night in Color does a coral reef episode that's gorgeous from start to finish, before the season concludes with visits to seals in Africa's Atlantic coast, and polar bears in the Arctic.
Acting naturally
Apple is clearly going all-in on nature shows. It has Tiny World, Earth at Night in Color, and The Year Earth Changed debuting on April 16. And just before that, the company announced the acquisition of Fathom, a documentary feature described as "a deep dive into two scientists' quest to communicate with humpback whales and unravel the mystery of why they sing."
Apple TV+ has delivered impressive new seasons of both nature shows, and that joyful, aesthetically impressive nature programming is something to which Apple has demonstrated a deep commitment.