Hands On: Wristcam, an Apple Watch band with dual cameras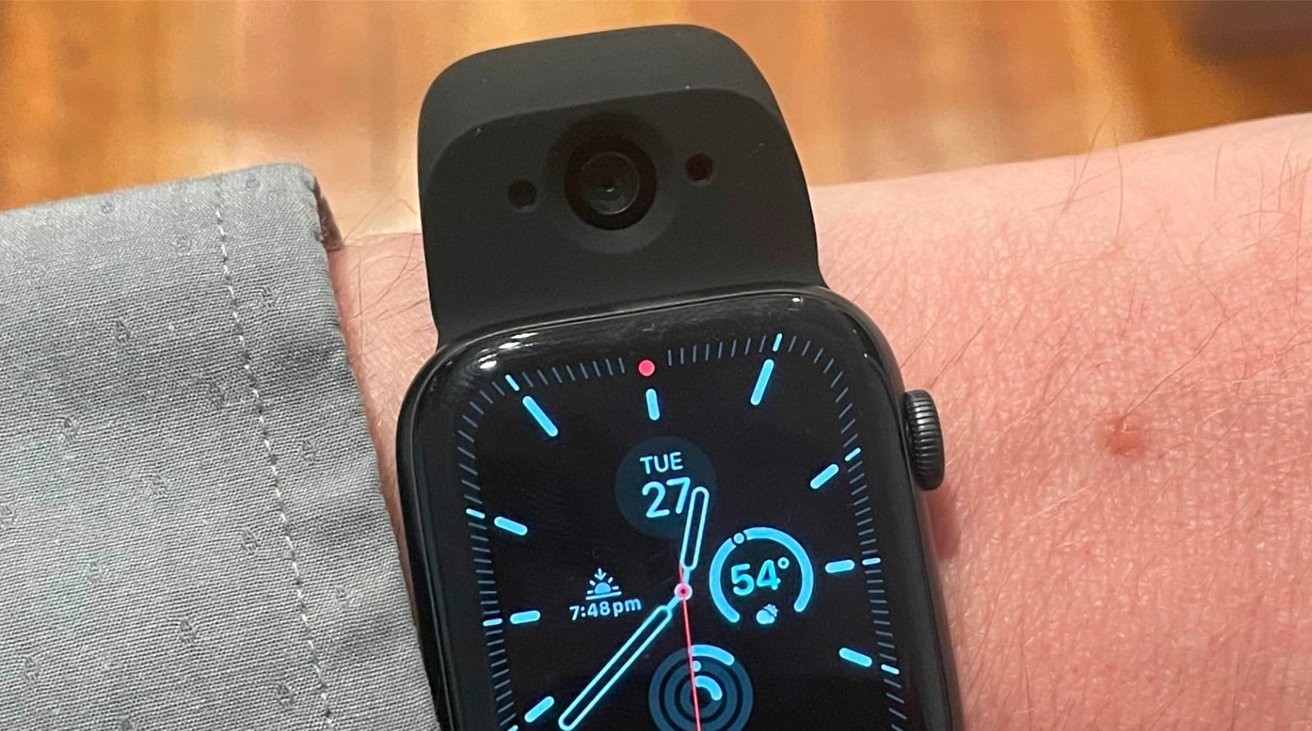 For those hoping to ditch their iPhone entirely, the Wristcam is a unique product, offering dual wearable cameras worn on the wrist that connect to the Apple Watch. AppleInsider takes a first look at the new accessory and how it integrates into the rest of the Apple ecosystem.
Wristcam was first unveiled back in 2016 under the name CMRA. Five years later, it has finally come to market under the new moniker.
In the box is a metal tin that houses the front-facing portion of the band, which has a "world-facing" camera for general pictures, and an upward-facing camera for selfies.
It also comes with separate band attachments in two sizes for wrapping around the other side of the wrist. The clasp is similar to the one found on Apple's sport bands.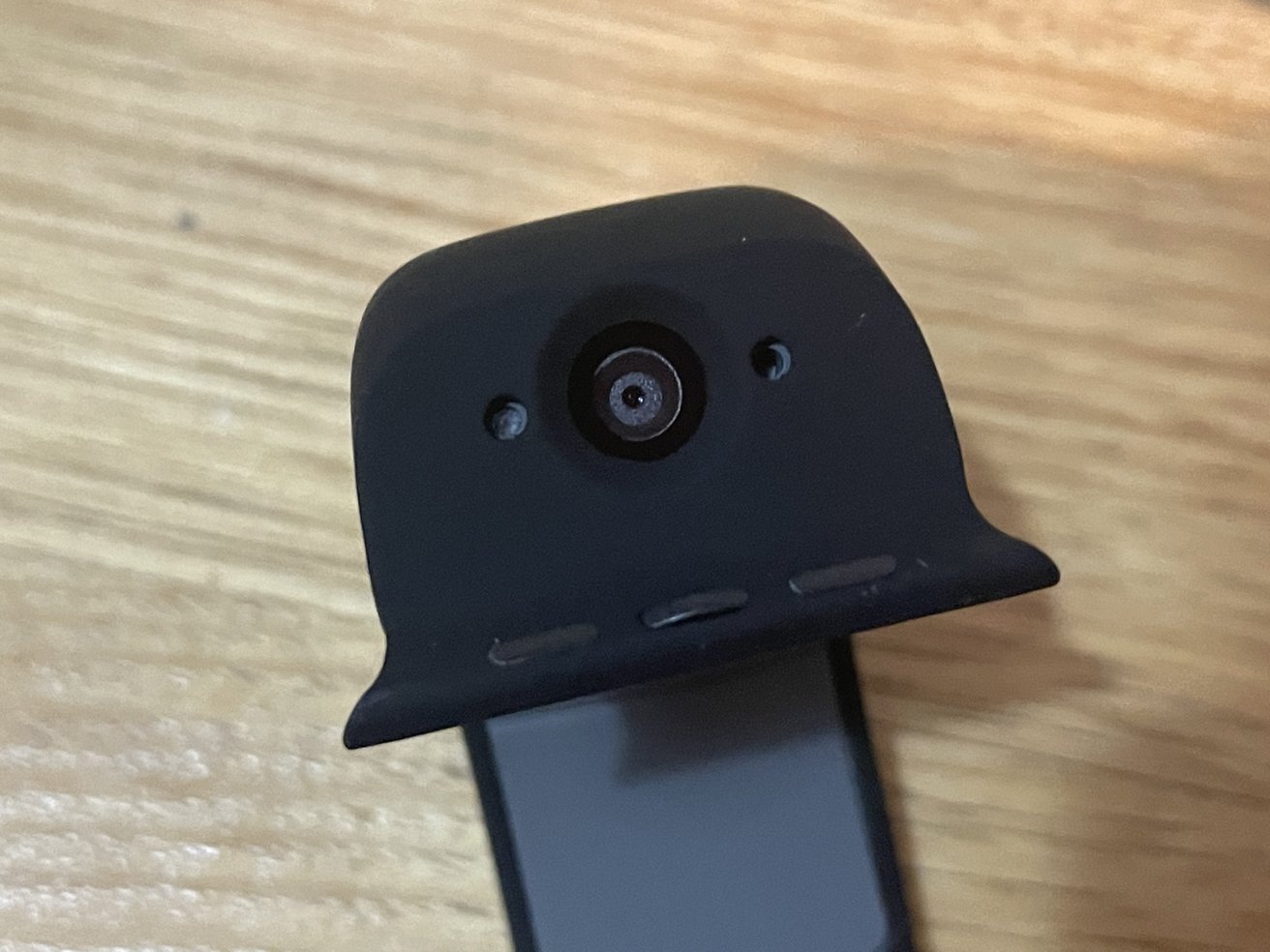 Wristcam requires a proprietary charging cable that connects magnetically to the inside of the device. It's simple enough to attach, and works in both directions.
Our review unit, provided by Wristcam, came in black, but the camera unit itself is a hard plastic grey encased in a rubberized material that gives it its color. This means users should be able to swap out and get different colors to wear with the Wristcam if they so choose.
For a preview, here are a couple of photos I snapped this evening — first pic taken with Wristcam, second pic from iPhone 12 Pro, for comparison. pic.twitter.com/LMbbihv1d2

— Neil Hughes (@thisisneil) April 28, 2021
AppleInsider spoke with Ari Roisman and Matt Frischer, cofounders of Wristcam, who explained that their backgrounds participating in board sports helped influence their desire for and ultimate development of the product. They both see the Apple Watch as an emerging standalone platform slowly becoming more independent from the iPhone, noting during our chat that there are more pixels on the watch display than there were on the first iPhone screen back in 2007.
"We're really trying to push the boundaries of how we use cameras today on the phone, and to bring that to the Apple Watch," Roisman told us.
Wristcam claims its device will last about a day on a full charge. Of course, that depends on how you use it — whether you are taking photos or video, and whether you are manually turning on Wi-Fi mode to sync photos to an iPhone.
By default, the Wristcam synchronizes photos to the iPhone while it is charging to conserve battery life.
Images are stored on the Wristcam, and are automatically transferred to an iPhone at a later time. It has about 8 gigabytes of onboard storage, so it can save plenty of high-definition photos and video clips before needing to be synchronized to your phone.
But the biggest appeal of the Wristcam is ditching your iPhone entirely. As anyone who has ever gone out for a quick errand or a jog with just their cellular Apple Watch knows, the one thing you will miss is having a camera on you.
Wristcam addresses this by offering a native watchOS app that connects directly to the band wirelessly, independent of the iPhone.
With the Wristcam app on Apple Watch, users get a live viewfinder of what their camera sees, basic controls for swapping between the cameras, and options to take a photo or record a video. Recently captured photos can also be viewed within the Apple Watch app without the need to have an iPhone nearby.
If you don't want to use the Wristcam app, or you want to snap an image in a pinch without using your watch as a viewfinder, there is a discreet camera shutter button on the front of the device.
Roisman and Frischer said they particularly appreciate using the combination of the Apple Watch and Wristcam in a completely hands-free mode, using third-party "Hey Siri" integration via Apple's Shortcuts app to trigger photo and video capture via voice.
They're both the first to admit that Wristcam will never compete with the latest and greatest iPhone camera, but that's not the point. They view Wristcam as a lightweight, convenient wearable camera that adds value and functionality to the Apple Watch.
Given the limitations of watchOS as a platform and the Apple Watch as a device, Wristcam has put an impressive amount of effort into making the experience as seamless as possible. Roisman noted in our interview that the Wristcam is the first — and currently only — smart band on the market to receive official Made for Apple Watch certification from Apple.
Wristcam is priced at $299 for both the 42/44mm and 38/40mm sizes. The company is offering AppleInsider readers a $40 discount with the promo code INSIDER40.
AppleInsider will have much more on the Wristcam in our upcoming review. If you have anything you'd like to see addressed in the review, let us know!