Compared: Apple AirPods and AirPods Pro versus Echo Buds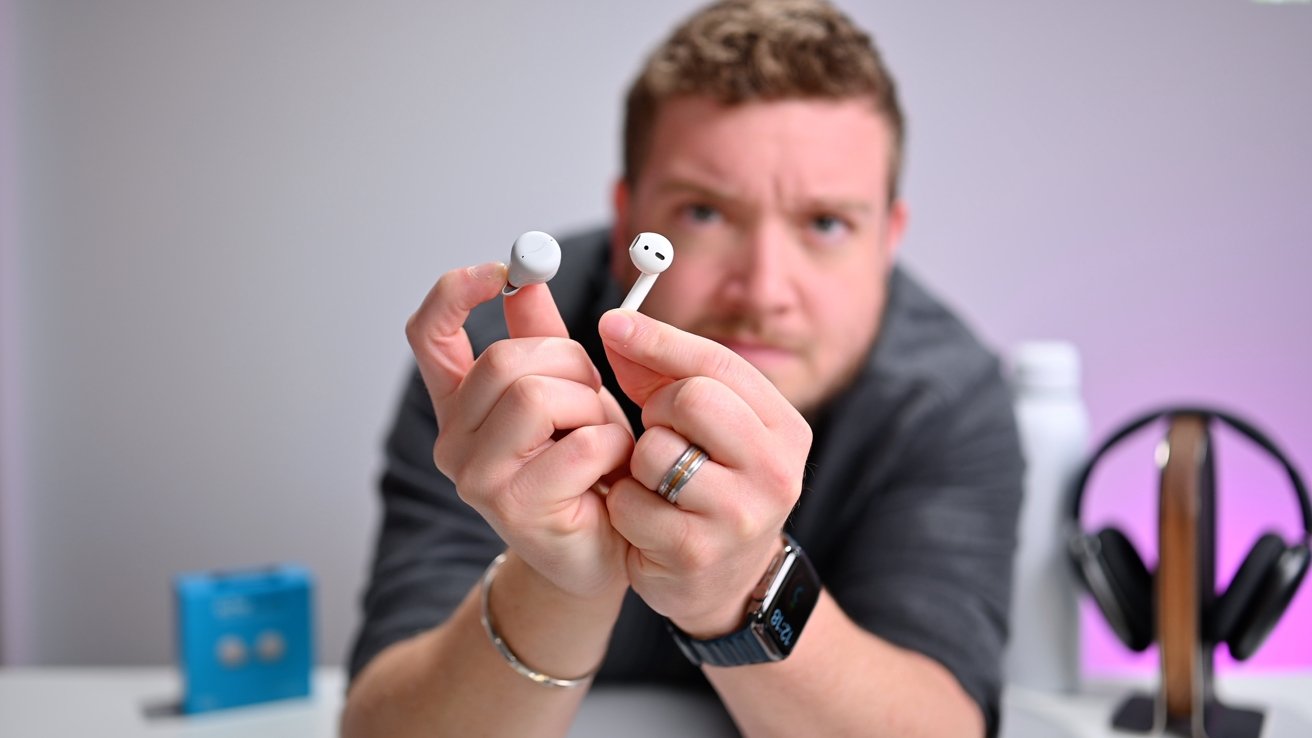 In April, Amazon upgraded its Echo Buds to make it a better value-oriented rival to Apple's AirPods. Here's how Amazon's offerings stack up to Apple's AirPods and AirPods Pro.
Originally introduced in September 2019, the refreshed Echo Buds 2 were updated with a variety of much-needed tweaks and changes. For 2021, Amazon chose to work on the weak areas of the earbuds, including making them smaller and improving the audio quality.
These changes make them an attractive prospect to those wanting to have truly wireless earbuds. At the same time, it has to take on Apple's well-established AirPods product family.
The second-generation Echo Buds sit somewhere between the AirPods and AirPods Pro. As an accessory that offers the AirPods Pro ANC in a package that's in the same rough price range as AirPods, that's a proposal many would want to take up.
Echo Buds versus AirPods and AirPods Pro - Specifications
AirPods (Second Generation)
AirPods Pro
Echo Buds (Second Generation)
Dimensions (inches)
1.59 x 0.65 x 0.71
1.22 x 0.86 x 0.94
0.78 x 0.75 x 0.75
Weight (ounces)
0.14
0.19
0.20
Case Dimensions (inches)
2.11 x 1.74 x 0.84
1.78 x 2.39 x 0.85
2.63 x 1.12 x 1.54
Case Weight (ounces)
1.41
1.61
1.57 (without wireless charging),
1.68 (with wireless charging)
Battery Life (earbuds)
5 hours
4.5 hours with ANC, 5 with ANC off
5 hours with ANC, 6.5 hours with ANC off
Battery Life (with case)
More than 24 hours
More than 24 hours
19.5 hours
Connectivity
Bluetooth 5.0
Bluetooth 5.0
Bluetooth 5.0
Microphones
Dual Beamforming
Dual Beamforming, Single Inward-Facing
Dual Beamforming, 1 Internal
Sensors
Dual Optical Sensors,
Motion-Detecting Accelerometer,
Speech-Detecting Accelerometer
Dual Optical Sensors,
Motion-Detecting Accelerometer,
Speech-Detecting Accelerometer,
Force Sensor
Accelerometer,
Proximity,
Touch,
Hall (case)
Sweat and Water Resistance
No
IPX4
IPX4
Active Noise Cancellation
No
Yes
Yes
Price
$159 with Charging Case,
$199 with Wireless Charging Case
$249
$119.99 with charging case,
$139.99 with wireless charging case
AirPods and AirPods Pro vs Echo Buds - Design and dimensions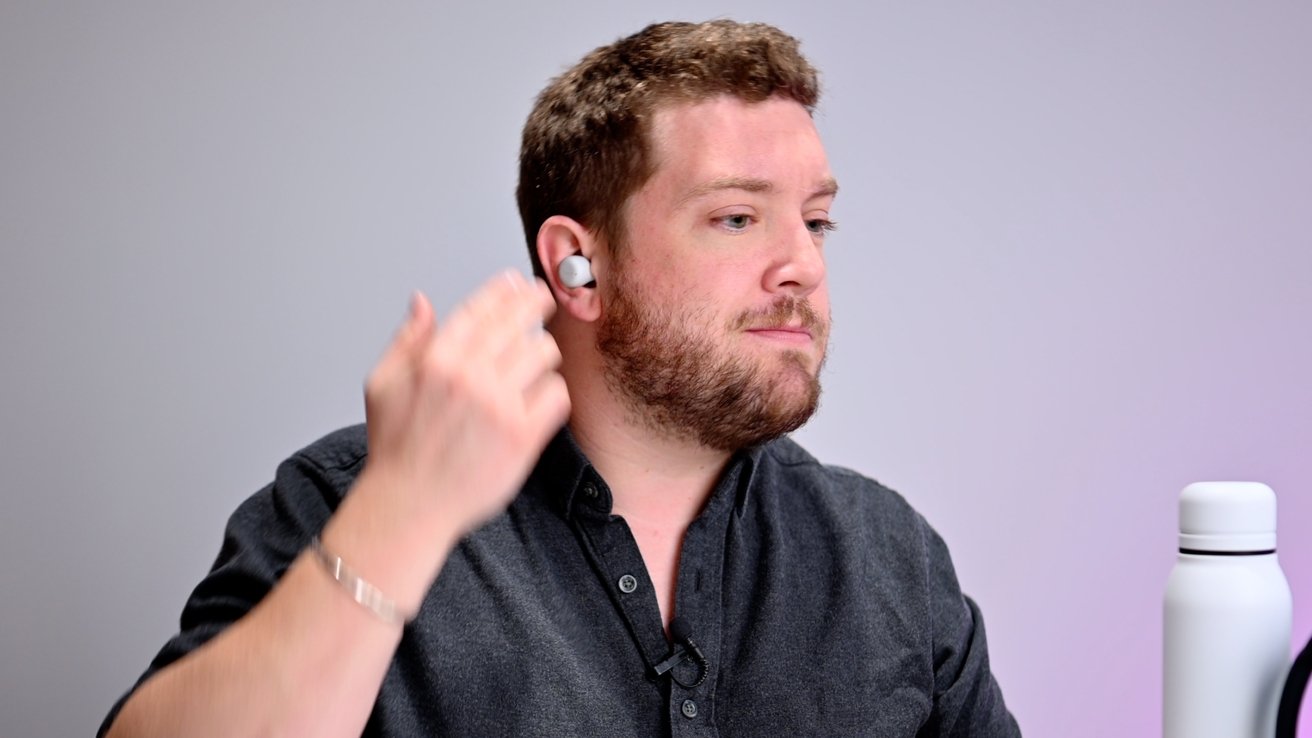 From the outset, the physical design of the Echo Buds is dramatically different from that of AirPods and AirPods Pro. While Apple has gone with a stem descending from each earpiece that has since become quite iconic, Amazon has decided against that design in favor of keeping the earbud firmly in the ear itself. A much more traditional earbud design.
This does eliminate the tell-tale stem that onlookers will immediately know are AirPods, minimizing the visual appearance to onlookers. But by the same token, seeing a larger circular object lodged in the ear canal may also draw some attention.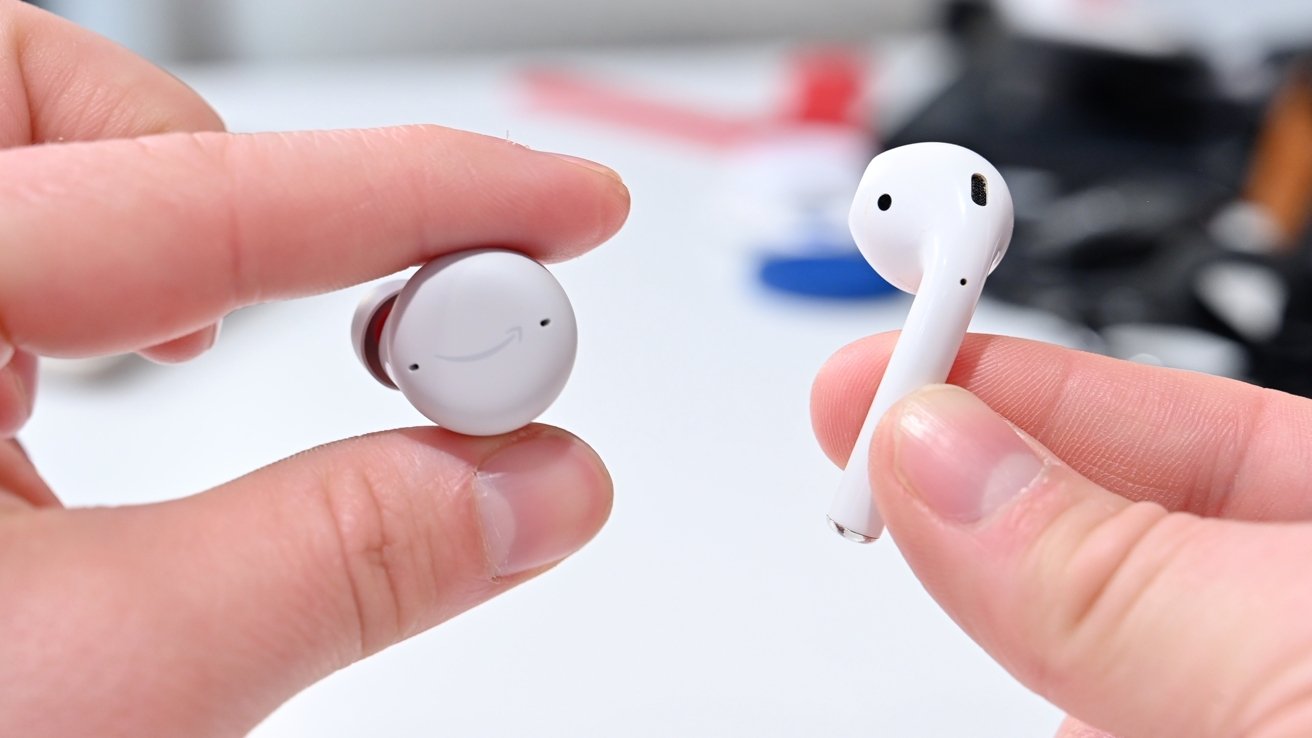 One questionable design choice made for the Echo Buds is the stamping of the Amazon logo on the exterior of each earbud. The Amazon "smile" logo is a light grey on the white models and a dark grey on the black earbuds. It isn't as obvious as the Beats "b" but it sticks out enough to be noticeable.
Both Apple and Amazon include a series of silicone ear tips with their earbuds in various sizes. Apple offers three sizes whereas Amazon includes four in total. As a nice touch, Amazon color-codes its ear tips to make them more easily distinguishable.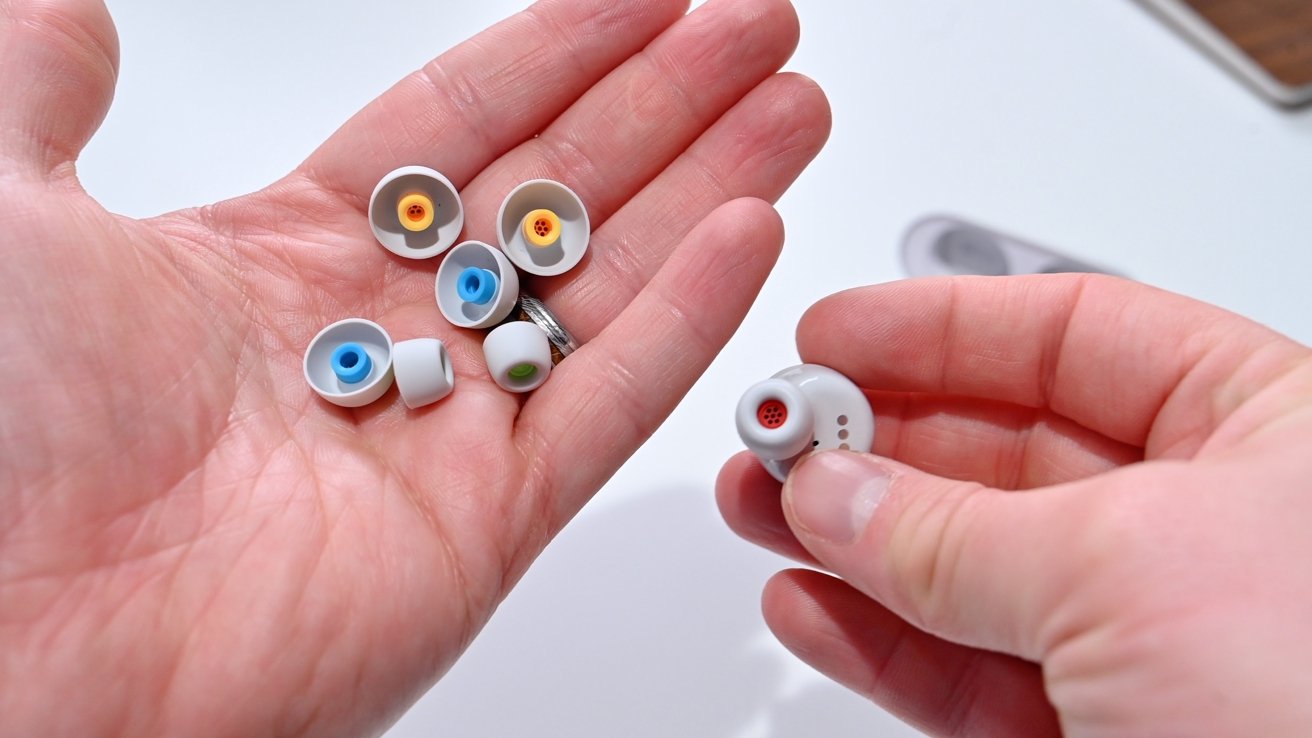 Additionally, they each offer their own version of a "fit test" to ensure you've chosen the correct tips for your ears. Apple's resides in the Settings app while Amazon's is housed in the Alexa app.
Amazon claims it has shrunk the overall size of the Echo Buds by 20%, making them smaller and lightweight. Measuring 0.78 by 0.75 by 0.75 inches, each earbud is very small, especially when put against the 1.22 x 0.86 x 0.94-inch AirPods Pro.
Against the AirPods, Amazon's Echo Buds are shorter than Apple's 1.59-inch length, but still slightly larger than the AirPods' 0.65 inch and 0.71-inch dimensions. The Echo Buds are slightly chunkier overall but are certainly not as long as AirPods.
The Echo Buds weigh 0.2 ounces, more than the 0.19-ounce AirPods Pro and the 0.14 ounce AirPods.
AirPods and AirPods Pro vs Echo Buds - Cases
Apple supplies the AirPods with a choice of the standard USB-C Charging Case or the Wireless Charging Case. No such choice is provided for the AirPods Pro, as you get a wireless charging-compatible case regardless.
The Echo Buds follows the same path as AirPods, with users able to select between the normal case or the wireless charging-enabled version for a $20 premium.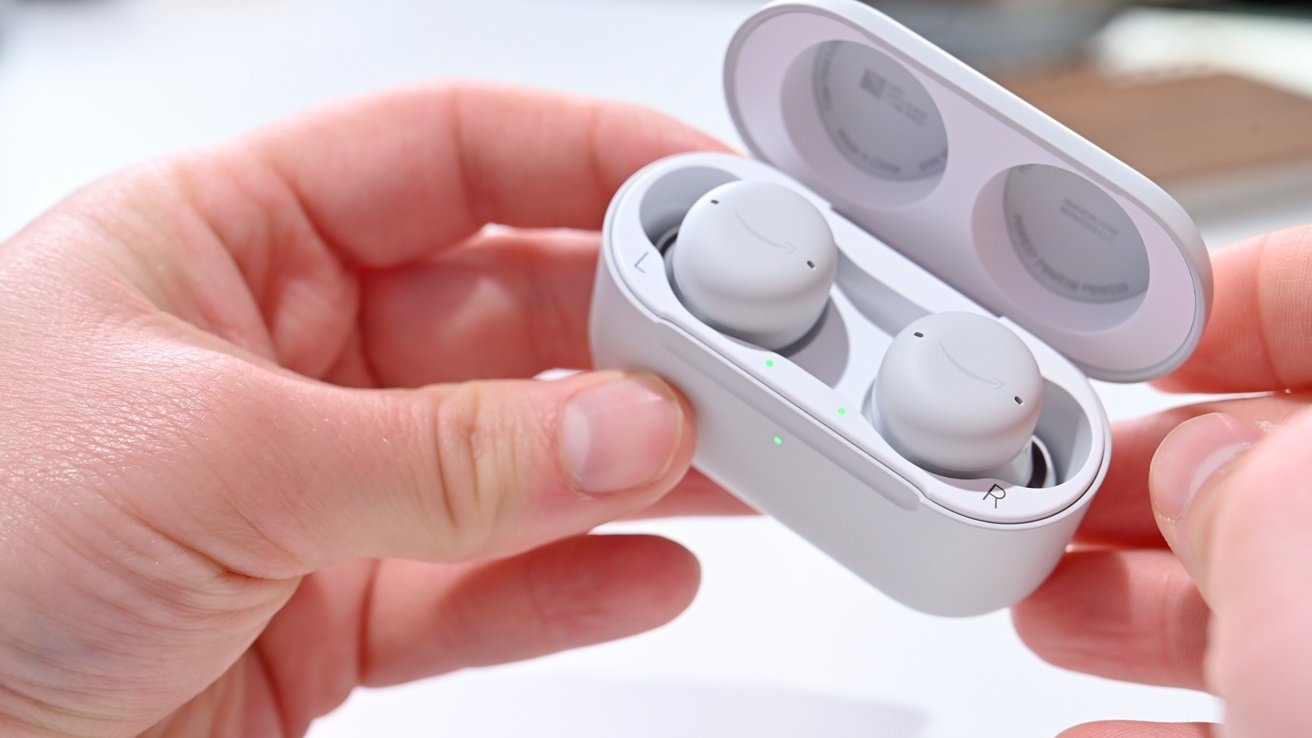 Amazon has also gone along with Apple for its case design, with the Echo Buds housed in a case that has a top lid and a general style that's similar to what you see with the AirPods. There's even a lip and a front LED in the same positions as Apple's versions.
The Echo Buds case is longer at 2.63 inches versus 2.39 inches for the AirPods Pro width and the 2.11-inch AirPods Pro case height. The Echo Buds' other dimensions of 1.12 inches and 1.54 inches also make it a chunkier and well-rounded case, while Apple's cases prefer to be thinner at 0.84 inches and 0.85 inches on their narrowest dimensions.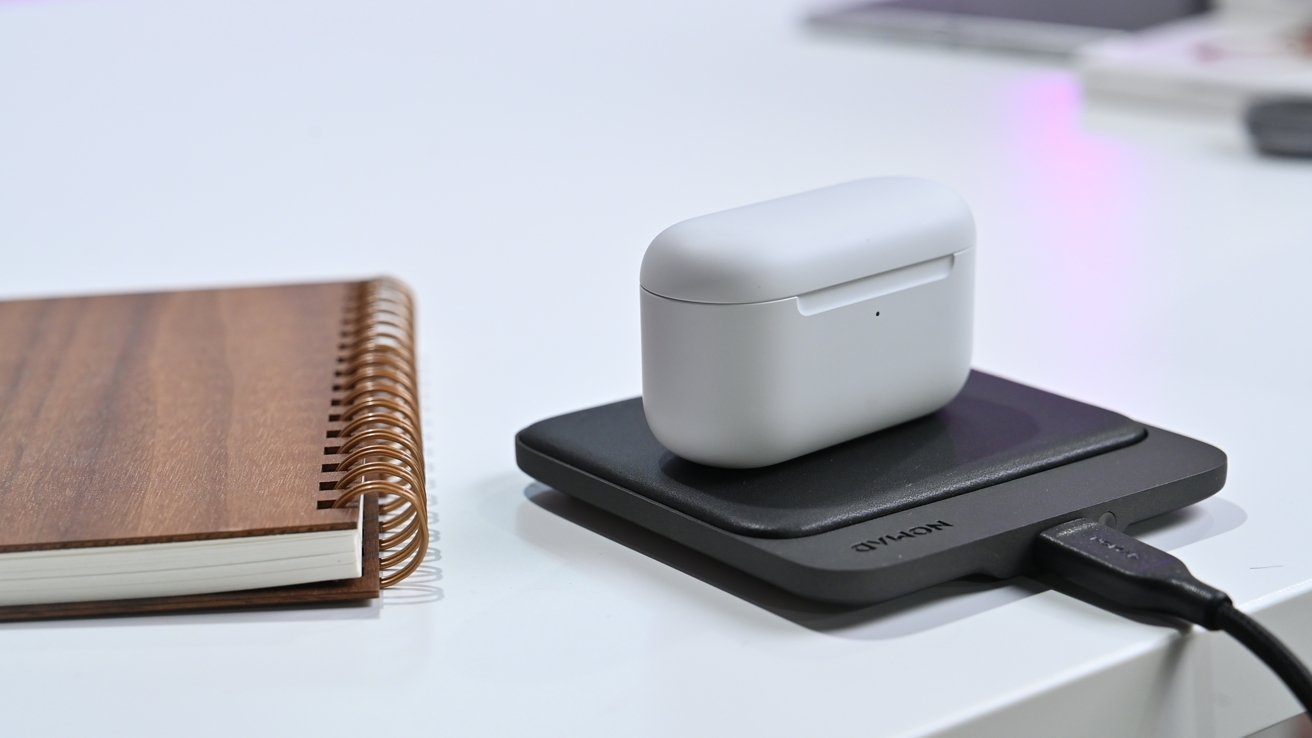 You're also not going to see much weight difference between the cases as the AirPods and AirPods Pro cases weigh 1.41 ounces and 1.61 ounces respectively. Amazon's standard case weighs 1.57 ounces, rising to 1.68 when you include wireless charging.
AirPods and AirPods Pro vs Echo Buds - ANC and Transparency
The main difference between the AirPods and AirPods Pro is that the latter offers Active Noise Cancellation (ANC) functionality, while the former does not.
ANC allows AirPods Pro and other devices to detect external sound in the environment and inverts the audio waveform to cancel out the external noises. This in turn makes it quieter for the user and easier to hear played music or podcasts.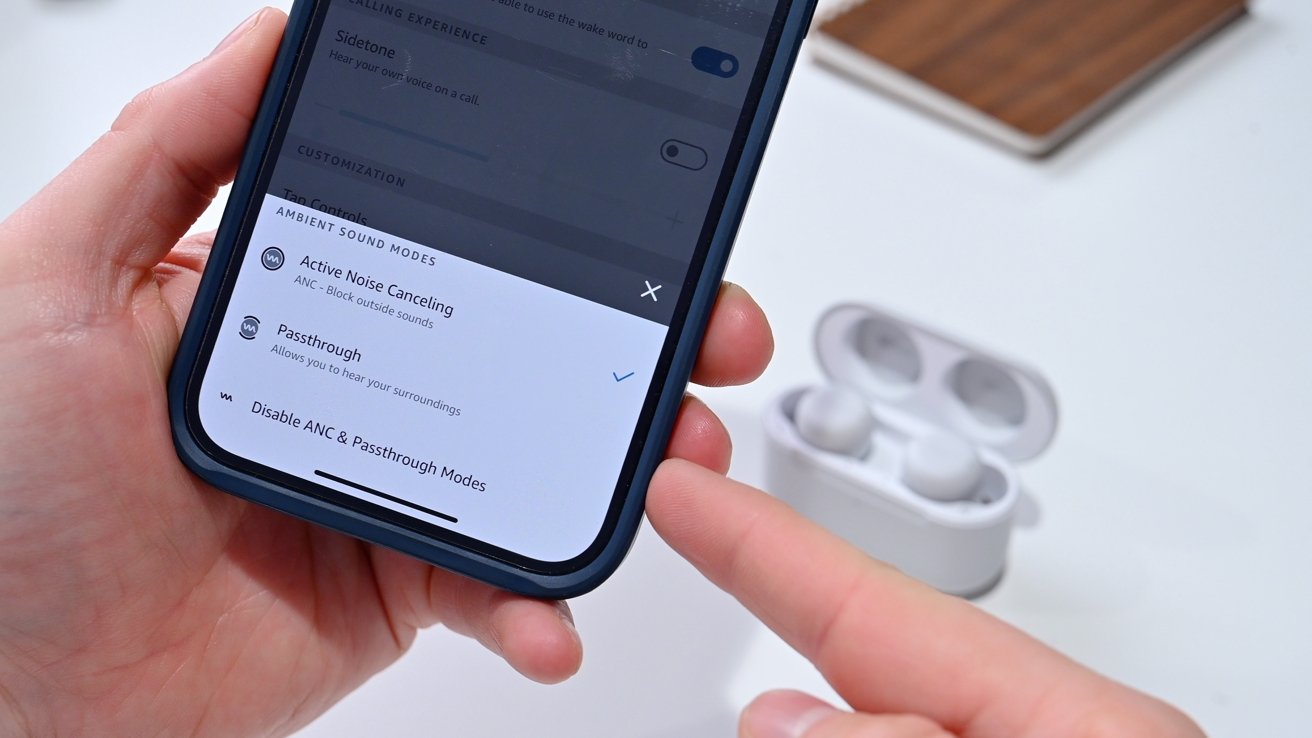 To enhance ANC, the AirPods Pro uses an internally-facing microphone to listen towards the ear, rather than directly listening to environmental audio. This is used to detect any remaining noise not dulled by ANC, which can then be further processed and improved.
AirPods Pro also uses vented silicone tips for a closed seal, blocking any audio leakage through the ear canal to the eardrum.
Since this system is effective at eliminating external sounds, Apple also includes a Transparency mode, that lets in certain types of sounds through. This still allows users to have conversations or to hear nearby dangers or alerts, while still enjoying a perceived quieter environment.
The Adaptive EQ is also available on AirPods Pro, where it automatically tunes low and mid-range frequencies to suit the ear of the user, providing a better audio experience.
The second-generation Echo Buds also offers ANC, seemingly not the Bose version used in 2019. In the updated model, Amazon claims the Echo Buds will cancel twice as much noise as the originals. In our testing, the ANC was very good and reliable for a variety of scenarios we tested them in.
The use of an internal microphone near the ear canal alongside external mics to estimate the sound pressure in the eardrum, which is then used to create the inverse audio signal. A Passthrough Mode is also available, to pass through ambient sound.
Amazon also introduced a unique feature called Sidetone that allows you to hear your own voice during calls. AirPods and AirPods Pro don't offer anything comparable, though the feature causes some distortion if you have long hair that continuously brushes against the earbuds while on a call.
AirPods and AirPods Pro vs Echo Buds - Virtual Assistants, mics, and control
A key part of both families of earbuds is that they provide access to each respective company's digital assistant. For Apple's AirPods lines, it's Siri, while Amazon uses its own Alexa.
Much like Siri, you can ask Alexa queries to play specific content, including music from Apple Music, Spotify, and Amazon Music, podcasts, and audiobooks. It is configured via the free Alexa app which also allows further customization of the earbuds such as adjustable EQ.
This also extends to other typical queries, such as setting reminders, getting directions, and handling calls. An inbound VIP Filter will allow users to set phone notifications they wish to hear, and for the rest to be muted and unheard while the filter is active.
You don't have to use Alexa with the Echo Buds, as it will also work with Siri on the iPhone or Google Assistant on Android devices.
As for privacy, Amazon says that Alexa does not transmit anything until it hears its key phrase. At that point, users will hear an audible tone in their ears to let them know Alexa is listening. The onboard mics can be muted at any time either via the Amazon app or by customizing the long-hold gesture.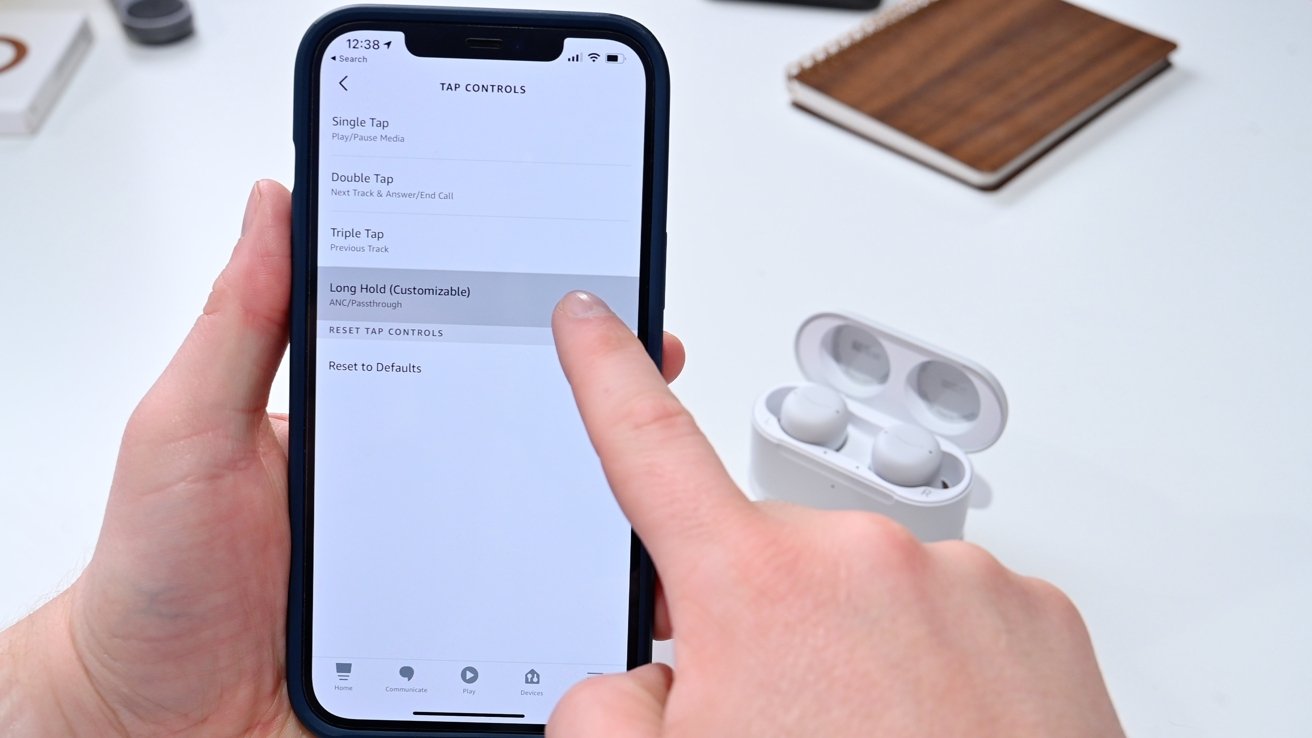 To provide audio to the virtual assistants, as well as to handle calls, there are microphones built into each earbud. The AirPods have two external-facing mics that are dual-beamforming, while the AirPods Pro add a third inward-facing mic for ANC purposes.
The Echo Buds are similar to the AirPods Pro in this case, as it too has dual beamforming microphones pointing outward, along with the aforementioned internal mic.
While hands-free interaction is the main way of using the earbuds as a whole, there are still physical ways to control each, namely by tapping. A tap on each earphone can be used to control music playback, to answer a phone call, or to start or stop another interaction, without using a verbal prompt.
AirPods and AirPods Pro vs Echo Buds - Battery life
On an earbud-only basis, Amazon's claimed battery life for the Echo Buds is slightly better than Apple's.
AirPods last for up to 5 hours of music playback on a single charge, while AirPods Pro manages 4.5 hours with ANC enabled, 5 hours with it disabled. The Echo Buds start at 5 hours with ANC enabled, rising to 6.5 hours with ANC turned off.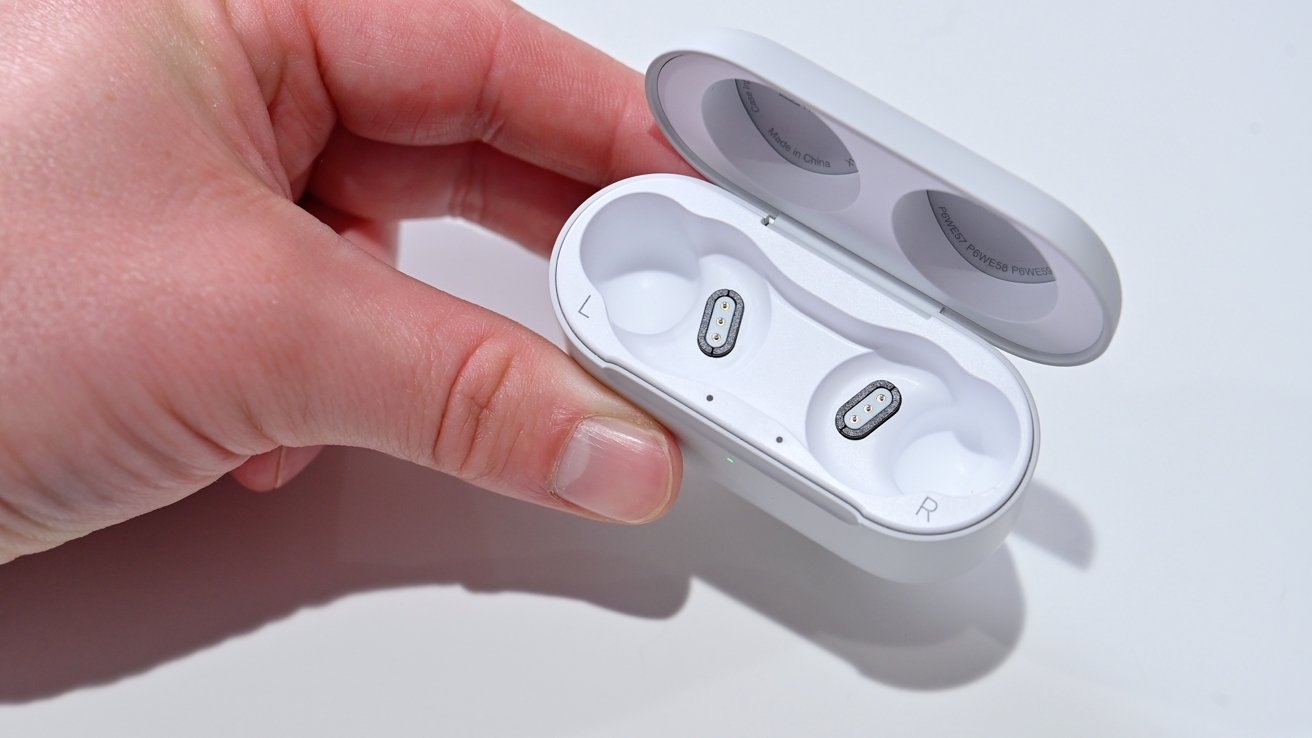 This certainly makes the Echo Buds look good, but its quick charge capabilities are slightly below par, with 15 minutes of charging providing up to 2 hours of music playback. AirPods can manage a better three hours of listening from a 15-minute charge, equating to an hour's use for 5 charging minutes versus 40 minutes of use for the same charging duration on the Echo Buds.
The AirPods Pro is comparable to the AirPods on this metric, as Apple quotes the accessories as offering around an hour's listening for five minutes of charge.
The accompanying charging cases, which are used to recharge the earbuds between uses while they are stored, do vary in terms of battery life. In the case of AirPods and AirPods Pro, the charging cases are claimed to extend the total usability time to more than 24 hours.
For the Echo Buds, Amazon can only manage a maximum of 19.5 hours.
Amazon is to be commended in keeping up with the AirPods by providing a choice of wireless or non-wireless cases. AirPods Pro ships with a wireless charging-capable case by default.
AirPods and AirPods Pro vs Echo Buds - Connectivity and other items
Both AirPods and AirPods Pro use Bluetooth 5.0 for connectivity to the iPhone and other devices. Echo Buds also use Bluetooth 5.0.
Both the AirPods Pro and Echo Buds offer sweat and water resistance to an IPX4 rating. AirPods does not have a sweat or water resistance rating.
Audio quality
In testing the audio fidelity of each set of earbuds, we turned to our Apple Music test playlist that you can subscribe to below.
After copious listening, it is clear that the Echo Buds second-generation sound much better than Apple's basic AirPods. AirPods don't create a solid seal in the ear canal and the sound isn't as clear as it is on the other two sets of earbuds. Echo Buds second-generation create a crisper sound with more substantial bass than AirPods.
It is very impressive sound from the Echo Buds for the price point, especially coupled with ANC. AirPods Pro do still sound better than the Echo Buds, as they should for more than a hundred dollars more.
Echo Buds get even more of an edge thanks to the customizable EQ that Apple lacks. Amazon allows you to boost the bass, mid, and treble to create the sound profile you desire. Apple's Adaptive EQ tries its best to mimic the original sound of the audio for your specific ears, but you have no choice in exactly what that is.
AirPods and AirPods Pro vs Echo Buds - Price
You can buy the AirPods for $199 with the Wireless Charging Case, or pay $159 for the version with the non-wireless Charging Case, although AirPods deals are regularly available for under $130. The Wireless Charging Case is also available as a separate item, priced at $79.
AirPods Pro with the Wireless Charging Case retail for $249, with discounts often driving prices down to under $200, according to the AppleInsider AirPods Price Guide.
Echo Buds are a cheap alternative to AirPods for some
Amazon set out to update its first-generation Echo Buds to make them better. It ended up creating smaller earbuds that are also able to take on the current market heavyweight, the AirPods lineup.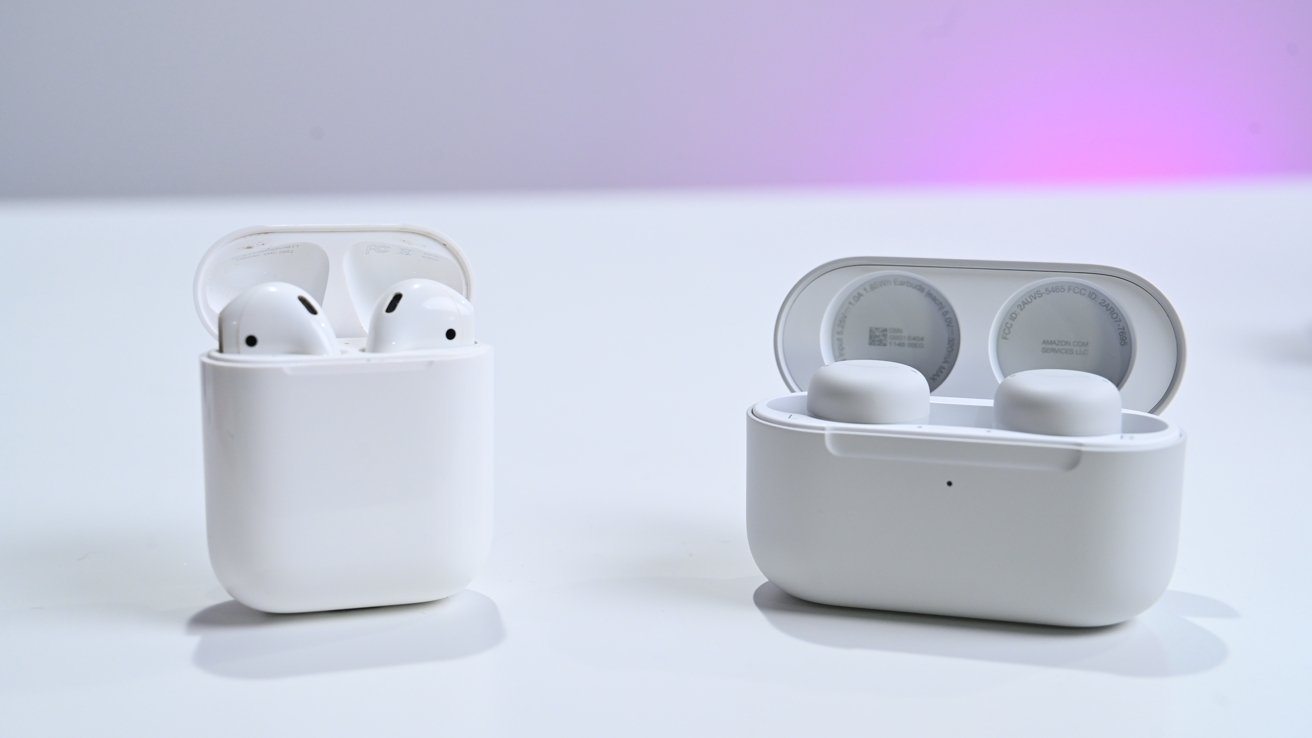 You could argue that Amazon certainly accomplished the job, in offering wireless earphones that provide AirPods Pro-style ANC in a package that is in the same price bracket as the ANC-less AirPods. On this basis, it's very hard to disagree with Amazon's product.
There are some downsides, such as the charging case providing less power overall than the AirPods by a couple of hours, but it's still commendable that Amazon got this far with a product this cheap.
To Apple users loyal to the brand, they will probably continue to use AirPods and AirPods Pro, not least because of how they work well within the Apple ecosystem. For those who aren't reliant on one ecosystem for their digital life, the Echo Buds could be a viable alternative.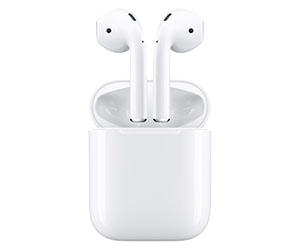 AirPods Prices
---
Configurations
Discount
Apple AirPods Pro

$249.00

$199.00

Coupon

Price with $20 promo code APINSIDER. As always, if you have any issues, you can reach out to us at [email protected] and we'll try and help.

$189.99

$219.00

$218.00

$219.00

$219.99

$215.00

$189.99
$59.01
Apple AirPods With Charging Case

$159.00

$145.00

$119.00

$134.00

$129.00

$129.00

$159.99

$145.00

n/a
$40.00
Apple AirPods With Wireless Charging Case

$199.00

$169.99

$139.98

$169.00

$159.00

$175.00

$199.99

$175.00

n/a
$59.02
Apple Wireless Charging Case For AirPods

$79.00

$66.99

$66.99

$66.99

$79.00

n/a

$79.99

n/a

n/a
$12.01
AirPods Max Space Gray

$549.00

$449.00

Coupon

Price with $100 promo code APINSIDER. As always, if you have any issues, you can reach out to us at [email protected] and we'll try and help.

$499.99

$529.00

$549.00

sold out

n/a

n/a

n/a
$100.00
AirPods Max Silver

$549.00

$449.00

Coupon

Price with $100 promo code APINSIDER. As always, if you have any issues, you can reach out to us at [email protected] and we'll try and help.

$479.00

$479.00

$479.00

$519.00

n/a

n/a

n/a
$100.00
AirPods Max Green

$549.00

$449.00

Coupon

Price with $100 promo code APINSIDER. As always, if you have any issues, you can reach out to us at [email protected] and we'll try and help.

$479.00

$479.00

$549.00

$519.00

n/a

n/a

n/a
$100.00
AirPods Max Sky Blue

$549.00

$449.00

Coupon

Price with $100 promo code APINSIDER. As always, if you have any issues, you can reach out to us at [email protected] and we'll try and help.

$499.99

$529.00

$499.99

$519.00

n/a

n/a

n/a
$100.00
AirPods Max Pink

$549.00

$449.00

Coupon

Price with $100 promo code APINSIDER. As always, if you have any issues, you can reach out to us at [email protected] and we'll try and help.

$479.00

$479.00

$549.00

$519.00

n/a

n/a

n/a
$100.00