Hands on: Azio Izo wireless keyboard set is an attractive, functional addition to your desk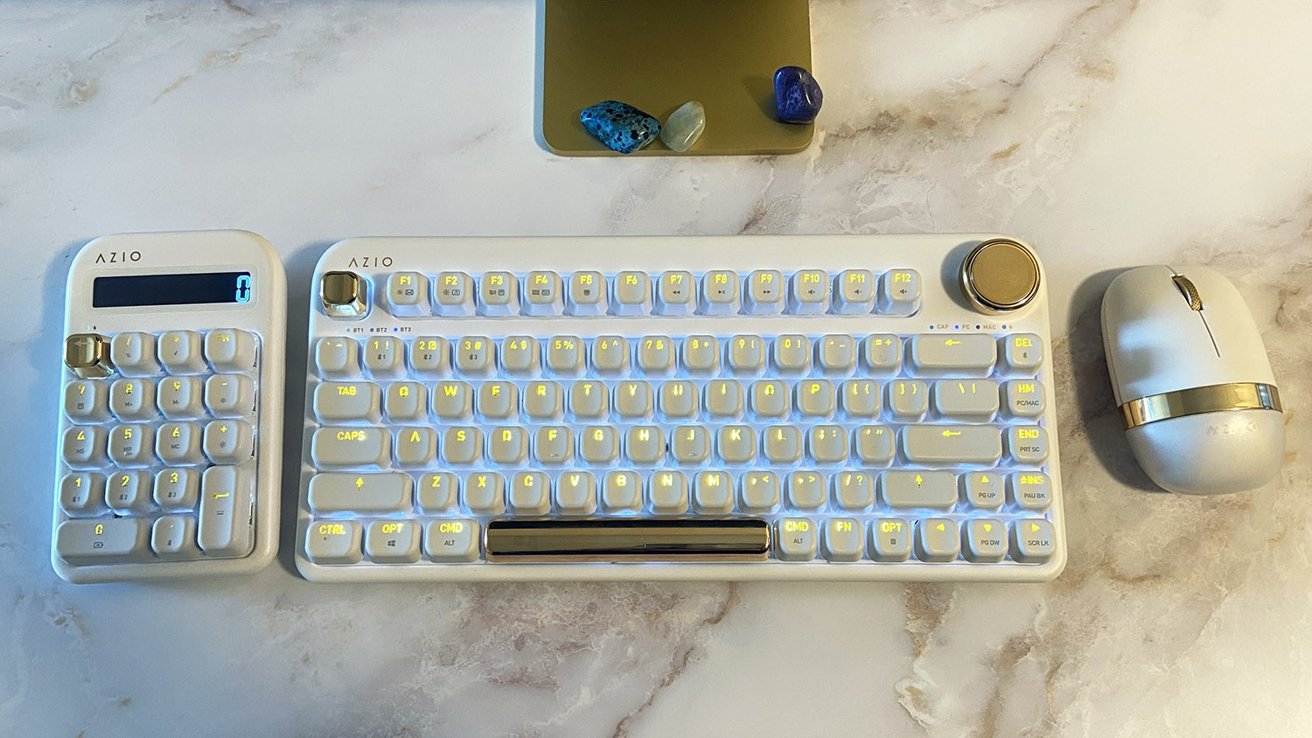 AppleInsider is supported by its audience and may earn commission as an Amazon Associate and affiliate partner on qualifying purchases. These affiliate partnerships do not influence our editorial content.
Keyboard maker Azio's new wireless keyboard collection intends to bring a luxe touch to your desk, a range that is now launching on Kickstarter.
Currently on Kickstarter, the Azio Izo wireless keyboard set was designed to be a pleasing mix of function and form. While it may not be for everyone, the collection does bring a touch of luxury to your desk.
The first thing that impressed was how solid everything feels. The mechanical keyboard, for example, is surprisingly sturdy, and could even be described as heavy.
It's also appreciable that all three devices charge via USB-C, one of the cables that we almost always have lying around.
The devices provided to AppleInsider were in the "White Blossom" colorway, though it also comes in Baroque Rose and Blue Iris colors. The color denotes the body of the devices, while the keyboard and the calculator/number pad feature white keys with gold accent keys.
The Keyboard
As stated above, the keyboard feels impressively sturdy, and it's much heavier than keyboards of similar sizes. While it's easy to conflate weight with quality, the attention to detail is still appreciated.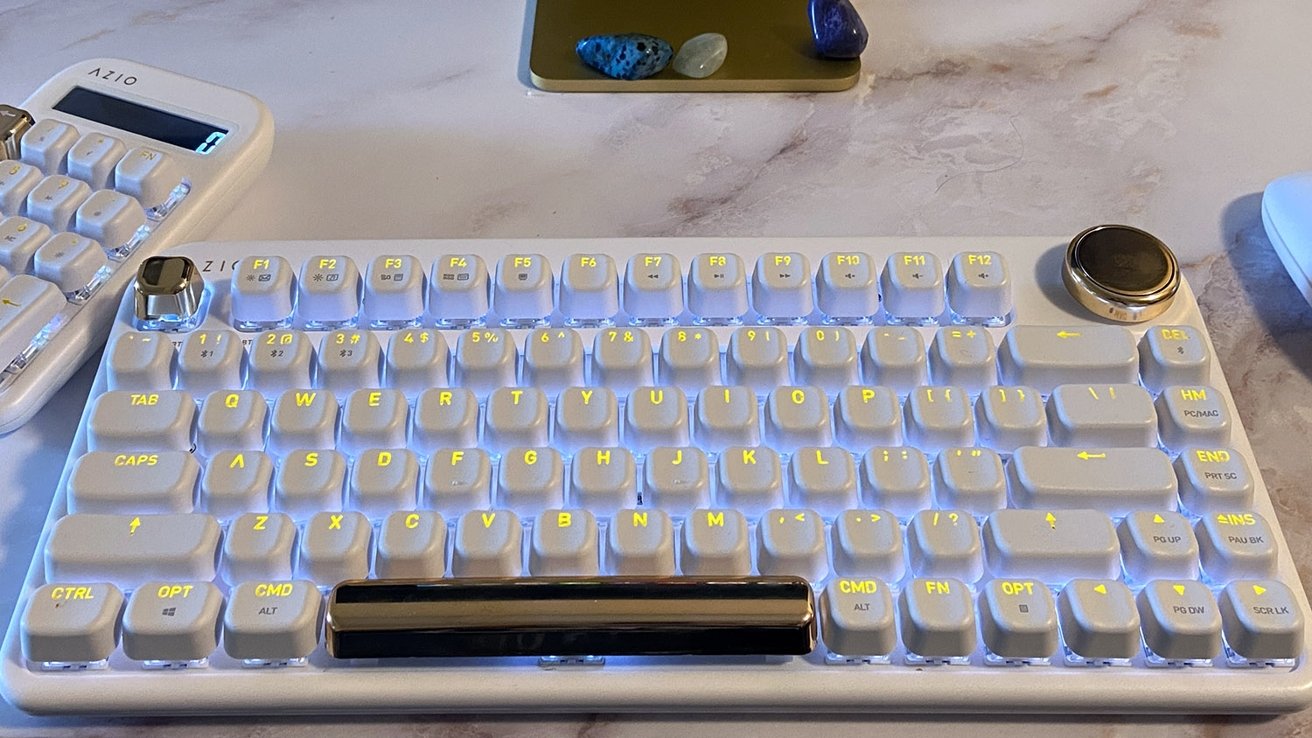 The Izo Wireless Keyboard can be connected wirelessly with up to three devices, or connected directly via USB-C. We had no problem connecting the device to our iMac and our iPad, and could easily switch between the two on the fly.
A thoughtful addition to the keyboard is the ability to switch between PC and macOS-based layouts on the fly. This would work well for anyone who uses both a Windows PC and a Mac, and does not want to fuss with keeping two keyboards in their workspace.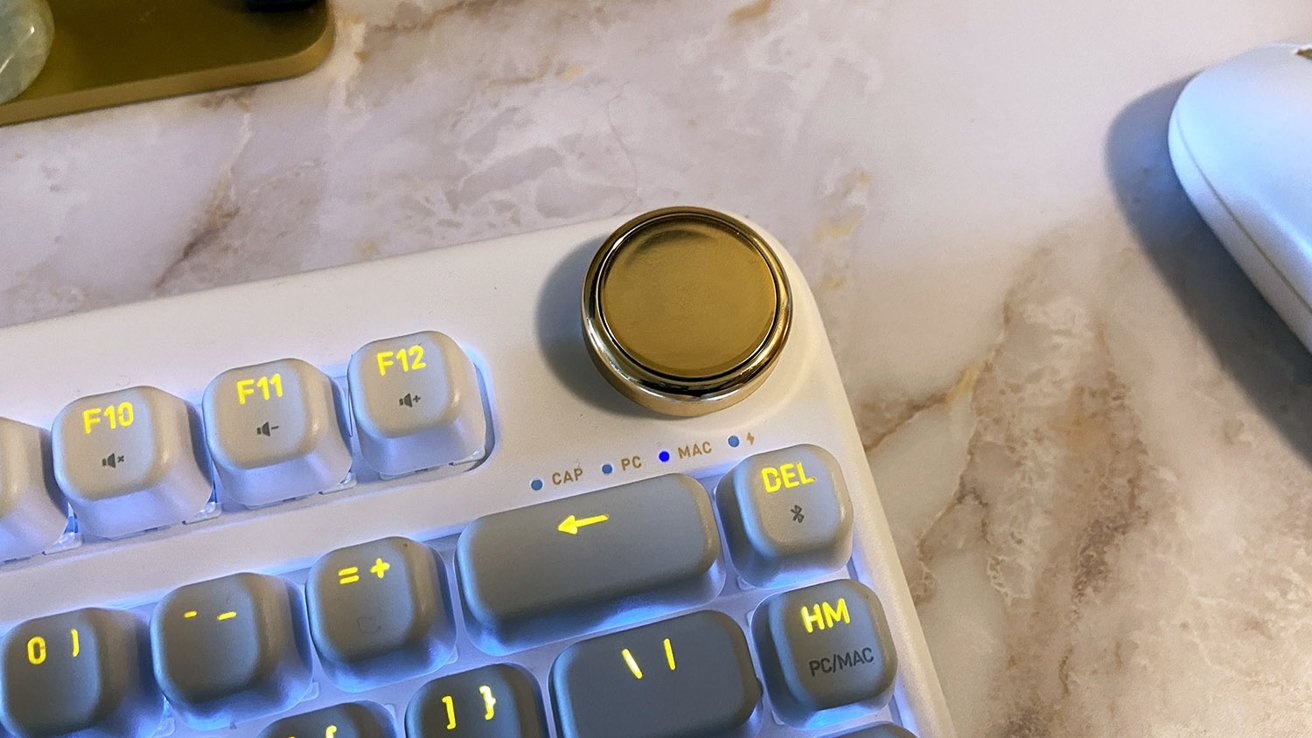 This keyboard also uses Gateron Blue mechanical switches, meaning that they're wonderfully tactile, if a bit loud. If you're already familiar with blue switches, this probably won't be a big deal to you, but if you're more familiar with chiclet-style keyboards, the change may be a little intense at first.
If you sit in close proximity to other people, they may also not appreciate the loud click-click-click noise when you type.
The keycaps are surprisingly comfortable to type on, as each key has a rounded, almost marshmallow-like edge to it instead of sharper edges or corners. Additionally, the keys are more concave than others we've used, which has an oddly satisfying "cradling" effect on your fingertips as you type.
The accent keys, a gold space bar, and a gold escape key are a cute touch, too. However, should you not want them, they're easily swapped out with plain white keys as well.
A gold knob at the top-right corner of the keyboard acts as a volume control dial, though it can also control the keyboard's backlighting effects. By holding down the function key and pressing down on the knob, users can cycle through 21 individual backlight effects.
Overall, we were very impressed with Azio's keyboard. Not only does it offer up a luxe aesthetic that we've not seen before, it feels good to type on, too.
The keyboard is available through Kickstarter for $70.
Izo Wireless Mouse
Also available is Azio's Izo Wireless Mouse, a color-matched Bluetooth/RF mouse. There's not much to say about it, other than it works as intended and felt good in our hand.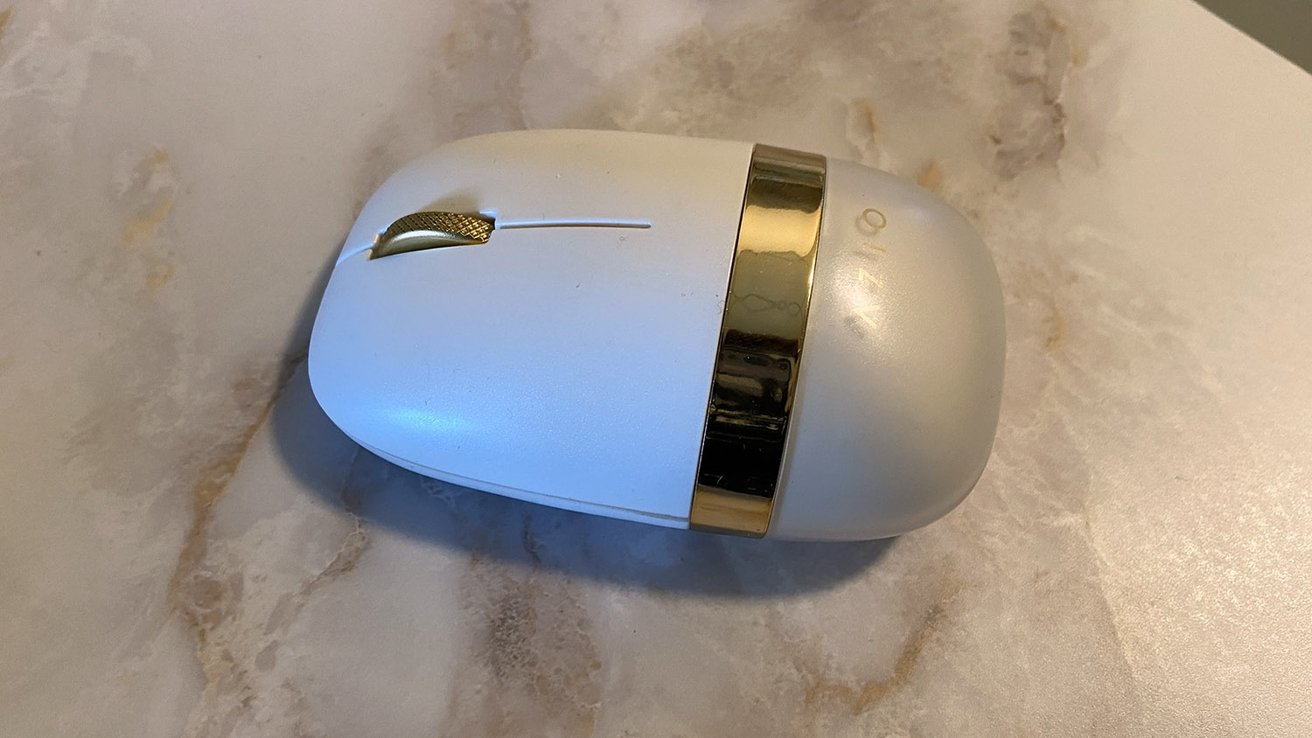 We particularly enjoyed the metal scroll wheel, which features a diamond grid pattern cut into it. It scrolls wonderfully, with a tactile yet inaudible click.
The Izo Wireless Mouse can be purchased through the Kickstarter campaign as an add-on to the keyboard.
Izo Wireless Number Pad/Calculator
Perhaps the most interesting of the three devices, Azio has created a standalone number pad that doubles as a calculator. Following the same aesthetics of the Izo Wireless Keyboard, it features mechanical keys with rounded edges and a gold accent button.
Like the keyboard, the wireless number pad can be connected via USB-C or Bluetooth and paired wirelessly with up to three individual devices.
Suppose you should ever need a standalone calculator. In that case, the Izo Wireless Number Pad features a switch at the top that can be flipped, allowing you to utilize the built-in calculator function.
We liked the fact that the LCD panel is backlit, making it easier to see in both light and dark environments.
The Izo Wireless Number Pad/Calculator is available from Azio's Kickstarter campaign for $40.
Pros
Feels well made, sturdy
Keyboard allows users to switch between PC and Mac keyboard layouts
Calculator is backlit, easy to read
Cons
Only ships with blue switches, which may prove too noisy or overly tactile for some users