Sonnet DuoModo Review: Modular & compact Mac mini PCI-e and eGPU expansion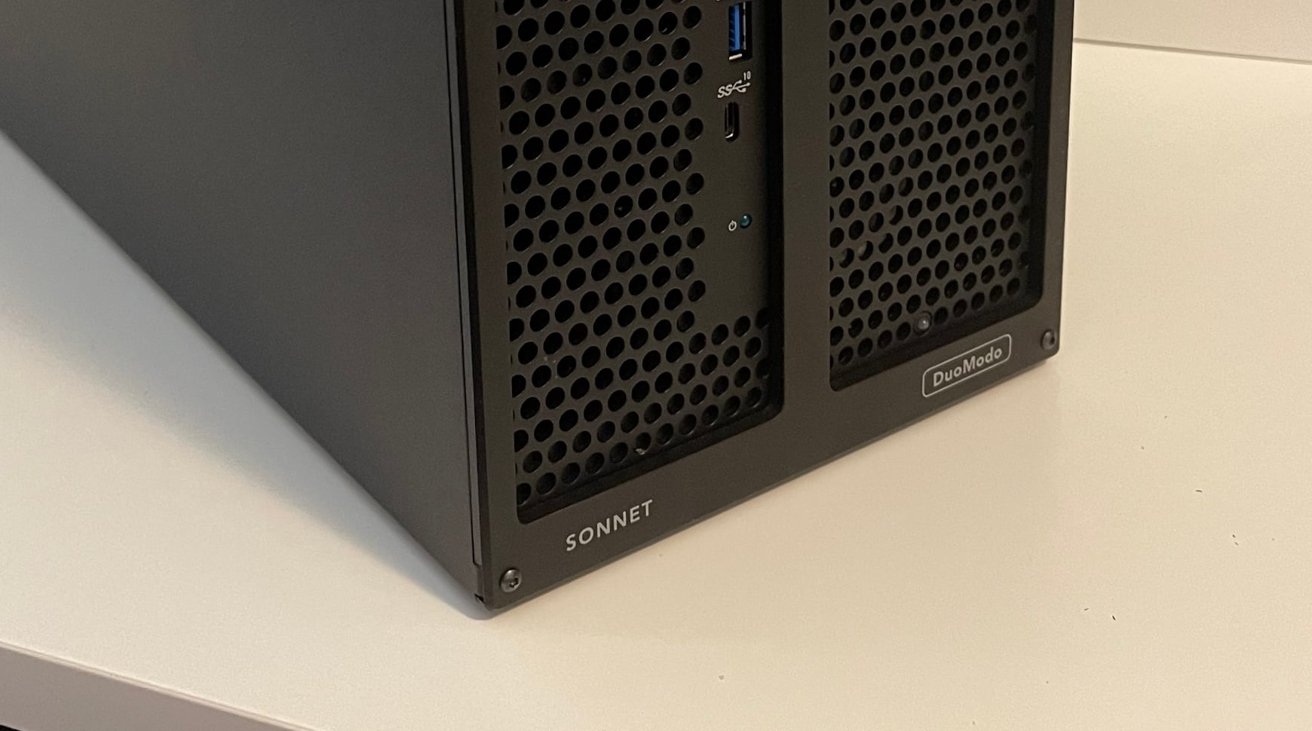 AppleInsider may earn an affiliate commission on purchases made through links on our site.
On Tuesday, Sonnet announced the DuoModo expansion system that can enclose your Mac mini, and either PCI-E expansion cards or a video card, in a compact space not much larger than just an eGPU enclosure itself — and we've been creating content with it for a month.
A PCI-E breakout box for Thunderbolt equipment isn't a new concept — the eGPU sprung from the idea. However, until Tuesday, there weren't any cohesive systems allowing a user to enclose a Mac mini and either GPU or PCI-E expansion in a single enclosure, much less a modular one allowing you to customize an enclosure with exactly what you need.
Sonnet DuoModo system: Enclosures and modularity
Sonnet's new DuoModo system is two-fold. First, there are three enclosures in Sonnet's strategy. The Dual-Module Desktop Enclosure and the rack-mounted model hold two modules each, and a Single Module Desktop Enclosure contains one.
Made from aluminum, the desktop enclosures are 16.7 inches deep, with the single also measuring 3.5 inches wide and 9 inches high, while the dual is 6.9 inches wide and 9.1 inches tall.
The Dual-Mode Rackmount Enclosure takes up 2U in a cabinet. Made from steel instead of aluminum, it also takes two of the modules but includes a blanking plate if only one module is installed.
Supplied with rail racks for a depth of up to 24 inches, the enclosure measures 19 inches wide, 16.5 inches deep, and 3.5 inches tall.
Three modules can slot into these enclosures, held in place by a thumbscrew and four Philips-head screws — the DuoModo xMac mini, the DuoModo eGPU, and the Echo III.
Sonnet DuoModo xMac mini
The xMac mini-module is a mounting module for the Mac mini, with it held safely inside the enclosure and connected to a built-in Thunderbolt 3 Dock. The Mac mini is mounted to the rear, allowing free access to all the ports on the back of the Mac from the back of the module itself.
The Thunderbolt 3 dock element adds four front-panel ports, providing one pass-through Thunderbolt 3 port, two USB 3.2 Type-C ports, and one USB 3.2 Type-A port.
These aren't all of the ports the Thunderbolt dock element offers, as inside, there's an extra Thunderbolt 3 port along with a USB 3.2 Type-A port. The latter is intended to connect a bus-powered USB storage drive, an iLok USB-A thumb drive, or other software licensing dongle similar to the USB-A inside Apple's Mac Pro.
Furthermore, there's a pair of M.2 NVMe SSD sockets for expanding the storage capacity via Thunderbolt 3, which can sea one or two M.2 2280 NVMe PCIe SSDs. Speed is what you'd expect — a slot singly can deliver about 2600 megabytes per second read and write, and the pair in a RAID can deliver about 2900 megabytes per second, drive model depending.
A pair of temperature-controlled fans maintain the temperature inside the enclosure. In our testing with a 2018 six-core i7 Mac mini, the computer delivered the same performance while reporting temperatures about the same under load when inside the enclosure, as it does when it is out.
It's not hard to imagine an enterprise using the dual-module enclosures and including the xMac mini module as one of the two for a ready-to-go single-unit powerhouse.
The xMac mini module all Mac mini models from Late 2012 up to the M1 Mac mini, though earlier variants will require Thunderbolt 2 to Thunderbolt 3 adapters to function. Preliminary testing shows that the M1 Mac mini works too, but given the general lack of support from vendors for external PCI-E support on Apple Silicon, this seems like a waste for most — unless you have a BlackMagic DeckLink card now.
Sonnet DuoModo eGPU Module
While the xMac mini-module held a Mac, the eGPU one resembles a more traditional eGPU enclosure.
As the name suggests, the enclosure can be used to insert a graphics card and connect it to your Mac. A user-supplied graphics card is installed into a PCI-e card slot, which in turn can be connected to a Mac using Thunderbolt 3.
Beyond the Mac mini slot, there are two M.2 slots for fast storage. The pair of slots is still "limited" by the max speed of Thunderbolt 3, so there's no reason to get PCI-E 4 M.2 drives.
The enclosure supports 2.5-width graphics cards, as well as full-length and full-height cards. Supported hardware includes AMD Radeon cards currently available to use in macOS. This includes support for the Radeon RX 5500 to 5700 XT range, the Radeon Pro W5500 and W5700, and the Radeon RX 6700, Radeon RX 6800 XT, and 6900 XT.
The enclosure includes an 800-watt power supply, which will provide up to 750 watts of power to a graphics card. A pair of 8-pin auxiliary connectors provide power to a PCI-E graphics card.
Dual Noctua fans cool the enclosure, which are rated to operate at 17 decibels. In practice, we've found noise from the enclosure to have more to do with the card you pick than the Noctua fans.
Echo III Module
The Echo III is, at face value, similar in concept to the eGPU module. Instead of a dual-width, power-hungry GPU card, the Echo III supports three full-height, full-length PCIe cards, with its single x16 and two x8 PCIe 3.0 slots. Sonnet says that it supports practically any Thunderbolt-compatible non-eGPU card that has Apple drivers.
The power supply provides 400W of power with a 75W auxiliary power connector and will automatically turn on and off with the connected Mac. While it doesn't support GPU cards, it will still handle other power-hungry types.
As an Avid-qualified device, it can also support up to three AVID Pro Tools or HDX PCIe cards. Crucially for Apple Silicon users, it does support M1 Macs, unlike the GPU enclosure.
Along with PCIe slots, it also offers a pair of Thunderbolt 3 ports. Cooling is handled again by a pair of Noctua fans.
Pre-configured Systems
Along with the separate components, Sonnet also offers bundles of the enclosures and modules, along with all cables you need to connect them all. They also serve as examples of where you could go in planning a rollout using the system.
There are six such systems, with five including dual-module enclosures. The lone one-module bundle is the Echo III Desktop, including the single-module enclosure and the Echo III module, intended to give PCIe expansion for Mac users over Thunderbolt without any significant extras.
Two of the variants are the Dual Module Desktop Enclosure and the xMac mini-module, accompanied by either the Echo III or the eGPU Module.
The Rackmount enclosure is offered in three bundles, including the two module combinations used in the desktop counterpart. The third consists of the enclosure and an Echo III module, with the last space left empty for users to add their selection.
Sonnet DuoModo - Pricing
The cheapest parts of the system are the enclosures, sans modules. The DuoModo Dual-Module Desktop Enclosure costs $149.99, the Single-Module variant is $99.99, and the Rackmount Enclosure is $199.99.
The xMac mini Module costs $499.99, but you will have to add your own Mac mini. The eGPU module is $599.99 on its own, again without the graphics card. Lastly, the Echo III is $699.99.
If you wanted a pre-configured system, you would effectively pay the total cost of the enclosures and modules put together. So, you're not going to get any actual cost savings when buying a package.
For example, if you wanted the DuoModo xMac mini, eGPU Module, and the Dual-Module enclosure, Sonnet will sell it to you for $1,249.99. This is essentially the same as if you had bought them separately.
A budget Mac Pro?
The four pre-configured versions with xMac mini-modules demonstrate how you can create an enhanced Mac setup centered around a Mac mini. And, the combination could easily be deployed anywhere within an enterprise where a need erupts.
In the case of customers looking at the Mac Pro and wishing they had an upgradable Mac option that didn't start at $5,999 for the base model, these may also seem like a viable option. Sure, setting one of these up won't necessarily be on par for performance at the higher Mac Pro configurations. Still, they will offer higher upgradability that isn't available with the other Macs in Apple's range.
Some may even see the price point as making it a credible alternative once you've paid out for all of the extras and the core hardware you need.
Given the aforementioned xMac mini and eGPU setup above for $1,249.99, you'll still have to add a suitable Mac mini and a graphics card — assuming you can find one at retail. While you can't quite match the processor used in the baseline Mac Pro, as well as some other more minor differences, you could still get pretty close with what Apple still sells for an Intel Mac.
Configuring for a 3.2GHz 6-core Intel Core i7 clocked at 4.6GHz, 32GB of memory, keeping storage at 512GB, and paying for the 10-gigabit Ethernet option brings the Mac mini up to $1,999.
While you can't get a Radeon Pro 580X, you can pay about $650 on the open market for a Radeon RX 580 with 8GB. You could acquire a different graphics card, such as the same Radeon RX 580 but with 4GB of memory for closer to $400 for relatively similar graphical performance.
Using a Radeon RX 580 8GB for $650 brings the total outlay up to approximately $3,900. This still gives you over $2,000 to play with to improve the enclosure-based setup.
GPU market pricing is a mess and under strain from cryptocurrency miners. There are higher-performing cards that retail for about the same as an 8GB RX 580, but good luck finding one at retail.
Geekbench's browser shows the Mac mini with the Core i7 as scoring 1,099 points in single-core performance, narrowly ahead of the 1,014 of the Mac Pro. The Xeon chip in the Mac Pro takes the lead on multi-core processing, managing 7,972 versus the Mac mini's 5,465.
The Mac Pro is intended for intensive processing tasks and has better thermal conditions than the Mac mini. This should be considered when making an ersatz one out of third-party peripherals.
An enterprise upgrade path for the Mac mini
This isn't the first time that the Mac mini has had a rack mount solution. It isn't even Sonnet's first product to do so.
What the Sonnet DuoModo system is, though, is a modular Thunderbolt 3 expansion system for that rack-mount. Alternatively, its an attractive system that can put a Mac mini, extra NVMe storage, and a GPU on your desktop for about the same amount of space as the company's own EGPU enclosure alone.
That said, the Sonnet DuoModo system isn't for everyone. It's good-looking, but it isn't a "computer as appliance'" like the iMac is, and the price for the system pushes into that iMac territory alone. We do acknowledge that the pricing is likely reasonable, given what's included, and the engineering involved — but that realization doesn't make a DuoModo system affordable for most.
Literally, though, it can build a xMac of yore — a small form-factor Mac with some PCI-E expandability. As Apple grows, the market for that kind of thing is an increasingly smaller portion of it, making the likelihood of Apple doing itself lower and lower with any given year.
And for enterprise, the modularity and deployability of entire modules of the system is a bonus. It just may be too close to the Mac Pro for comfort, given the absolutely bonkers current street pricing on GPUs.
We like the System overall. It performs well, it looks nice, and it's fun — which you don't often say about pro-oriented accessories.
Sonnet DuoModo system pros
Modular upgrades for Mac mini
Easy access to PCI-E cards, or GPU
Good ventilation
GPU and Mac mini in about the same space as an eGPU enclosure
Sonnet DuoModo system Cons
Mac mini plus a DuoModo system and a PCI-E GPU card starts to approach a Mac Pro in pricing
While not specific to the DuoModo, GPU pricing is crazy right now
Rating 4 out of 5