Asustor Lockerstor 2, Lockerstor 4 review: Quiet, speedy network storage for your Mac or iPhone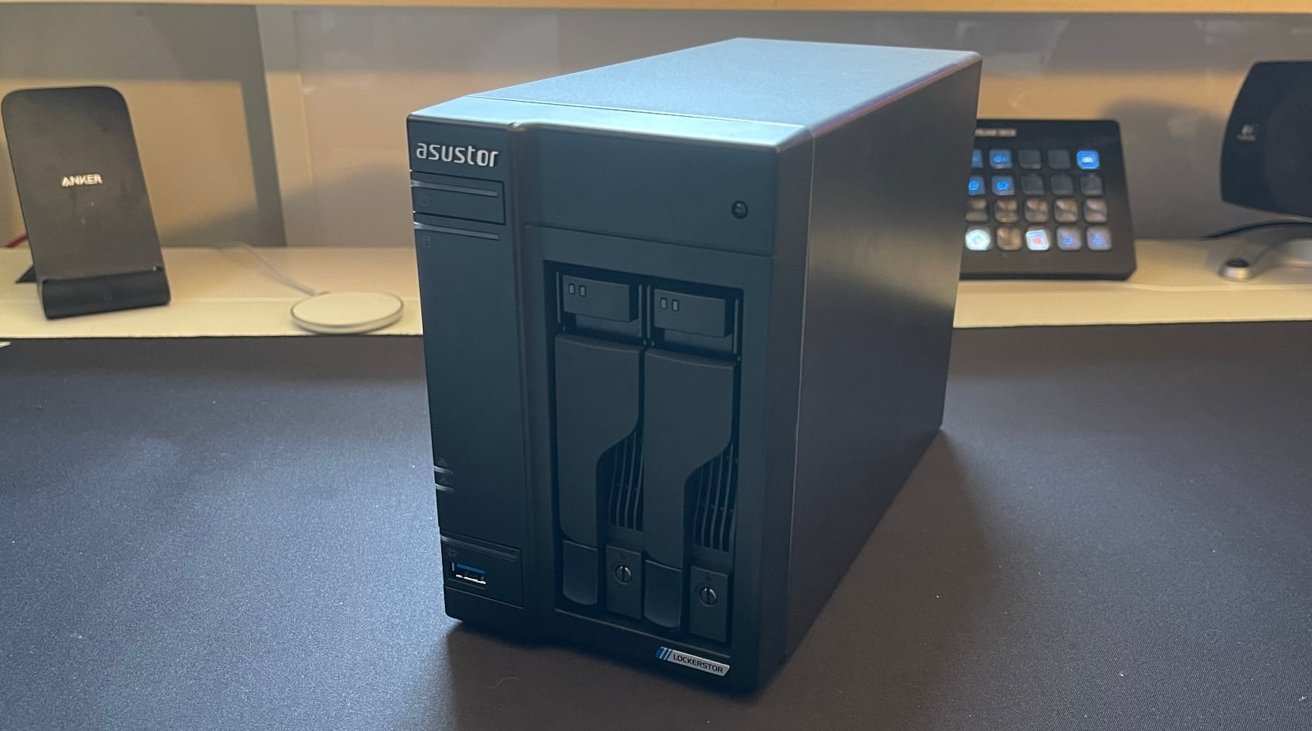 Asustor Lockerstor 2, Lockerstor 4
4.0 / 5
---
AppleInsider may earn an affiliate commission on purchases made through links on our site.
You probably don't have enough on-device storage space on your Mac, and it's probably not that much different on your iPhone or iPad. This is fixable across your network or over the Internet with the solid Asustor Lockerstor 2 and Lockerstor 4 network attached storage devices.
Is there anybody left that has only one computer? We're increasingly living in a world where data storage needs are escalating, and not everything is best stored in the cloud.
We like home servers, and we like the Mac mini for that task. But we also very much appreciate network attached storage devices (NAS). They are the ultimate storage appliances, in that we can sit it on a shelf, and just let it serve files.
But, modern NAS devices can do so much more, and the Asustor Lockerstor 2 and Lockerstor 4 are no exception.
The Asustor LockerStor 2 and LockerStor 4 network-attached storage appliances are an expansion of the company's range from the larger LockerStor 10 and LockerStor 8, with the new units aimed at the prosumer NAS market. As the name suggests, the LockerStor 2 and 4 have two and four drive bays, respectively, but there's more to the story than drive bays alone.
Asustor LockerStor 2 and LockerStor 4 - Key Specifications
Asustor Lockerstor 2
Asustor Lockerstor 4
Drive bays
4x3.5-inch SATA 3,
2xM.2 PCIe NVMe
4x3.5-inch SATA 3,
2xM.2 PCIe NVMe
Capacity
36TB
72TB
Claimed drive read/write speeds
588MB/s Read, 583MB/s Write
591MB/s Read, 590MB/s Write
Internal disk formats
EXT4, BTRFS
EXT4, BTRFS
External disk formats
FAT32, NTFS, EXT3, EXT4, HFS+, exFAT, BTRFS
FAT32, NTFS, EXT3, EXT4, HFS+, exFAT, BTRFS
RAID support
Single Disk, JBOD, RAID 0, RAID 1
Single Disk, JBOD, RAID 0, RAID 1, RAID 5, RAID 6, RAID 10
Memory
4GB, expandable to 8GB
4GB, expandable to 8GB
Processor
Intel Celeron J4125
quad-core 2.0GHz
Intel Celeron J4125
quad-core 2.0GHz
Ports
3xUSB 3.2 Gen 1
2x2.5 Gigabit Ethernet
HDMI 2.0a
3xUSB 3.2 Gen 1
2x2.5 Gigabit Ethernet
HDMI 2.0a
Power consumption
15.9W Operation
9.2W Disk Hibernation
0.66W Sleep Mode
27.6W Operation
12.6W Disk Hibernation
0.75W Sleep Mode
Idle noise
17.7dB
17.6dB
Dimensions
6.4x4.3x9 inches
7.3x6.7x9 inches
Weight
4.4 pounds
6.52 pounds
Asustor LockerStor 2 and LockerStor 4 — Design and dimensions
Of the two, the four-bay is the physically larger device, measuring 7.3 inches tall and 6.7 inches wide versus the 6.4-inch height and 4.3-inch width of the two-bay version. Both measure 9 inches in length.
Only part of the physical difference is down to needing to house more drives. The LockerStor 4 has an additional LCD panel above the drive bays, which is used to provide data like status updates or the current IP of the device.
This is a nice addition in environments where the NAS is present in the room, though far less useful for anyone who stores their NAS out of the way and remotely manages it.
The two models share similar design aesthetics, with the drive bays in the front along with interface buttons and LED status indicators and a USB 3.2 Gen 1 port in the bottom-left corner.
The back has the remaining ports of the NAS, the power connector, and the cooling fan.
Asustor LockerStor 2 and LockerStor 4 — Drive capacity and RAID options
Each bay can handle up to an 18 terabyte drive, giving the LockerStor 2 up to 36 terabytes of capacity, rising to 72 terabytes on the LockerStor 4. As the drive trays on both models are sized for 3.5-inch drives, they are compatible with both desktop hard drives plus 2.5-inch mechanical drives and SSDs.
This is only the capacity for the built-in storage. Asustor sells expansion units that can allow the servers to handle higher drive counts. The LockerStor 2 can handle up to 14 drive bays at a maximum, while the LockerStor 4 can deal with 16 drives.
Taking drive bay expansion into account brings the total raw capacities up to 252TB and 288TB, respectively.
The file system support is the same on both NAS units, with internal drives formatted in EXT4 or BTRFS. External disks can use FAT32, NTFS, EXT3, EXT4, HFS+, exFAT, and BTRFS.
With more drives, the four-bay model offers more RAID options as well. Both offer single disk, JBOD, RAID 0, and RAID 1 volume types, with the larger model adding in RAID 5, RAID 6, and RAID 10 for good measure. Both also include support for "hot" RAID level migration if such maintenance is required.
To help achieve faster speeds, there is space to fit in a pair of M.2 NVMe drives into each NAS. The M.2 drives are theoretically used for caching files for faster access and faster file receipt from hosts rather than for storage capacity.
Asustor claims the LockerStor 2 can read at speeds of up to 588MB per second and write speeds of 583MB per second. The LockerStor 4 is said to be capable of marginally faster speeds, at 591MB per second for reads, 590MB per second for writes.
We never got these speeds across the network and we're not sure why the company claims them — but speed limitations have more to do with the capability of Gigabit and 2.5 Gigabit Ethernet networks. On a wired 10-gig network, with both a SATA SSD RAID, and a hard drive RAID, we saw about 285 megabytes per second read and write on the 2.5-Gig network, and 120 megabytes per second on the Gigabit network — and about the same with a NVMe SSD for caching installed.
We do have the hardware to test the link aggregation, and saw about 355 megabytes per second read and write. However, in most prosumer or SOHO networks, link aggregation is either difficult to set up, or problematic from a network managing standpoint, so most won't see these speeds.
Neither unit has a PCI-E slot for a future 10-gig expansion.
And in regards to fan speed and noise, at idle from three feet away with no intervening material that could mask the sound, the unit runs at about 34 dBA. During the file copy in a 71F office and hard drives installed we had a 44 dBA noise level. This dropped to 41 dBA with just SSDs installed.
While completely slept with either SSDs installed or hard drives sleeping, the unit consumes about 0.4 watts. Under full load with a full four SSD install, it consumes about 25 watts. Loaded with four hard drives and getting slammed with input and output, it was taking 61 watts.
The two-bay unit drew commensurately less power at 15 watts under load, and 32 watts with two hard drives, under load.
Asustor LockerStor 2 and LockerStor 4 - Ports and connectivity
The speed to access data on drives is only part of the equation, with the need to get that data to user's computers being the other half. The LockerStor 2 and 4 have a pair of 2.5 Gigabit Ethernet ports on the back to meet that.
Each port can handle 2.5Gbps networking, as well as lower gigabit and 100Mbps speeds if needed. In cases where compatible hardware is on hand, the two LAN ports can also be combined using link aggregation, producing up to 5Gbps of bandwidth in ideal conditions.
A trio of USB 3.2 Gen 1 ports are available, with two on the back and one on the front allowing external drives to be connected, shared on the network, or to quickly transferring files from a portable drive for safekeeping.
An HDMI 2.0a port is also available, allowing you to connect up an external display directly to the NAS. This offers some extra benefits, such as locally managing the device instead of over the network or viewing stored video directly if the NAS is hooked up to a living room television.
And, given the unit's app-centric nature which we will speak about more in a bit, there are freely downloadable apps for Amazon Video, Disney+ and more.
It's not a fantastic player with us experiencing some full-minute lags on scrubbing even locally stored content, nor does it have the best interface, but it is pretty good for simple playback. It's nice to have convenient local storage adjacent to your television for warehoused video so you don't always have to reach out to the Internet to watch something, if you have the file handy.
Asustor LockerStor 2 and LockerStor 4 — Processing power
Powering the LockerStor 2 and 4 is the same Intel Celeron J4125 processor, a quad-core chip with a 2.0GHz base clock speed and 2.7GHz under Turbo Boost. Asustor claims the Gemini Lake chip is 30% faster than Apollo Lake equivalents and has a higher 4MB of onboard cache, making it a powerful chip for use in a NAS.
Supporting the Celeron is 4GB of DDR4 memory as a SO-DIMM. As Asustor uses only one memory module but included two slots, a user could add an extra 4GB stick to bring it up to the maximum supported memory of 8GB, which will help performance in applications but not in file transfers.
The processing power and RAM out of the box is more than enough for file management and transfer, and a single expansion app. But, given the results of our trials with multiple, we feel that if you're using more than one or two apps on the unit, especially something beefy like Docker, get the extra RAM.
Asustor LockerStor 2 and LockerStor 4 — Setup, apps, and mobile connectivity
Setting up the unit is easy. It is a browser-based process, and if you can read this text, you can manage the setup. Drives are also formatted in the browser, and limitations for users are set up here as well.
Like most modern network attached storage devices, the LockerStor 2 and LockerStor 4 are powerful computers in their own rights. To fully leverage that power, there are installable apps to expand the capabilities of the unit.
Conventional apps include an FTP server, a Download Center for managing automated downloads including Bittorrent, an FTP server, VPN server, connectivity with various cloud storage services, antivirus, and photo storage.
Heading towards specialized territory, Docker is available, and there's a Linux Center to install Linux on the NAS. Plus, amongst others, there's Virtualbox, a mail server, a surveillance center supporting up to 40 camera channels in a single live view, and servers for SNMP, Radius, and Syslog.
Time Machine support is native to the ASUS software, and is a matter of a few checkboxes clicked for one or multiple users, assuming that discrete users have been set up for everyone who wishes to back up to the device.
Beyond the media players we discussed earlier, for local media serving, it has SoundsGood for storing a user's personal music collection, a UPnP Media Server, and the LooksGood video server with transcoding capabilities.
Apple ecosystem users will benefit from LooksGood's video playback support on the Apple TV using AiVideos for tvOS. An iTunes server is also available with AirPlay and iOS Remote Pairing support.
Beyond video playback — and even Minecraft play — the HDMI port can also display video from the Asustor Portal, which hosts an interface for its various apps and services, such as viewing four IP cameras. Links are available for various online services, viewable via the built-in Chromium browser.
Users of the iPad, iPhone, and other mobile platforms aren't completely left out. The AiData app allows users to open and browse files on the devices. Additionally, built-in sharing tools in the app generate shared links for others, either on the local network or across the internet.
The app isn't fantastic, and there is no native Files app integration with it — but you can connect to the NAS on your local network with Files as you normally would. However, using the app, you can share a file to yourself in an email, and then open the file in the email with whatever handles that file format on your iPhone.
But for a simple photo browser or media preview tool, it's adequate for the task.
Asustor LockerStor 2 and LockerStor 4 — solid, quiet, and reliable
We've been using both the LockerStor 2 and LockerStor 4 in parallel for many months now. Both units have proven to be reliable, have shaken off power outages flawlessly, and have recovered from failed drives well.
While we prefer out Apple TV hardware to the LockerStor, the unit was never designed to be a fully standalone player, and the added functionality is nice to have. It would even be great to load up video, and drag it along to a vacation that seems to always have terrible connectivity, to keep watching your ripped DVD collection, or similar.
We like both the LockerStor 2 and LockerStor 4. We aren't fans of a two-bay network attached storage device just on principle because of a lack of a total capacity, but we wholeheartedly recommend the LockerStor 4 for just about anybody that reads AppleInsider of any skill level, for home or small office network storage needs.
Quiet and cool storage
Low maintenance
Native Time Machine support, and a wide app array for other needs
Easy browser-based configuration that can be as easy or complex as necessary
The iPhone app is adequate, but not great
Two bays is not enough, so buy the four-bay one instead
If you get heavily into additional apps on-device, you will need more RAM
The M.2 drives - if installed - aren't cooled very well
Scoring
Both units are incredibly solid and should serve you well for many years to come. And, so far, Asustor's support for the unit is pretty good. We feel that there's not enough room for expansion in the two-bay model, and as such, give that model a 3.5 out of 5 stars.
However, the four-bay model is a different story. Sufficient storage, more than enough power, and quiet. We give the LockerStor 4 a 4.5 out of 5.
Overall score: 4 out of 5
Where to Buy
The four-bay Lockerstor 4, model AS6604T sells for $549, also at Amazon.