PowerZeus 500 Portable Power Station review: Power everything, even off-grid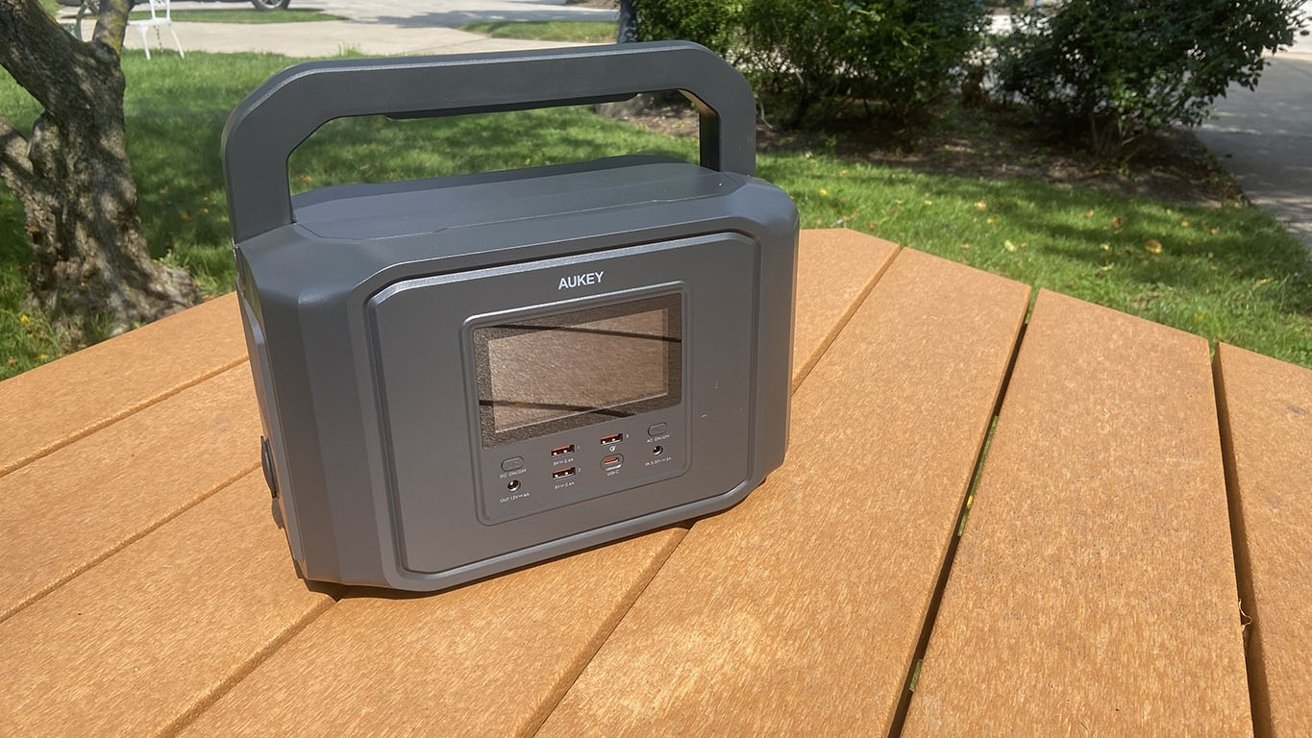 PowerZeus 500 Portable Power Station
AppleInsider is supported by its audience and may earn commission as an Amazon Associate and affiliate partner on qualifying purchases. These affiliate partnerships do not influence our editorial content.
Keep your small devices going through extended power outages with the high-capacity PowerZeus 500 Portable Power Station.
If you've ever been caught without power for an extended period of time, you know how perilous it can feel when you don't have a way to keep your devices charged or powered.
Aukey aims to solve that problem with the PowerZeus 500, a large 518Wh backup battery, perfect for power outages, camping, RV travel, or your next outdoor family reunion.
Ports of all sorts
Like any good high-capacity battery, the PowerZeus 500 has plenty of ports to keep your items charged up. Included with the unit are six ports in the following configuration
2x USB-A ports
1x USB-A Quick Charge 3.0 port
1x USB-C (up to 18W PD, supports fast charging)
2x AC outlets (support up to 500W max)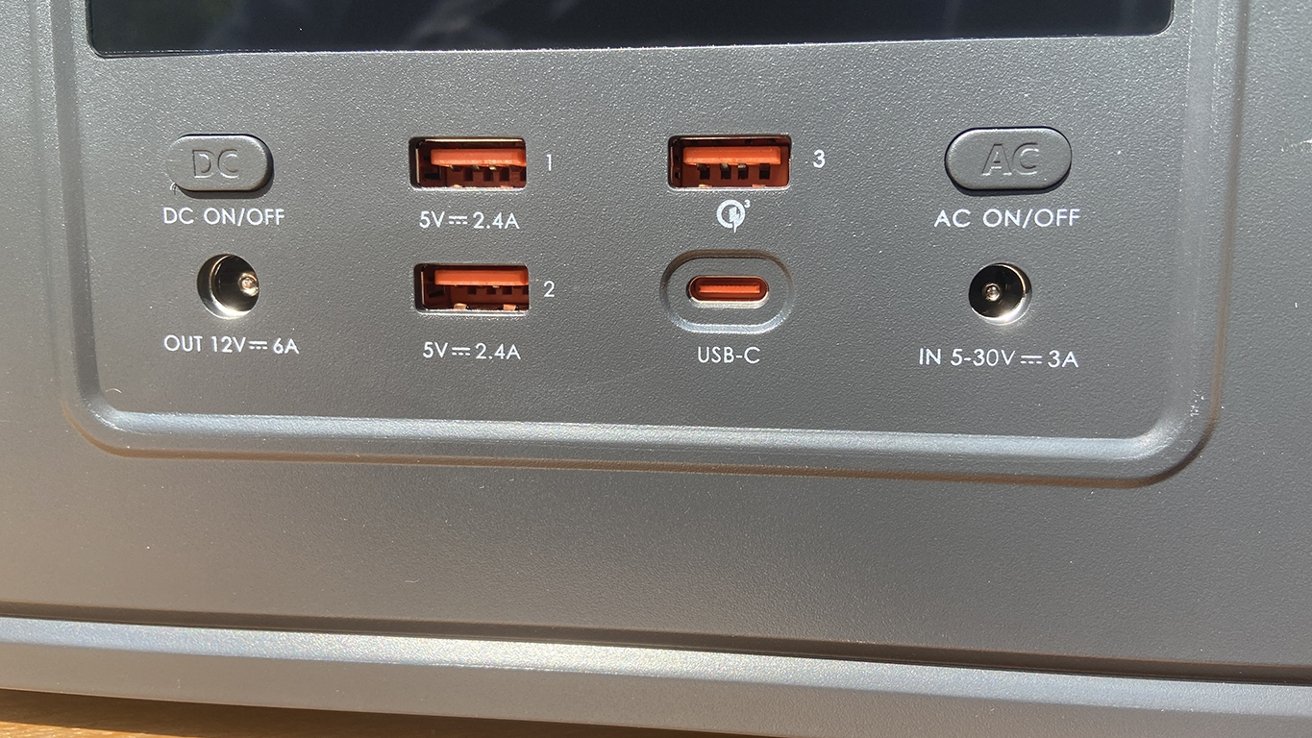 We appreciated the addition of two AC ports, which allow you to charge two laptops at once, or even do something as simple as power a radio and a lamp if need be.
Aukey says the PowerZeus does support pass-through charging, so you can use it as an ad hoc UPS. However, it also suggests that customers should avoid doing it whenever possible as this can reduce overall battery life.
Power for hours
The PowerZeus 500 can provide a surprising amount of power. Its large 518Wh battery can give you about 16 extra hours of drone flying, 24 more hours of recording from your phone, 18 hours of professional lighting, and 10 hours of live-streaming from remote locations.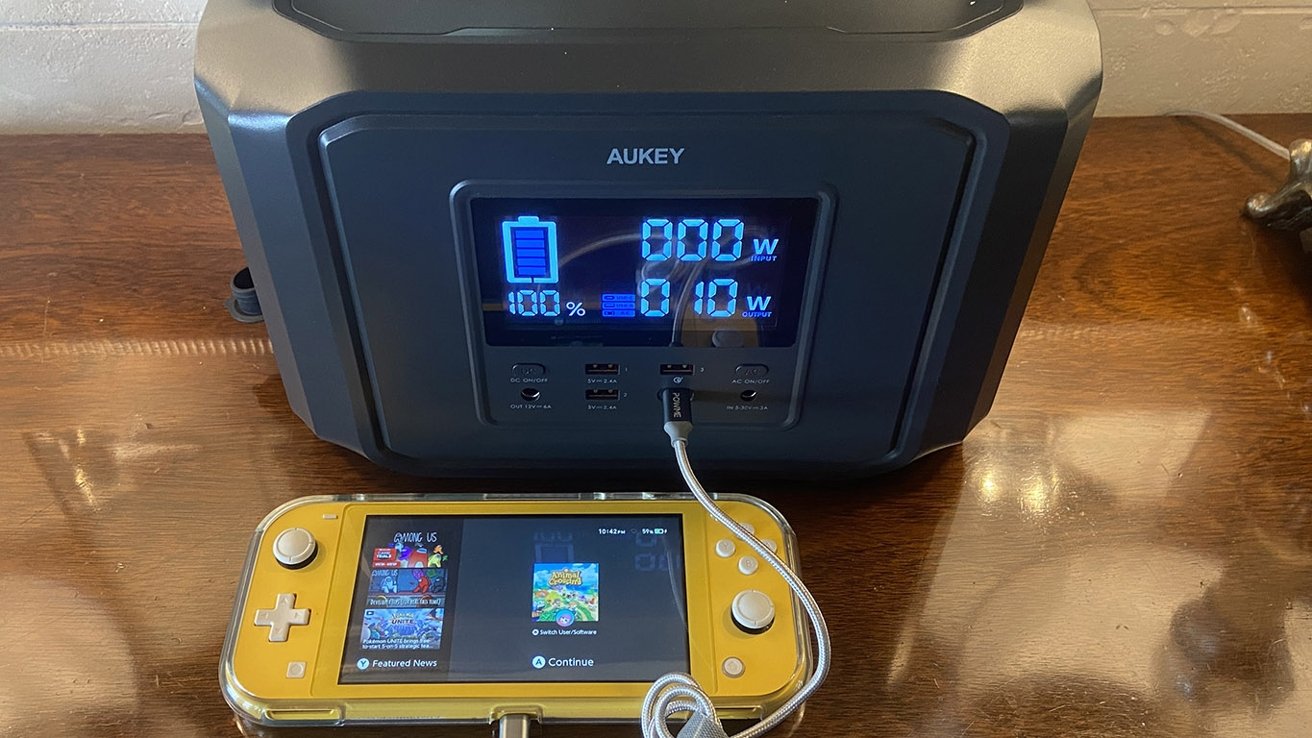 It should be able to charge a smartphone, such as an iPhone 12, nearly 50 times. A GoPro should charge right around 90 times, and a MacBook Pro should get five full charges.
Based on our own testing, aided by thunderstorm season, we see this as an excellent device for those who are prone to areas with frequent, seasonal blackouts. It can keep your small devices powered for days and still provide a bit of extra power for something like a lamp.
Safety first
All devices powered by this device need to be under 500W maximum. This means that it will power small items like blenders, water heaters, laptops, smartphones, CPAP machines, small oxygen concentrators, and more.
However, it will not power items with a larger energy draw, including devices like hairdryers, induction cookers, microwaves, or most power tools. Therefore, we suggest that you check the wattage of devices you intend to power before purchasing any backup battery.
Additionally, you'll need to be aware of the temperature you're operating the PowerZeus 500 in, too. It will work in temperatures between 32F and 104F, and is designed to automatically shut down when outside of that temperature limit.
Charge it your way
When it comes to charging the PowerZeus 500, you've got a wide array of options to choose from. It can be charged via
8 amp car port in about 8 hours
100W compatible solar panel in about 11 hours (in full sun)
Generator in about 9 hours
Wall socket in about 9 hours
We tested it with a wall socket and found that we could charge to full in just over nine and a half hours.
If you intend to use a solar panel to charge the PowerZeus 500, that is a separate purchase. Aukey used to sell an in-house solar panel, but it doesn't seem to exist currently.
In regards to charging, Aukey suggests that owners charge the power station before attempting any long-term storage and notes that the unit should be charged to full every three months while in storage. This is the best way to maintain the battery's health, ensuring that you'll always have backup power whenever needed.
Overall
Like most things, whether or not you'll get any utility out of the Aukey PowerZeus 500 depends on what you're using it for. However, if you're the type who regularly goes camping or attends outdoor parties, it's not a bad item to have in your arsenal.
If you have an RV or camper and plan on going on a road trip, the PowerZeus 500 can plug into a DC socket and charge while you're on the go. Then, at night, you can use it to power your laptop, your blender, your projector — whatever small items you don't want draining your vehicle's batteries.
If you're a creative who needs to work on location a lot, it can allow you to recharge cameras, drones, laptops, iPads, and more. Likewise, we'd imagine that field photographers, drone pilots, and those who work with remote video production could easily make use of a power station of this size.
Of course, there's the peace of mind aspect as well. If you or someone you know uses a CPAP machine or oxygen condenser, it may make you feel better to know that you have a power backup in the event that the power goes out.
However, this device is a lot for the average consumer. It's heavy, it's annoying to cart around, it isn't the easiest to store — all things which make it somewhat tricky to slot into the average consumer's life. The price tag also means it's not a causal purchase, either.
Where to buy
If you want to purchase your own PowerZeus 500, you can head to Aukey's website, where it currently retails for $406. However, Aukey is running a special deal now, so if you use the coupon code AUKEYPLUS, you can purchase the PowerZeus 500 for $366.98.
Easy to charge
Easy to read LCD status panel
Large 518Wh battery
Seven ports for various inputs
Expensive for casual or incidental use
Heavy
Maxes out at 500W, may not power every device you need
Large size can make it difficult to store