How to use Health Sharing in iOS 15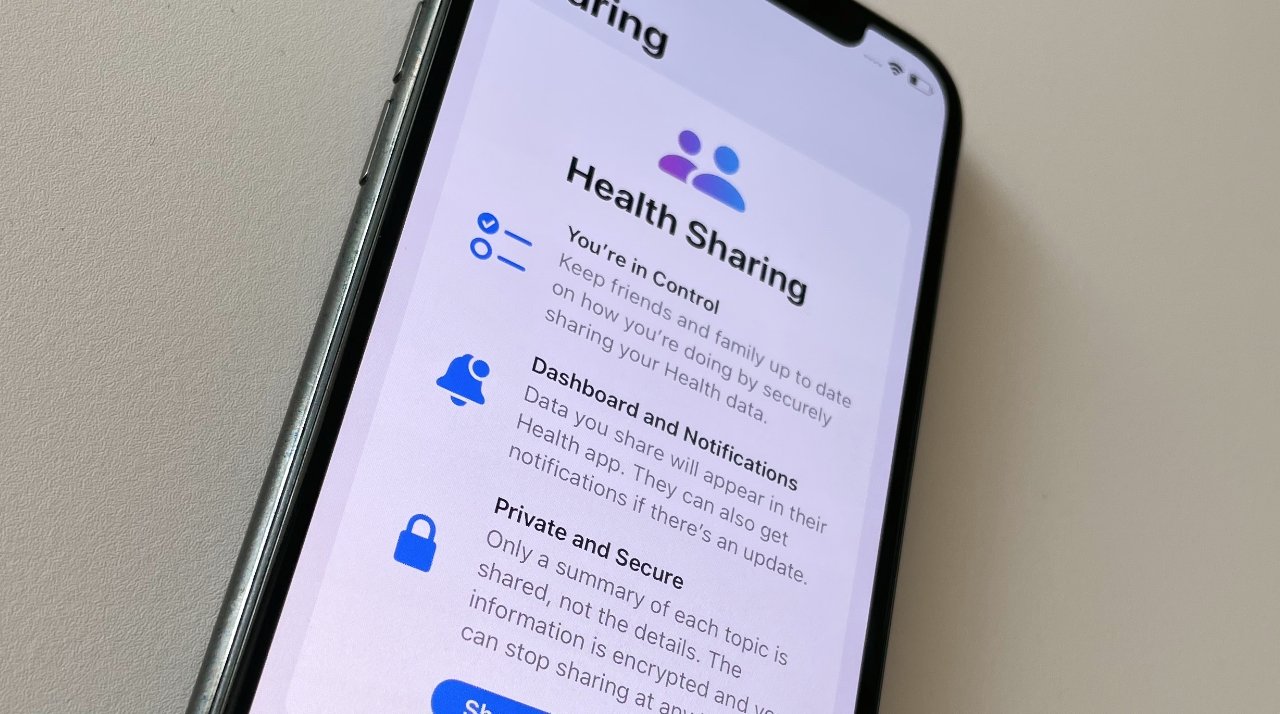 From iOS 15 onwards, you can now elect to share your Health data with anyone you choose — and also choose just what they get to see.
One of the most significant additions to iOS 15 is the new ability to share your health data with someone. And one of the most useful additions is that you can stop that sharing at any time, change what data is being shared, or who can see it.
Perhaps you're caring for elderly parents, or maybe you're going through some medical issues and you need your your partner to help you. Whatever the reason, and whether's temporary or long term, you can now automatically share your health data with anyone you choose.
Choice is the important word here, as nothing can be shared without your permission, nothing can be seen without your express decision. Other than that, though, there are only two limitations.
First, both you and whoever you're sharing with must be on iOS 15 or later. Then secondly, the person you want to share with must be in your Contacts.
It's not enough to just know their email address, you must add them to Contacts.
How to set up health sharing
Open the Health app on your iPhone
Tap on Sharing at the bottom of the screen
Read the screen of information Apple provides, then
Tap Share with Someone
In the box that appears, begin typing the name of the person you want to share with
As a list of names appears, tap on the one you want
Choose precisely what you want to share, then after you see a summary, tap Share
An invitation is sent to that other person via their Health app
Finish by tapping Done on the Sharing Invitation Sent screen
That's it. In theory, anyway, this is all you have to do.
In practice, during the beta process there were some oddities with iOS 15 not recognising some legitimate contacts. But even before iOS 15 came out of beta, you just had to try again and it would work.
What health data gets shared
One important point that seems to get missed is that the health data shared is always a summary. "Only a summary of each topic is shared," says Apple in the Health app, "not the details."
The Health app is also set up to recommend some topics for you to share. But if you're doing this for a specific health reason and know what you want to share, you can set that up manually.
How to select what health data gets shared
If you set this up manually, you're offered around a dozen categories of health data starting with Activity, and ending with Vitals. Even though you can choose any of the categories, some are marked with "No recent topics" if you don't happen to have been recording, say, respiratory data.
Where you, youriPhone or your Apple Watch have been recording health data, the subject heading comes with very many options. Under Activity, for instance, there are ten different details you can elect to share.
So if you just need someone to get off your back, because yes, you have been exercising today, you can turn on sharing for Exercise Minutes. Importantly, if you do that, this is the sole summary they get: they don't also hear about how many workouts you have or haven't done.
There are a lot of options to pick from and it's easy to lose track of just what you have and haven't switched on. But once you've selected what you want to share, you get a summary with the ability to see just what the person you're sharing with will get.
How to switch off health sharing
Open the Health app
Tap on Sharing at the bottom of the screen
Under You Are Sharing With, tap the name of the person you want to remove
Scroll down through the summary of health data to Stop Sharing at the bottom
The moment you confirm you want to stop sharing, it's done. They don't get to see your current health data — and they can no longer see the history of data you've shared with them.