Netgear has a new $1,500 Wi-Fi 6e mesh router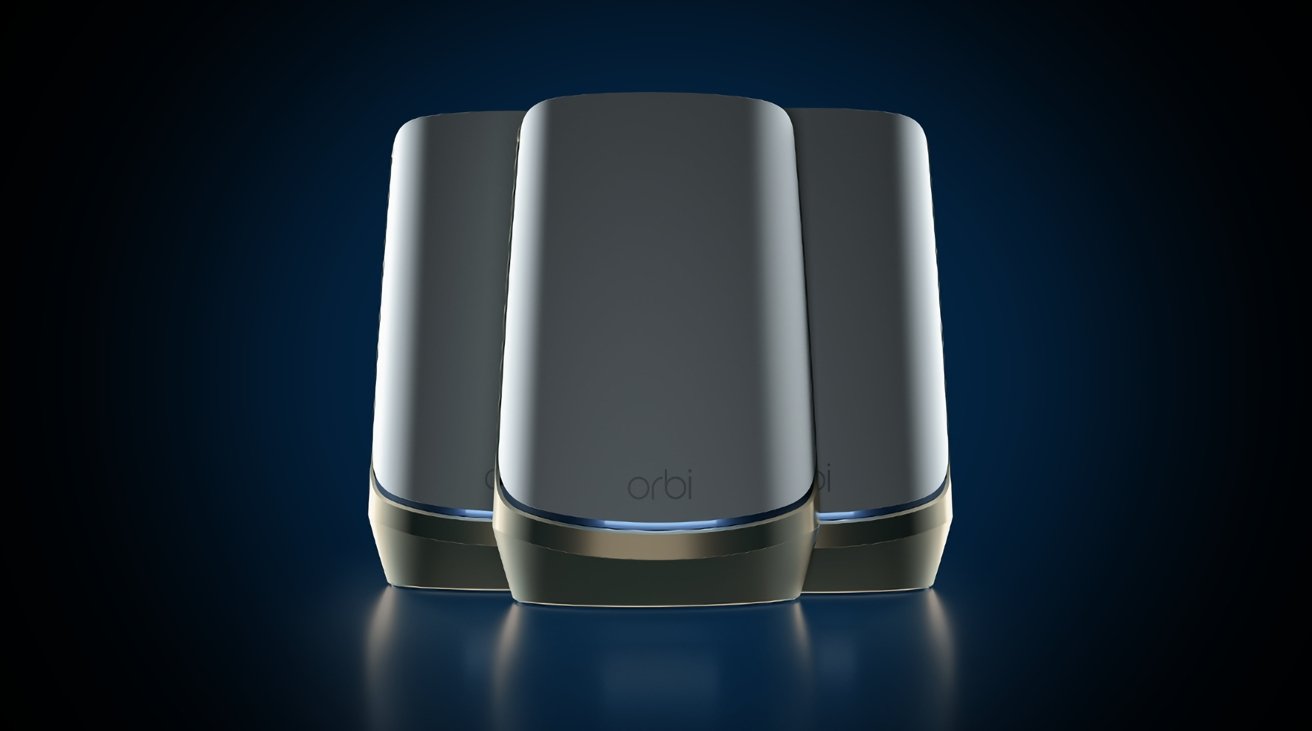 Netgear's latest release in its Orbi router range is a $1,500 mesh system — and despite the high price tag, it doesn't include support for technologies such as Thread, Matter, or HomeKit Secure Video.
Tuesday's introduction of the Orbi Quad-band Mesh Wi-Fi 6E System outlines it as the first 6GHz quad-band mesh arrangement on sale in the world. With support for the 6GHz Wi-Fi band on top of the usual 2.4Ghz and 5Ghz bands, which promises speeds of up to 4,800Mbps for wireless connections.
The system will provide up to 16 Wi-Fi streams across all three bands, enabling it to handle many devices simultaneously. A dedicated Wi-Fi 6 backhaul is used for each of the units to communicate with each other, without affecting the bandwidth available to connected devices.
As a mesh network, the system aims to provide blanket coverage of a home, with the three-pack said to cover up to 9,000 square feet with Wi-Fi 6. Extra satellites can be acquired to extend the reach of the network, or to provide denser coverage for Wi-Fi 6E.
While Netgear mentions Wi-Fi 6E will be supported by "many devices" including the Samsung Galaxy S21 and Fold 3, the same cannot be said about Apple's product line. Even Apple's latest announcements, including the iPhone 13 Pro and iPad mini, support Wi-Fi 6, not 6E.
The system is claimed to offer support for extremely fast gigabit-class Internet connections, and includes a 10-gigabit Ethernet port for connectivity to the outside world. Other wired connections are serviced by 2.5-gigabit Ethernet and gigabit Ethernet ports.
Support for the 128-bit encrypted WPA3 for secure connections is included, along with the ability to set up four different Wi-Fi networks, such as a 6GHz-only network, guest Wi-Fi, and even a dedicated Internet of Things network. All of this is managed form Netgear's Orbi app.
While Internet of Things is mentioned, there are no references in any of Netgear's marketing material to other important smart home technologies. This includes Thread, an upcoming connectivity standard similar to Zigbee, and Apple's own HomeKit Secure Video.
The Orbi Quad-band Mesh Wi-Fi 6E System of the router and two satellites costs $1,499, with add-on satellites at $599 apiece. Preorders are open, with shipments said to happen "in time for the holidays."