New MacBook Pro driven by M1 Pro & M1 Max processors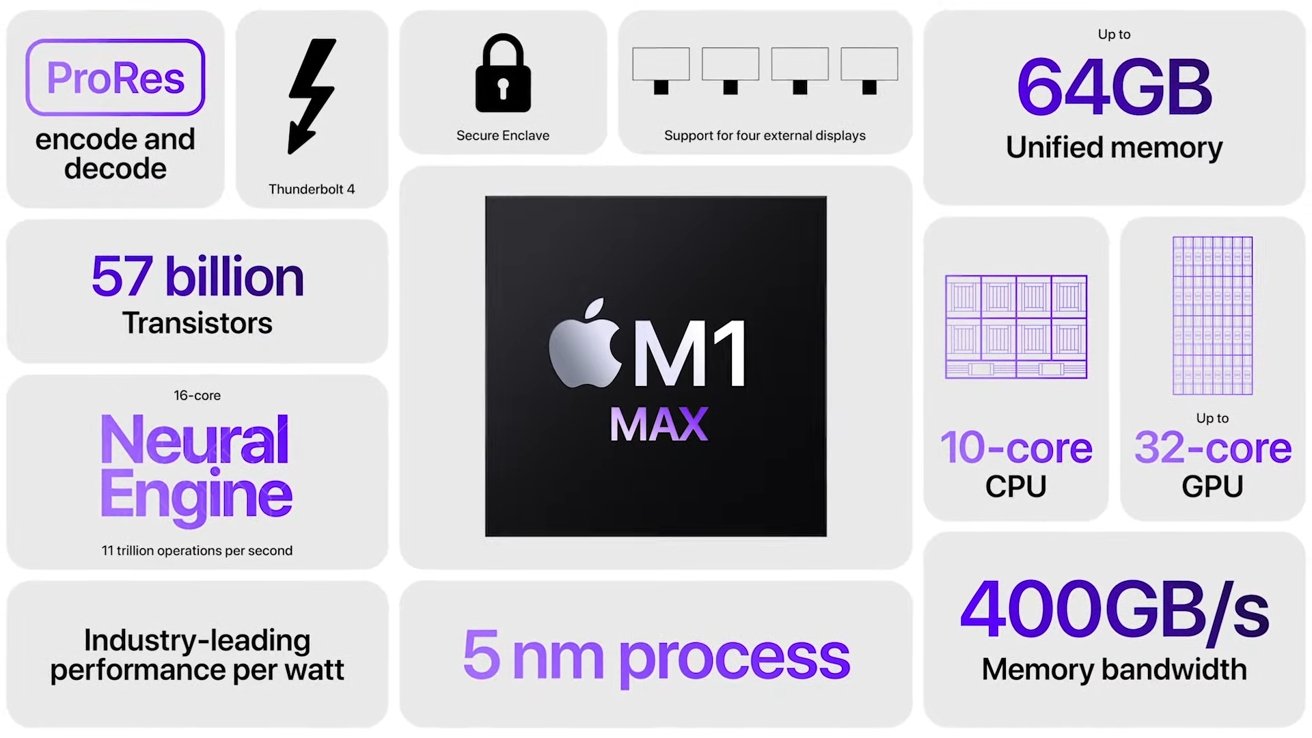 At Apple's "Unleashed" event, Apple took the wraps off a pair of new Apple Silicon chips that it is calling the M1 Pro and M1 Max processor.
Apple's M1 Pro chip supports up to 32 GB of unified memory, which it shares with it's on-chip GPU. The chip has over 33.7 billion transistors, spanning eight high-performance cores, and 2 high-efficiency cores.
All of this results in 70% faster CPU performance than the M1, Apple says. Additionally, Apple also claims twice as much GPU speed versus the M1 chip.
Apple has also integrated ProRes into the chip, more Thunderbolt channels, and support for more external monitors.
The M1 Max chip is has 400 gigabytes per second memory bandwidth. It has 57 billion transistors, with a 32-core GPU paired with it. Up to 64GB of unified memory is supported by the M1 Max chip.
Apple says that both chips have better performance at every power level than current PC chips. On the GPU side, Apple says that its chips perform up to 7 times faster than PC integrated graphics at the same power. It can power similar performance to discrete graphics cards, but with 70% less power draw.
For example, compared to the speediest PC that Apple could find, the M1X chip uses 100 watts less power while offering similar performance. That also means that the M1 Pro and M1 Max stay at similar performance while on battery power.
Apple has also tailored macOS to take full advantage of the new chips at every level. It says that the improvements offer up to 3 times faster ML performance, with certain models up to 20 times faster.
The new M1 Pro and M1 Max are available in a variety of configurations. For example, the M1 Pro with 10 cores can also be configured with a 14-core, 16-core, 24-core, or 32-core GPU. The M1 Max is available in a 10-core configuration with a 24-core or 32-core GPU.