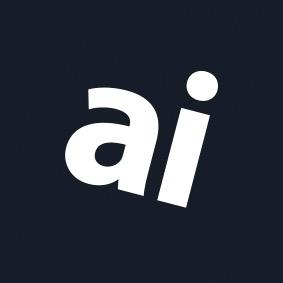 Why you can trust AppleInsider
IOGear 3-Port 4K USB-C and DisplayPort KVMP Switch review: Great for multi-Mac control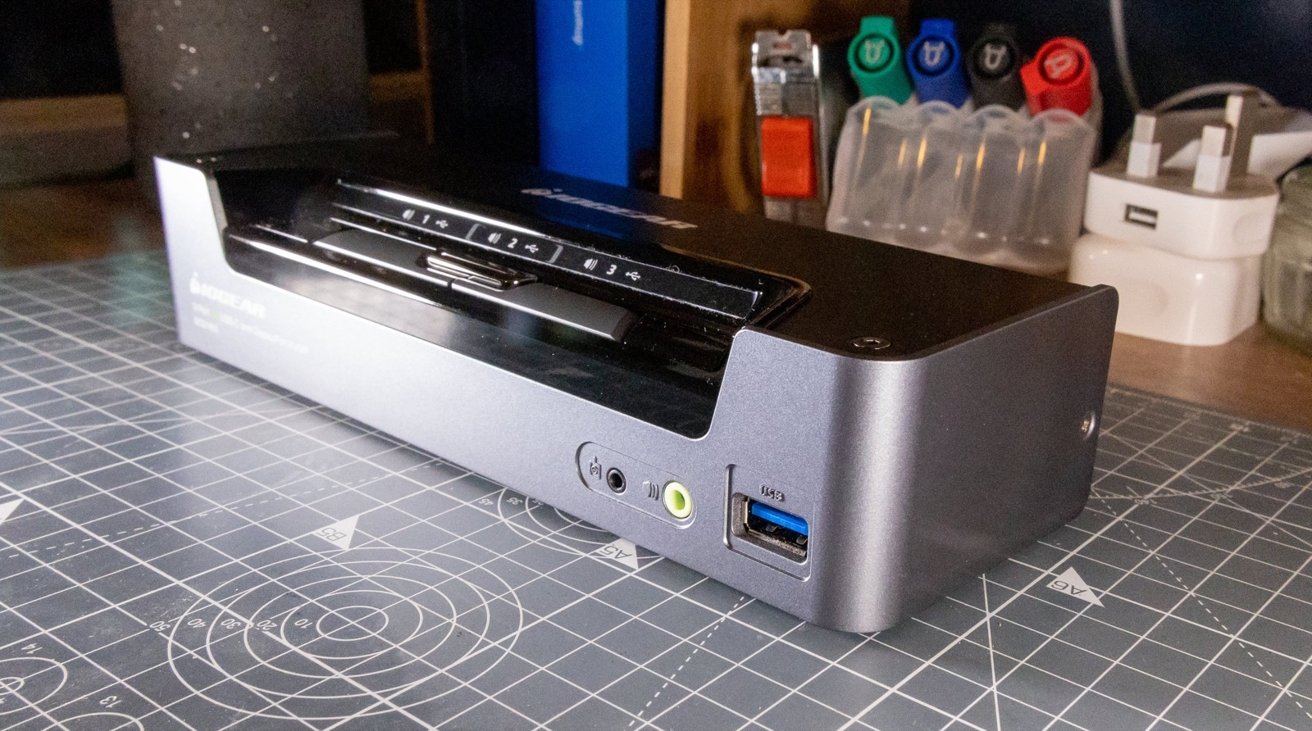 IOGear 3-port 4K USB-C and DisplayPort KVMP Switch
4.0 / 5
---
IOGear's 4K USB-C and DisplayPort KVMP Switch provides a well-rounded way to control your MacBook Pro and two other desktops with one display and set of peripherals.
Power users are familiar with the problem of having too many devices and not enough space to use them. Having a monitor and separate peripherals for each Mac or PC can quickly consume all of your available desk space, and can leave some users struggling to remember which keyboard and mouse work with which system.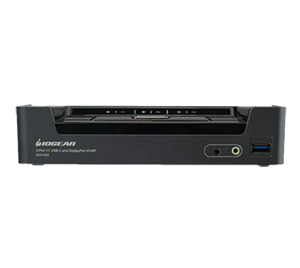 IOGear KVMP Switch
---
The IOGear GCS1953 3-Port 4K USB Type-C and DisplayPort KVMP Switch is designed to reduce clutter and streamline productivity.
The answer to the problem is a KVM, a device that lets users connect the same keyboard, mouse, and display to multiple computers, and to quickly switch between them. This saves a lot of desk space and money, as it significantly cuts down the number of peripherals you need to control everything.
IOGear's 3-Port 4K USB-C and DisplayPort KVMP Switch is its answer to the problem, one that seems to service MacBooks and the growing number of other notebooks on the market with USB-C connections.
Connectivity out the back
The general idea of a KVM is that it divides its collection of ports into multiple units, depending on what needs to be connected. This consists of one for each of the host computers it will be connected to, and one other to connect peripherals that you want to connect and switch between the hosts.
In the case of IOGear's KVMP (Keyboard, Video, Mouse, Peripherals), it can connect to three computers, though with a slight variance for one of those connections. The bulk of its connectivity is handled at the back, keeping the cables out of view of the user for the most part.
CPU 1 and CPU 2 are fairly normal, with a DisplayPort 1.2 connection along with a USB-B 3.0 port and a 3.5mm audio jack for each computer.
CPU 3 is handled differently, and is really geared towards MacBook Pro and MacBook Air users. For that collection, there's a USB-C port along with a 3.5mm audio jack.
In effect, the port handles USB connectivity as well as video from the connected MacBook, so it all goes through that one cable instead of two. There's also a switch, which we will get to later.
A fourth section named "Console" is intended for the peripherals that you want to switch between the connected host computers.
The "Console" has a DisplayPort 1.2 port, a 3.5mm headphone jack, a USB 3.0 port, and a pair of USB 2.0 ports intended for a keyboard and mouse. Around the front, there's another USB 3.0 port, another headphone jack, and another port for a "Remote Port Selector," an extra button that can be connected to the front.
The use of two headphone jacks makes sense, with the one at the back intended for speakers while the front-facing one is for headphones. Likewise, the rear USB 3.0 port and the keyboard and mouse USB ports are meant for things that you'll keep plugged in a lot, like a printer, while the front USB is more for thumb drives and other often-removed peripherals.
Hefty but compact
IOGear's design of its KVMP is fairly functional, with the back panel practically covered with ports, leaving three buttons in a recess at the top near the front, along with the small collection of front ports.
The unit has a mix of metal and plastic on its exterior, with matte black metal on the top and back. The plastic, a light grey, surrounds the sides and front, though it doesn't immediately strike you as plastic until you touch it.
The unit is quite long for a KVM at 8.1 inches, but given the number of connections it offers at the back, it makes sense. At three inches deep, it's not going to take that much room, and its 1.7-inch height makes it relatively compact for what it offers.
Sure, it has a presence on the desk, especially as a device not meant to be hidden out of the way. But it's not that much of a presence, really.
It is deceptively heavy at 1.1 pounds, even with some plastic bits of the enclosure. It's safe to say that it's useful here, as combined with its rubber feet, it's not likely to be dragged off the desk that easily by the weight of the cables.
Switching systems
The three buttons on the front are quite easy to press, with a fairly satisfying click to confirm it's registered by the device. Once pressed, the KVM changes which device it's connected to quite quickly.
Pressing buttons on the top isn't the only way to change which computer to control, as you can use the supplied Remote port Selector, a black button on a 6-foot-long cable. While it's a little clickier than the main unit's buttons, it's still a welcome addition for those who need to place the main unit a bit out of reach to be directly usable.
To help you keep track of what system is being viewed, the buttons light up to show the currently-selected host.
You don't necessarily need to press any of the buttons at all, as you can also click the scroll wheel of a connected mouse to trigger switching between the host computers. Lastly, you can also configure a hotkey combination to use from the keyboard.
This wide array of options is nice, though power users who use the scroll wheel click will have to work around that interaction.
USB-C and video
As the 4K in the name suggests, the KVM is capable of handling a 4K-resolution display. This it can do with ease, though really it can work at up to 4,096 by 2,160.
It can also handle two displays using Multi Stream Transport (MST), so you can use a pair of DisplayPort monitors supporting the tech in a daisy-chain arrangement, but the resolution is shared between the two screens. However, Apple only uses MST support to drive 5K and 6K displays, not for two daisy-chained monitors.
This means that you're not going to benefit from dual-screen usage with any Macs connected as a host. Assuming you have daisy-chainable monitors, you can if you connect a Windows PC up to it.
There is a foible for the connection to the CPU 3 host using USB-C, as the aforementioned switch comes into play. The switch is marked "4K60" and "4K30," and determines the maximum frame rate of video from CPU 3.
The manual explains that if the switch is set to 4K60, all USB ports are limited to USB 2.0 data rates to that specific host. When set to 4K30, the USB 3 ports can instead take advantage of USB 3.1 Gen 1 transfer rates.
This leaves MacBook Pro users with the choice of either having normal USB transfer speeds but a 30Hz refresh rate, or sacrifice those USB speeds for 60Hz. This is more an issue for devices requiring USB 3 speeds or where high transfer speeds are expected, such as external drives, but it's more an oddity than a deal-breaker.
And, you probably shouldn't be plugging in storage into a KVM of any sort anyway.
Power needs and power delivery
IOGear does include a separate power brick with the KVM, though it's not necessarily required. If you want to get rid of the power cable from the arrangement, it can function using bus power from the connected devices.
The standard KVM element will work if connected to two computers, though USB peripherals won't work. If you include a device connected to USB-C, the USB peripheral support becomes available again.
If you do use the power brick supplied with it, you do gain power delivery to the host connected to USB-C. This is a good addition, however it only offers power delivery at up to 45W.
This is more than enough to recharge an M1 MacBook Air attached to the USB-C port, but it's far below what's really needed to provide power to the MacBook Pro range while under load. For those with Pro models, they will have to continue getting power from Apple's chargers.
You can't really take advantage of the other USB ports to charge your devices, as it appears they don't provide enough power to recharge a connected iPhone or other devices, even when plugged into a power outlet.
A premium option
Arguably one of the biggest stumbling blocks with this device is its price. IOGear has a MSRP of $499.95 for this KVM, which is still cheaper than the extra monitors and peripherals it replaces, but not really by that much.
A quick search of Amazon reveals there are many other KVMs on the market at far cheaper prices, from just over $100 to around $300 for consumer-grade models.
That being said, most aren't offering the same thing as what IOGear has assembled. Loads have USB-A, but not that many go for USB-C at all. Even then, they have USB-C for multiple hosts, not just one.
There's also quite heavy reliance on HDMI in other KVMs, whereas this deals with DisplayPort as its primary video connection type. You're also not going to see that many that offer a port selection geared towards a notebook and different options for desktops.
A decent switching solution
The IOGear 4K USB-C and DisplayPort KVMP Switch is a decent solution to the problem of managing multiple computers. It's a nicely designed switch that wouldn't be out of place on most desks, and does a very good job overall.
With the decision to include a notebook-centric approach for one of the connections, this KVM becomes an extremely useful addition. Especially so for Mac users who have both desktop-residing Mac minis as well as a MacBook Air or Pro, along with a potential PC for good measure.
The ability to handle two displays would be a bonus for Mac users, but until Apple ever decides to add support, it's only really useful on the PC side.
With the plethora of KVMs on the market at cheaper prices, as well as its somewhat limited power delivery, it's hard to immediately recommend it as a must-buy outside of a sale.
However, those who deal with both MacBooks and Macs in equal measure will probably find it a very useful addition to their computing setup.
Connects to three Macs and MacBooks
USB-C for MacBook connectivity
High build quality, relatively compact
Dual monitor support for PCs
Power Delivery for charging MacBook Air
Premium pricing
Power Delivery not enough for MacBook Pro
No USB-A bus power
Rating: 4 out of 5
Where to Buy
Find the IOGear 4K USB-C and DisplayPort KVMP Switch for $409.65 on Amazon. B&H Photo also stocks the IOGear GCS1953 KVMP Switch with free expedited shipping within the contiguous U.S.