How to force quit an application in macOS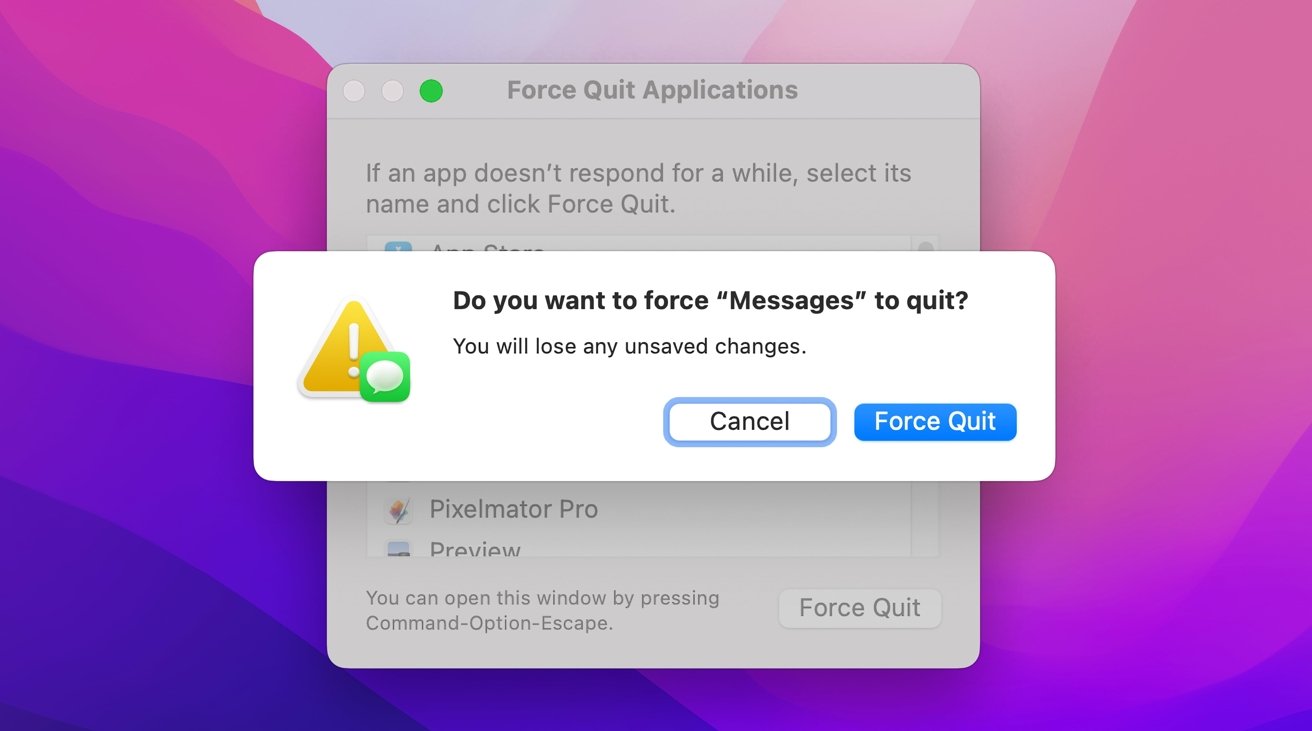 Not all macOS applications run smoothly, with some running into troubles that prevent you from quitting it. Here's how you can use force quit an app to stop it from running when nothing else works.
Most Mac users will have encountered an app that simply won't close at some point in their computing career. Attempting to stop the app through normal means, such as "Quit" options in the menu, doesn't work in such situations, leaving the app running with seemingly no answer to how to turn it off.
Those new to macOS may panic and decide that turning off their Mac is the only way around the problem. However, this may not be a solution, especially if it is an app that launches at boot.
Seasoned Mac users will know of a solution, and that is the command to force quit an application.
Occasional malicious intent
In the majority of situations, the need to force quit is caused by the application failing to respond for some reason. A bug in programming, a crash, freezing, or something similar could easily explain most occasions where force quitting is the route to take.
However, in some cases it's needed to thwart a malicious design choice.
On April 14, Kosta Eleftheriou posted to Twitter an example of a macOS app available in the App Store that uses an underhanded technique to earn revenue. The app, "My Metronome," can be downloaded for free from the App Store, but then it pressgangs users into paying a subscription.
Immediately on opening the app, a "limited time offer" sales page is presented, telling users they should pay $9.99 per month for "premium" access. More underhandedly, the screen doesn't have an immediately apparent option for closing the window, which will confuse some users looking at it.
Even worse, the Quit option is disabled in the main menu, cutting off the last obvious way to shut the app down. Some users may feel the need to sign up in the hope that they can close it down and avoid losing much money from the transaction, but ideally they should have an option for closure that doesn't involve payments.
Though it seems that it could be a coding mistake, app reviews have complained about an inability to close the app for multiple years. Indeed, this may be by design, as it is alleged the app's developer may have made multiple apps with the same inability to quit.
You would think that predatory design concepts like this wouldn't make it to the App Store, even with complaints, but they do slip through the net.
That's where force quit steps in.
Force quit
A long-time function of macOS, force quit is the option that sits between closing an app normally and shutting down the Mac itself. As the name suggests, it forcefully closes an app, stopping it from running entirely.
Once you've used force quit on an app, you're then free to relaunch it, if you wish.
How to force quit apps in macOS
Click the Apple logo in the menu, then select Force Quit.
Alternately, press Command-Option-Escape on your keyboard.
When the Force Quit Applications window appears, select the app to close, then click Force Quit.
On the confirmation screen, click Force Quit.
If all goes well, the app will stop working. If this normal method doesn't work, you have a second way to accomplish the same task.
How to force quit apps via Activity Monitor for macOS
Open Activity Monitor. The easiest way is to use Spotlight search by pressing Command-Spacebar, then type in Activity Monitor and press enter.
In Activity Monitor, select the app you want to close. If it is making your Mac run slowly, you could use the % CPU tab to bring it near to the top of the list.
Click the X symbol near the top of the window.
On the confirmation screen, click Force Quit.
This route accomplishes the same task of force-quitting an application, but it takes a few extra steps to complete.
Either way, you will end up without the app running on your Mac, leaving you to re-launch it, or in the case of malicious apps, starting the process of uninstalling and getting rid of it.