Samsung T7 Shield review: Durable & fast SSD storage for on the go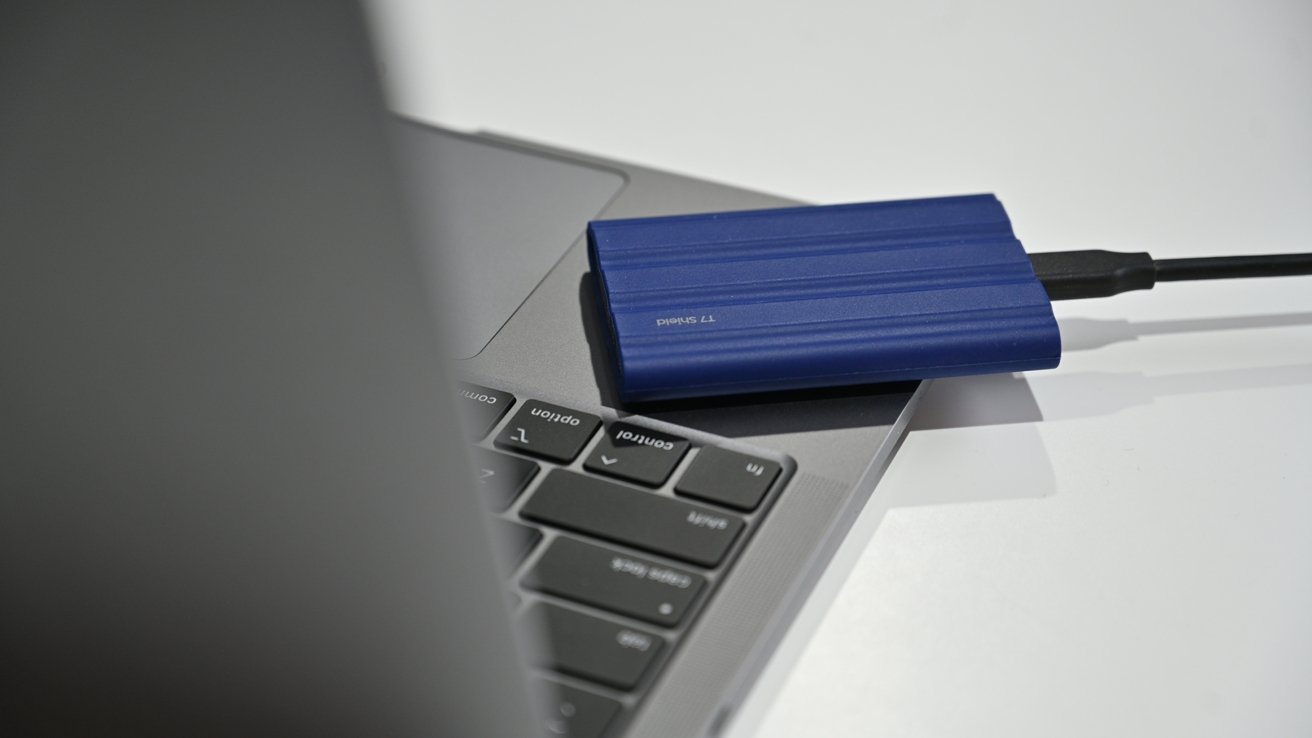 AppleInsider may earn an affiliate commission on purchases made through links on our site.
Samsung is adding one new SSD to its T7 line. Joining the standard T7 and the T7 Touch is the all-new Samsung T7 Shield which boasts expanded durability and resistance compared to its siblings.
The popularity of Samsung's T7 line says a lot about the quality of the drives. They've been the go-to choice for creative pros since they supplanted the T5 series.
While the T5 was limited to a base drive, the T7 line now has a basic model, a second protected with biometric security, and a durable third ensconced in a rubber shell.
Durable by design
The T7 Shield comes in 1TB and 2TB versions, and compared to the previous T7, the T7 Shield is just slightly larger. It very clearly has the same core internals but is bolstered by a rubber cover.
Both drives can easily be slipped into your pocket or gear bag. Thanks to that rubber, the T7 Shield can withstand drops from up to three meters — 9.8 feet — which is far higher than the typical tumble.
It also boasts an IP65 resistance rating. The "6" in IP65 means ti is impervious to dust while the "5" means it can withstand jets of water from any direction from a nozzle. Unfortunately, it cannot be submerged in water.
For typical use, rain, snow, and splashes will all leave your drive undamaged. Samsung also says it can withstand extreme temperatures, allowing you to work almost anywhere.
One end of the drive has a USB-C port next to a small status light. You can also see how the rubber shell extends past the end to help protect it when dropped.
We tested a pre-production unit of the T7 Shield which did have a slight issue. The USB-C port was weak and could very easily release the cable when moved. Samsung has told us that this issue has been corrected on the full production version of the drives.
Our model came in blue, though light grey and black colors are also available if they're more your style. We do love this blue color though.
As this drive is USB-C, it can be used with a variety of devices. We tested it with our MacBook Pro and iPad Pro though your Windows PC and Android devices will work as well.
The only negative we noticed with this drive in our testing is that the rubber exterior — like Apple's silicone iPhone cases — had a tendency to attract dust or lint. We'd pull the drive from our pocket and see it covered in tiny specks. The white and black colors would likely show this a bit more than the blue.
Great SSD speeds
Samsung promises a theoretical maximum read speed of 1050MB/s and a maximum write speed of 1000MB/s for the T7 Shield, the same as promised for the T7. These speeds are going to be quite dependent on your host system, the files you're transferring, and the file system format of the drive itself.
In our tests using the Blackmagic Disk Speed Test, we saw write speeds roughly around the 800MB/s mark and read speeds around 711MB/s. These are below advertised, but entirely reasonable.
This was when formatted as HFS and used with our MacBook Pro. Recently we reviewed the CalDigit Tuff Nano Plus and it seemed to slightly outpace the T7 Shield, though both had more than adequate speeds.
Should you buy the Samsung T7 Shield SSD?
We've been using a couple T7 and T7 Touch drives for the past year or two. They've always been reliable as they are sleek. There are times when we venture outside of the office and we need something more durable — especially if used with our iPad Pro.
This new entrant to the lineup fills a gap for those that need something more durable. It's a competitive space but Samsung has the pedigree needed to stand out against its rivals. Its full-body covering also helps compared to the similar CalDigit Tuff Nano.
Not everyone will need the durability of the T7 Shield, but that is what the other T7 drives are for. If you do need durability, Samsung now has a solution for you to consider.
Great durable design
Love the blue color
Fast NVMe SSD speeds
USB-C and USB-A cables included
Three options now in the T7 lineup
Samsung software included
Rubber shell can attract lint
Can't be submerged
Rating: 4.5 out of 5
Where to buy
Samsung's new T7 Shield is available now from various retailers including Samsung.com and via Amazon. The 1TB version sells for $144, and the 2TB edition is $261.