Bluetti's Father's Day Sale: Save big on off-grid power solutions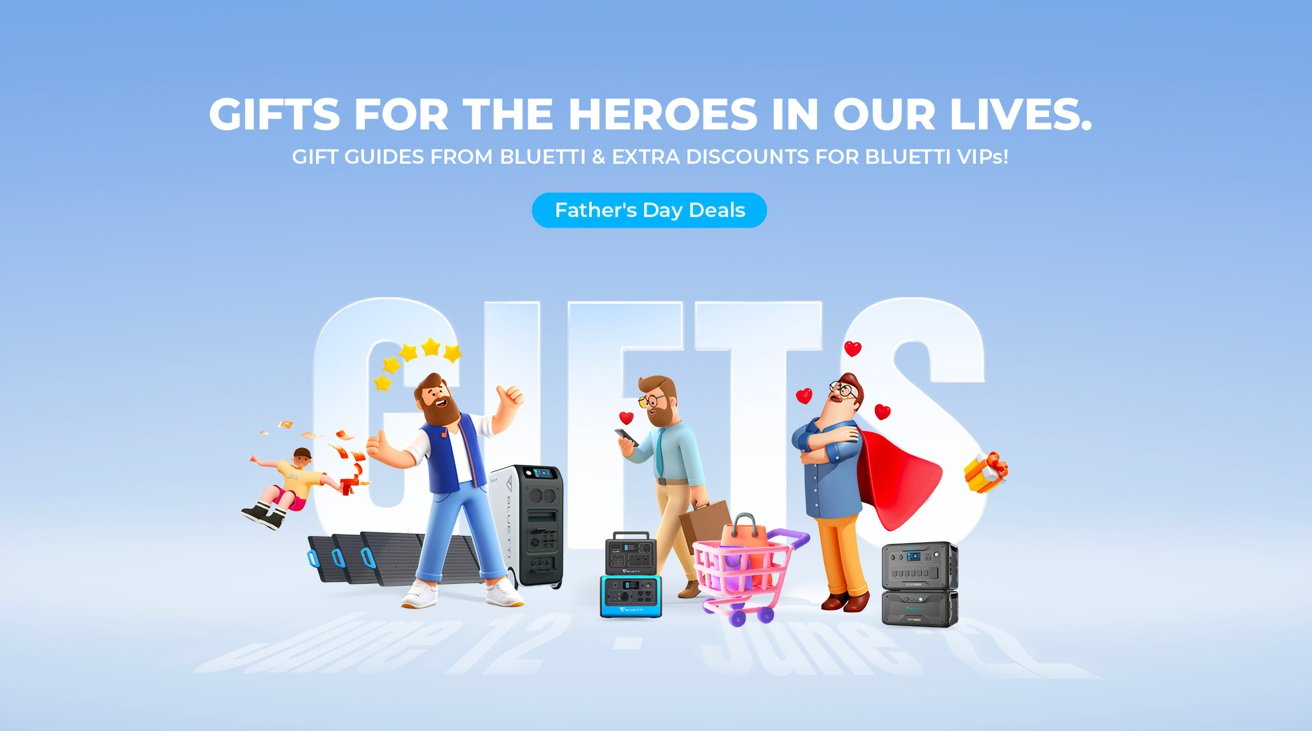 AppleInsider may earn an affiliate commission on purchases made through links on our site.
Celebrate Father's Day by providing dad with all the power he needs, with these great discounts on Bluetti solar generator systems that can provide a charge wherever they need it.
If your father likes to spend time away from home, such as on fishing trips in an RV, they will usually sacrifice some of the benefits of home in the process. One of those things can be electricity, an aspect of daily life that can be hard to live without.
For Father's Day 2022, you could give back access to those electrical comforts, thanks to Bluetti's sale. With massive markdowns on solar generators, you can provide your dad with the means to power his devices, or even power tools, far from the nearest electrical outlet.
Below, we've outlined some of the deals available from Bluetti's online store, as well as some extra discounts for their existing customers.
All sales are set to run until 7 pm pacific on June 22.
Bluetti AC300 and B300 Modular Solar Generator System
The AC300 is a 100%-modular solar generator system, that can be set up to work in a variety of different configurations, depending on the user's needs. Complete with a 3,000W pure sine wave AC inverter, it is powerful enough to run almost 99% of power tools without a problem.
The B300 is a battery that can connect to the AC300, with a capacity of 3,072Wh per unit. With a 3,500-cycle lifetime to 80% original capacity, multiple B300 units can be attached to the AC300 for extended capacity.
With seven ways to recharge, you can provide power to the system however you want, including solar panels for the full off-grid experience. As for getting power out, it includes six 120V/20A outlets, a 120V/30A TT-30, multiple USB-A ports, 12V DC outlets, and a pair of 15W wireless charging pads.
Offered with a four-year hassle-free warranty, the Bluetti AC300 and B300 solar generator system is normally $3,798, but it's on sale from $3,599.
Bluetti EP500Pro All-in-One Home Backup Power
Closer to home, the EP500Pro is a self-contained and compact power station that's highly mobile. Able to be integrated into a home or RV circuit, the EP500Pro houses 5,100Wh LiFePO4 batteries that can keep the lights on whenever the power grid goes out.
Using a 3,000W pure sine wave output inverter, it offers both in-grid UPS and flexible UPS modes, ready for any power outages. It has flexible recharging options, including a 2,400W solar input rate, while its outputs include four 120V/20A connections, multiple USB-A ports, DC output, two wireless charging pads, and other ports.
To manage the system, it has a built-in dual-core computer, which can be updated over the Internet with new firmware. You can control the unit via the built-in touch-screen interface, or remotely via the companion app.
Usually $5,999, the EP500Pro is on sale at $4,999.
Bluetti EB55 and EB70S Portable Solar Generators
If space is at a premium, you can still buy some portable power options as a gift. The Bluetti EB5 and EB70S are a pair of smaller-scale units that can be easily placed alongside luggage and carried between locations, and even have flip-up handles to help.
The EB55 has a 537Wh capacity and a 700W AC pure sine wave inverter capable of up to 1,400W of surges. Offering a 200W solar input, it can also charge at up to 400W using both solar and an AC adapter, and it has 12 outputs for a variety of devices.
The EB70S boosts the capacity to 716Wh, as well as an 800W-rated wattage while retaining the 200W solar input potential. Offering four 110V AC outlets, it also has two 100W PD ports, two 5V/3A USB-A ports, two regulated 12V/10A DC outputs, a 12V/10A car port, and a 15W wireless charging pad.
Normally $499, the EB55 is being reduced down to $399 for VIP customers. For the EB70S, the original price of $569 is also being dropped for VIP customers, bringing it down to $449.
VIP Deals and Extras
Bluetti has a VIP loyalty program, and any customers who have spent $10 or more in the store are able to join it. Once customers spend more than $5,000 in total, they are eligible for increased discounts.
Lightning deals for VIPs on the Connoisseur tier and higher with a $5,000 spend history will be available on June 19.
For all customers who spend over $2,000 on an order, a free spin of the company's Lucky Wheel can offer more rewards. These will range from Bluetti Bucks redeemable for discounts, up to a free AC200Max.