The best apps to use with Sidecar for iPad and Mac users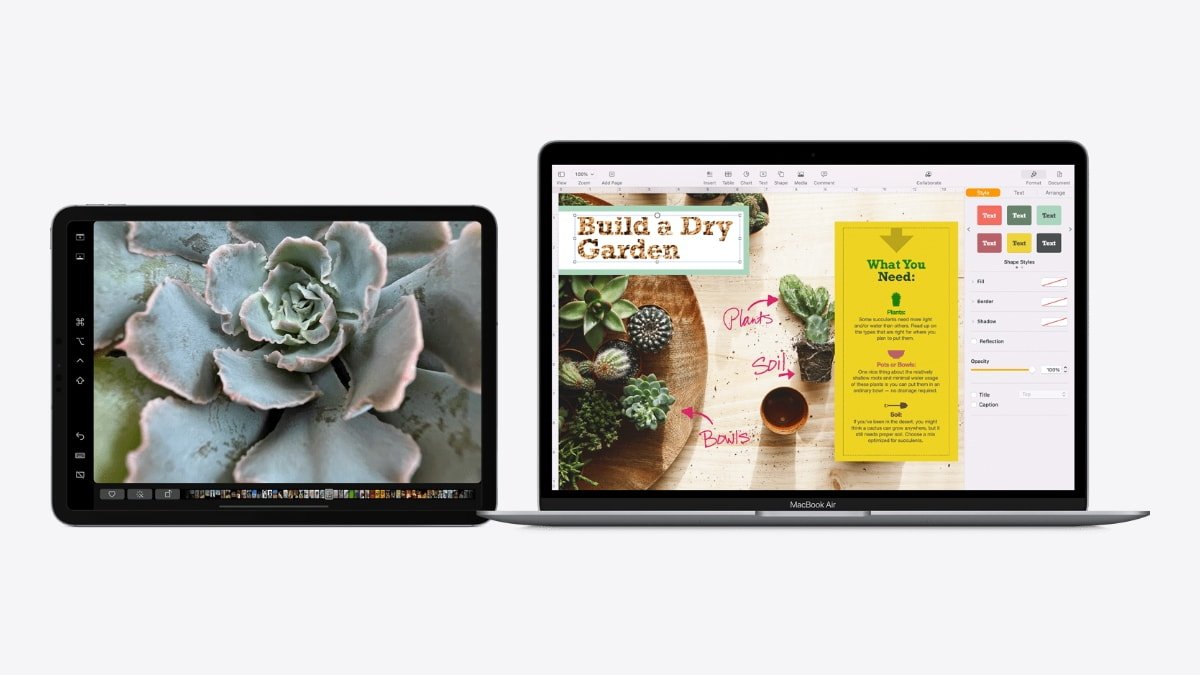 Sidecar lets an iPad be used as a display that extends or mirrors a Mac. Here are the best apps for Sidecar to enhance productive and creative workflows.
The iPad and Mac must be signed in with the same Apple ID with Bluetooth, Wi-Fi, and Handoff turned on. The iPad can't serve as a cellular hotspot during this time, nor does the Mac share its internet connection.
Sidecar is different from Universal Control that Apple debuted in iPadOS 13 and macOS Catalina. Universal Control allows for a single keyboard and mouse to be used between an iPad and Mac. Sidecar makes the iPad act as a secondary display.
The iPad can also be used as a digital input device for the Mac using an Apple Pencil or just the person's finger.
Sidecar system requirements
The following Macs can be used with Sidecar running macOS Catalina or later:
2016 MacBook Pro or later
2016 MacBook or later
2018 MacBook Air or later
2017 iMac or later, or iMac (Retina 5K, 27-inch, Late 2015)
iMac Pro
2018 Mac mini or later
2019 Mac Pro
Mac Studio
The following iPads can be used with Sidecar running iPadOS 13 or later:
iPad Pro - all models
iPad 6th generation or later
iPad mini 5th generation or later
iPad Air 3rd generation or later
Getting started with Sidecar
Sidecar can be used by connecting a cable to the Mac or using a wireless connection. When an iPad is plugged into the Mac, the option to trust the device must be accepted. This is a pop-up that appears on each device.
Bluetooth, Wi-Fi, and Handoff need to be turned on with each Device.
In macOS, go to System Preferences > General and check the box at the bottom next to Allow Handoff...
In iPadOS go to Settings > General > AirPlay & Handoff, and turn it on.
The quickest way to start using Sidecar is to click the AirPlay icon in the macOS menu bar. If it's on there go to System Preferences > Displays and turn on "Show mirroring options in the menu bar when available."
Click on the iPad that appears in the AirPlay menu. The iPad's display will turn into a macOS desktop.
Moving Windows
Mac windows can be moved to the iPad by dragging and dropping to the iPad. Or, hover the cursor over the green full-screen button in the Mac window. Click on Move to iPad Pro in the menu.
Screen Mirroring
To switch from a secondary desktop to screen mirroring, click the AirPlay icon in the macOS menu bar. Click the option to mirror the display.
Sidebar and Touch Bar
When the iPad is in extended display mode it will have a sidebar on the left side of the screen. It includes modifier keys such as Command, Shift, Undo, Option, Control, and others.
If a MacBook Pro with a Touch Bar is used, controls for the Touch Bar will be displayed at the bottom of the iPad's screen. In Sidecar preferences on Mac, users can also toggle the Touch Bar on or off.
The best apps for SideCar
These apps are among the best in their respective fields, and cover writing, organizing, photography, digital art, and more. Using an Apple Pencil with the Sidecar experience pairs well with each app.
Affinity Photo
Affinity Photo is an alternative to Photoshop that provides the best editing features for photographers. Live, real-time editing offers features such as unlimited layers, layer groups, adjustment layers, filter layers, and masks. $54.99
Affinity Photo pairs well with Sidecar since the Apple Pencil can be used as a brush for photo edits. Sizing, cropping, warping, and more also benefit from the Pencil.
MindNode
MindNode is the premier brainstorming tool using mind maps. Words, images, tasks, notes, and links can all be organized in a way that makes sense for the user. Themes and custom stickers can be used for personalization. Free (Offers In-App Purchases)
Sidecar can help with a quick brainstorming session where flexibility is needed, such as managing multiple mind flows.
Logic Pro
Apple's Logic Pro is the next step for musicians after trying GarageBand. It includes a big collection of instruments, effects, loops, and samples. Over 5,900 instruments and effects, 1,200 sampled instruments, and 14,750 Apple Loops across a variety of genres. $199
Sidecar is a fantastic option for musicians running out of screen room on the Mac. The piano roll could remain on the Mac while various instruments and plugins can move to the iPad.
Pixelmator Pro
Pixelmator is an image editor for photographers and a design tool for artists. Over 50 editing tools let users edit photos, draw, create designs, and paint. $19.99
Using the iPad as an input device for the Mac is perfect for artists and graphic designers. Drawing with an Apple Pencil is intuitive and provides features that a regular pencil does not.
ZBrush
ZBrush is an excellent tool for digital painters and sculptors. There are customizable brushes, virtual clay, and other tools to create professional 3D content. There are different pricing plans to meet various needs and budgets.
Like artists, sculptors using the Apple Pencil with Sidecar can probably manage their content easier than just a Mac. Keep a reference model on the iPad and draw on the Mac is another option.
Notability
Notability is one of the most popular apps for taking notes. It also supports recording audio, handwriting, and sketching, sharing ideas in presentation mode, and lots more. Free (Offers In-App Purchases)
Sketching and handwriting with the iPad is a useful feature for Sidecar. Working on multiple notes at once is another benefit of the experience.