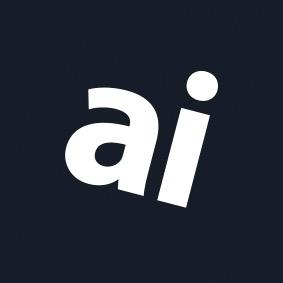 Why you can trust AppleInsider
Harber London Nomad Organiser review: Stylish, but pricey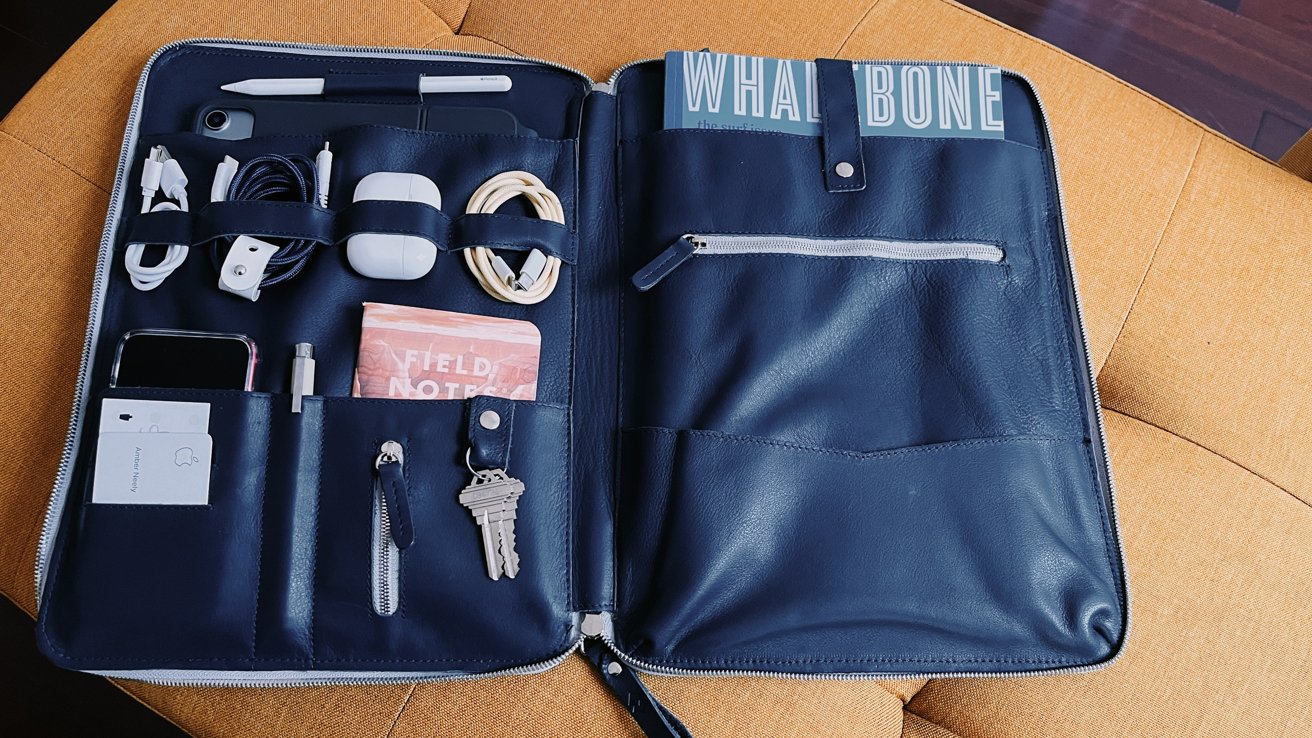 Harber London Nomad Organiser
3.5 / 5
---
Upgrade your everyday carry with a luxury organizer that can fit all your Apple gear, including your MacBook, iPad, AirPods, and more.
There are plenty of ways to carry all your essential gear. Many of us have defaulted to keeping a tech bag, which often takes the form of a bulky backpack or messenger bag.
While effective, they're hardly an elegant solution and sometimes leave us feeling like we're back in high school.
Small and stylish
The Nomad is a luxury leather organizer designed to hold all of your essential gear in a sleek, stylish package. This includes an iPad, MacBook, iPhone, AirPods, keys, cards, and more.
Harber London's Nomad Organiser is handmade by artisans in Spain and crafted from full-grain leather available in four colorways. We received the navy, but it's also available in tan, black, and deep brown.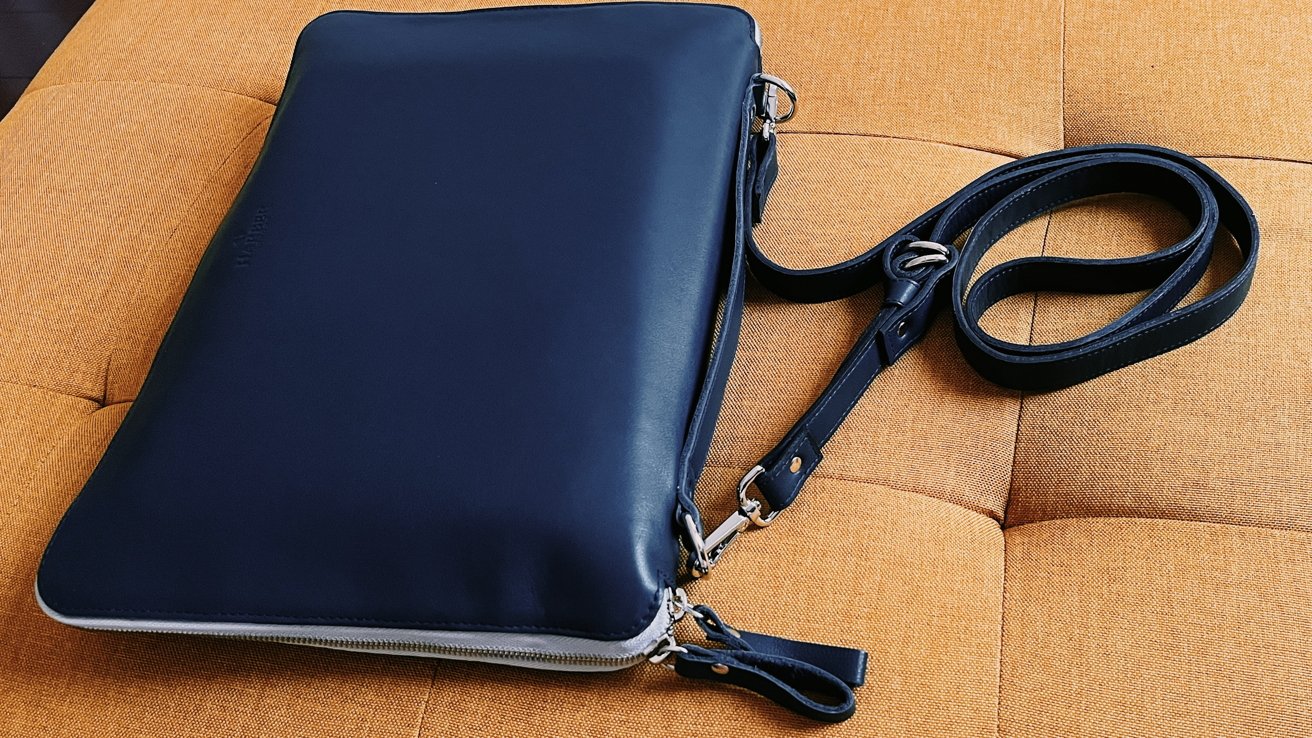 The leather is buttery smooth, and Harber London notes that it will develop a unique patina over time.
We were especially impressed by the quality of the stitching, which seems like it would withstand a significant amount of use.
The Nomad is portable, too. It measures a diminutive 14 by 10 inches, making it the perfect carry-along for nearly any situation. It's perfect for keeping all your tech essentials organized wherever you go.
An included over-the-shoulder strap makes it even easier to take along, transporting it into a super-slim messenger bag.
A place for nearly everything
There's something inherently frustrating about trying to pack all your gear into your standard tech-centric backpack.
Maybe it's the inelegance of it all, the inevitable cord spaghetti that happens, or the way your AirPods tend to drop to the bottom and take forever to find — whatever it is, we're not big fans.
That's why we were happy to see that the Nomad offers plenty of dedicated spaces for the things you need daily. This includes:
A padded laptop pocket that fits up to a 14" MacBook Pro
A padded iPad pocket that fits up to 12.9-inch iPad Pro or a 9.7" iPad Pro with a Magic Keyboard.
A smartphone pocket that fits up to an iPhone 13 Pro Max
A dedicated space for your Apple Pencil or favorite thin-pen
Cord and cable organizers that also fit AirPods/AirPods Pro and an AirTag
Two card slots
A dedicated pen/pencil pocket
A small zipper pocket for cash and change
A small multi-purpose pocket that fits a small notebook or checkbook
A key holder
A larger zipper pocket
A larger multi-purpose pocket
All of these pockets add up to a great way to keep all your items together and in a stylish package, to boot.
A boon for artists, frequent travelers, and those who like to carry less
While the Nomad is designed to carry both an iPad and a MacBook, it shouldn't be seen as only a tech bag.
We think the Nomad may be better suited for artists who like to use traditional media, such as sketchbooks, and digital media, such as the iPad.
A4-size sketchbooks, provided they are not wire-bound on the side, fit easily within Nomad.
Writers who enjoy keeping a notepad on hand will also appreciate that you can easily fit an A4-sized notebook or an XXL-sized Moleskine inside and still have room for an iPad or a MacBook.
It also is great for carrying a book or a couple of magazines, too, making it the perfect companion for long plane or train rides.
Almost perfect, but...
We love our Nomad Organiser, but it doesn't mean it's perfect. We found a couple of things that would elevate the design.
The most significant issue is that there is nowhere to stick a power adapter or power bank. This means that as gorgeous as it is, you will have to either carry a power adapter separately or you will have to rely on a single charge for your gear.
The secondary issue is that we wish there were a rigid internal structure. Sometimes, when packing things into the Nomad, we can see the leather stretching around the item, resulting in bumps. Because of this, we worry that it could cause the leather to stretch irreparably.
Gets the job done, with a splash of style
We like the Nomad Organiser. We think it does an excellent job at what it sets out to do — keep your gear organized while still appearing stylish and put together.
If money is no object and you don't need to carry a power adapter with you wherever you go, you're likely the target audience for the Nomad Organiser.
Stylish
Portable
Well designed
Plenty of storage for cables, pens, and more
No place to store a power adapter
Expensive for what you get
Where to buy the Harber London Nomad Organiser