Bluetti's AC500 solar station can help you beat power outages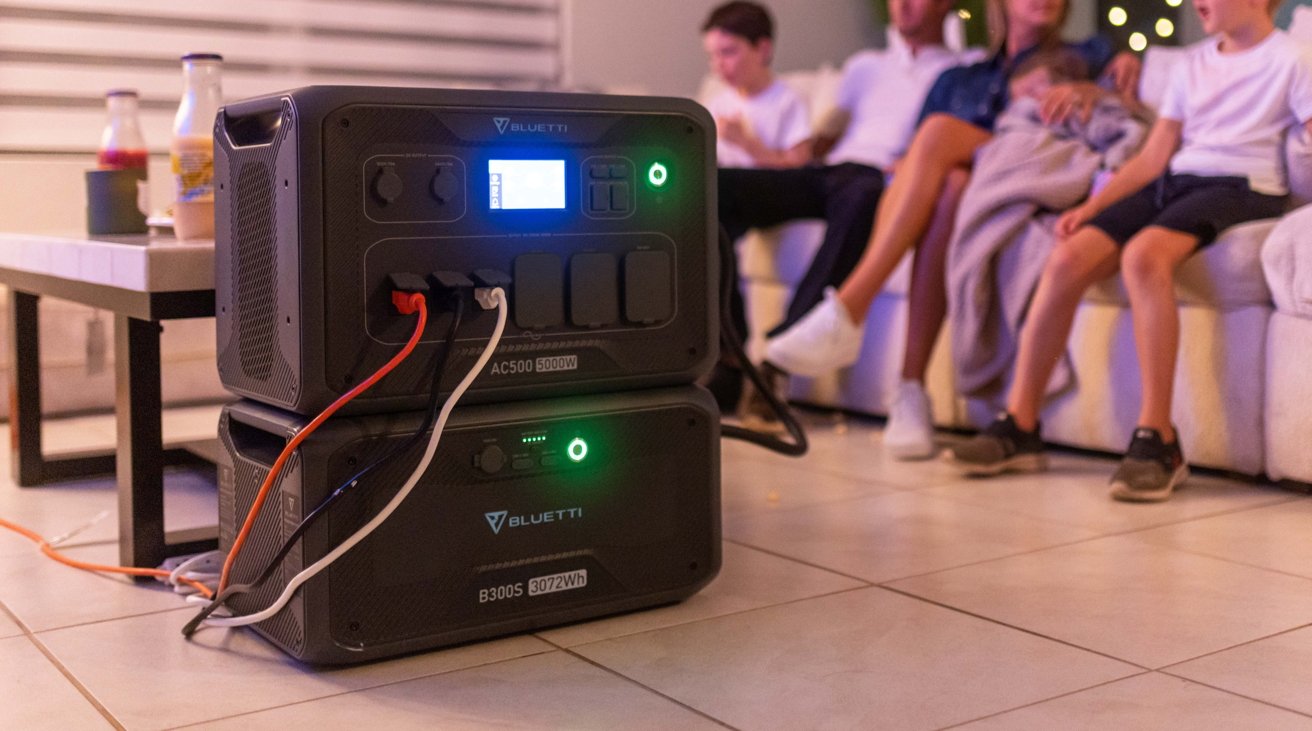 Bluetti's second-generation modular power station, the AC500, could be just what you need to keep your Macs and the rest of your home running smoothly during a power outage, or for some applications, going completely off-grid.
As the years have passed, the power demand of the average home has become more significant, and while the infrastructure is enough to maintain power most of the time, it's not infallible. With blackouts becoming commonplace, there has become an increased need to combat the outages and to ensure that everything keeps running until supplies are restored.
You could attach a UPS to your Mac, but that's not necessarily the best solution. Power independence offers a more well-rounded answer to the problem and one that goes beyond just your computing setup.
Bluetti is preparing its second-generation modular power station, the AC500, the company's most powerful solar generator its ever made. Paired with the B300S companion battery pack, the AC500 can be a behemoth that can help keep your entire household powered.
Following on from the AC300, the AC500 is designed to connect to battery packs for the actual storage of power. The AC500 comes into play in getting power into and out of the batteries and into your home's electrical supply.
A 100% modular solution, you can attach the B300S or B300 external battery packs to the AC500. Able to attach up to 6 batteries in total, the AC500 can provide up to 18,432Wh of power, which is more than enough to keep a household running during a severe outage.
Measuring a compact 20.5 inches by 14.1 inches by 12.8 inches and weighing 66.2 pounds, the AC500 has a 5,000W pure sine wave output, but it can also deliver up to 10,000W in surge consumption.
Yes, it can easily handle essential low-wattage items like recharging a notebook or powering a CPAP, but also washing machines, refrigerators, and air conditioners.
Flexible power usage
You could potentially charge the system and take it to a cabin in the woods for a weekend of no-compromise off-grid living, but it's also handy for the aforementioned power outages.
Its 24/7 uninterrupted power supply function will kick in within 20 milliseconds of detecting a power failure. That's quick enough that you practically won't notice the changeover.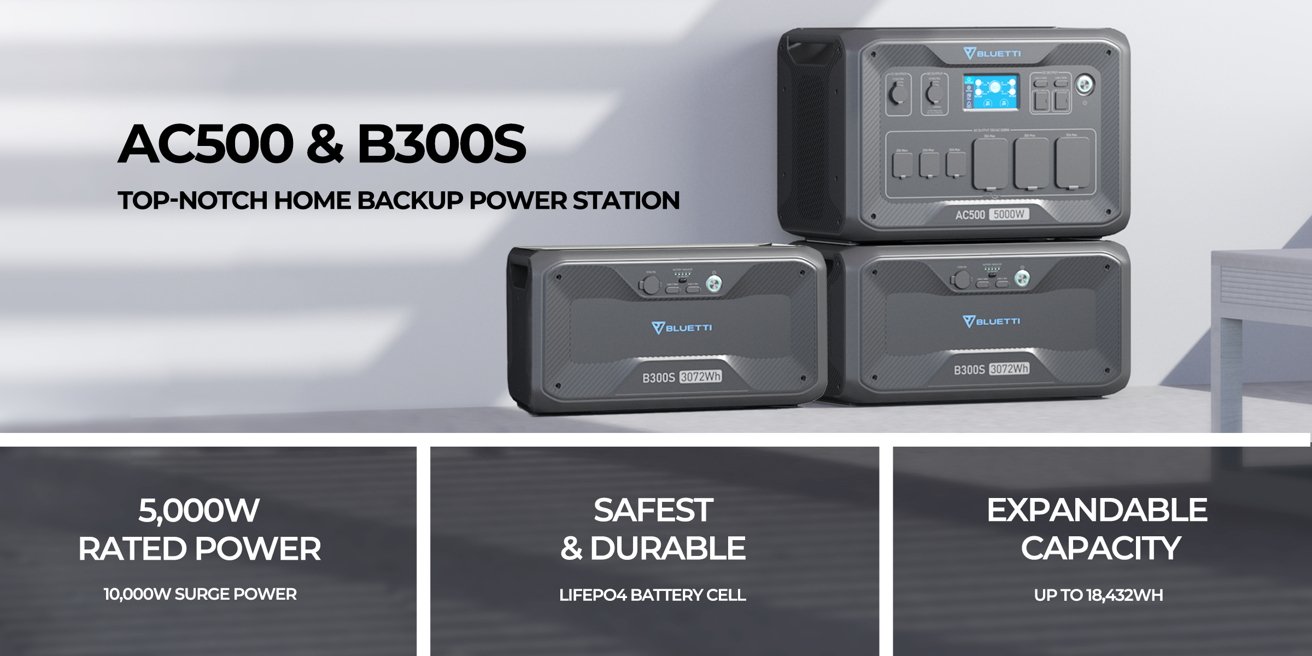 If you have 240V appliances, you could use two AC500 units to deal with that voltage level. There's also the added benefit of using up to 12 B300S batteries in that scenario, giving you up to 36,864Wh of capacity.
For using it on the move and off-grid, Bluetti includes many ways to connect your devices to the power station instead of connecting to the home.
This includes three 120V/20A outlets, a 120V/30A L14-30, a 120V/30A TT-30, a 120V/50A NEMA14-50, two 100W USB-C ports, two 18W and two 5V/3A USB-A ports, and two 15W wireless charging pads. There's even a 12V/30A RV outlet and a 24V/10A car outlet.
For off-grid living, this offers many benefits of having a generator on-hand, except without worrying about fuel, fumes, or ensuring the power from it is suitable enough for sensitive devices like computers.
Quick and versatile recharging
Getting power back into the system can be done in several ways.
You can get power into the connected batteries through the AC500 using a wall outlet, as well as by lead-acid batteries, generators, a solar panel, and even a car cigarette lighter.
You're also not limited to just using one method, as dual and triple charging can be done using multiple processes at the same time. It's possible to recharge the system using a power outlet and take advantage of the free power generated by solar panels.
Under optimal conditions, you can potentially get an AC500 and B300S pairing to 80% charge within just 30 minutes.
B300S battery packs
Each B300S battery pack has a capacity of 3,072Wh, at 51.2V and 60Ah, and can simultaneously recharge and discharge. Each measure 20.5 inches by 12.5 inches by 10.5 inches, weighing 79.6 pounds.
Inside is a LiFePO4 lithium iron phosphate battery, using a long-lasting chemistry with high durability of more than 3,500 charging cycles to 80% of the unit's original battery.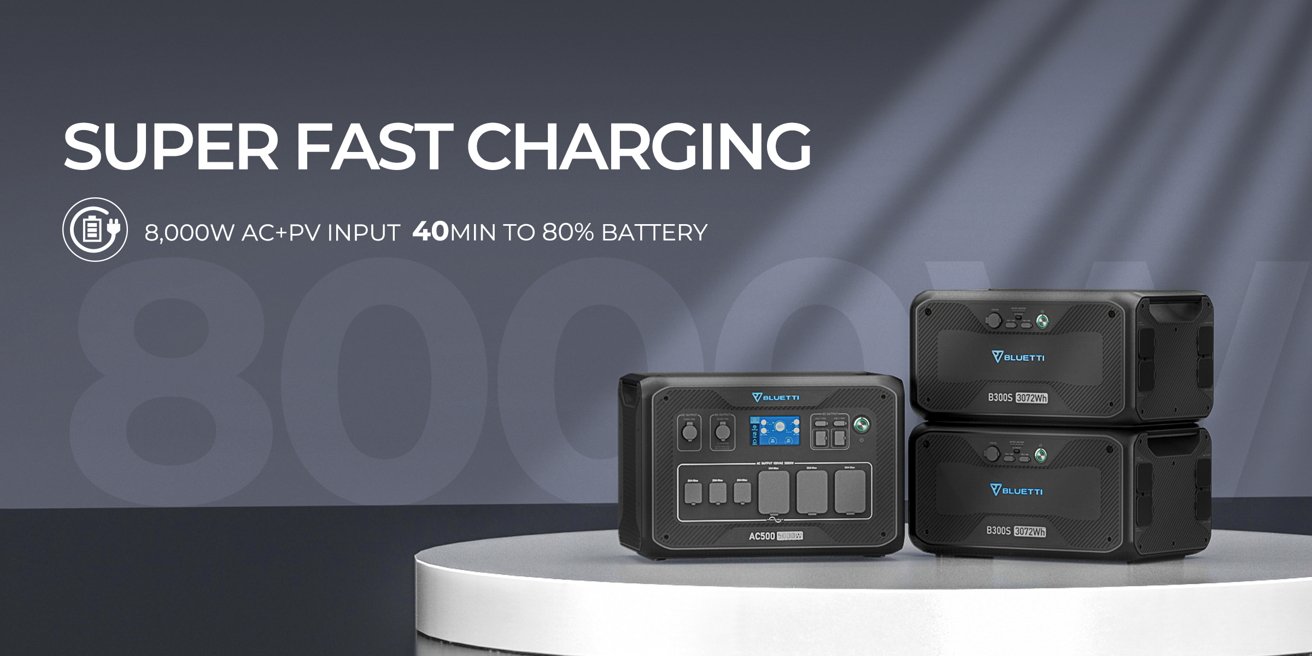 In real terms, that's a battery that will last for a decade of regular use.
Each battery also has its own 100W USB-C and 18W USB-A port for charging devices without necessarily going through the AC500 and a 12V/10A car outlet.
Power management from your iPhone
While you could use the on-screen controls of the AC500 to manage its features and capabilities, you don't have to do that all the time, especially if you are storing the power system out of immediate view, such as in a basement.
Using the Bluetti app, you can view many elements of the AC500 and connected batteries from your mobile device. That includes turning the power on and off and real-time updates of how much energy is being used or recharged.
You can even use the app to apply firmware updates to the system, keeping it in tip-top working order.
Crowdfunding
Early adopters of the Bluetti AC500 and B300S will soon be able to acquire the solar power station system through Indiegogo, with early bird pricing available.