Sonnet's xMac Studio and RackMac Studio rackmounts the Mac Studio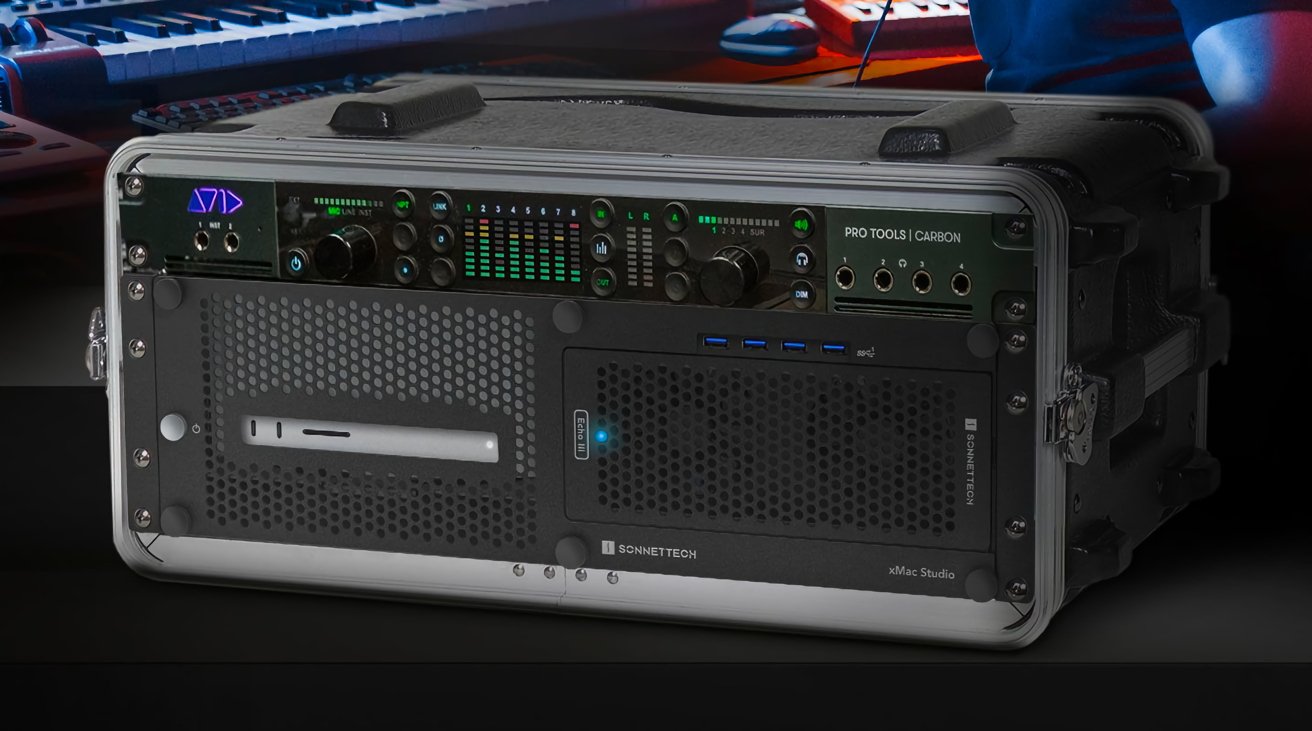 Accessory producer Sonnet has introduced the xMac Studio and RackMac Studio, two additions to its enclosure lineup designed to work with the Mac Studio.
A natural progression from its RackMac mini and xMac mini Server, the RackMac Studio and xMac Studio are rackmount systems intended to work with the Mac Studio, Apple's most powerful desktop Mac running on Apple Silicon. Each are designed to hold the Mac inside a larger enclosure, along with other elements, which can be mounted into standard 19-inch server and equipment racks.
The RackMac Studio is able to hold one or two Mac Studios (check prices), neatly shielded behind a removable front panel. Strategically-placed slots and holes provide access to the ports and SD card slots on each Mac Studio, so they don't have to be removed from the enclosure to plug something in.
To the side of each Mac Studio is a power button that directly controls the power button at the rear. A USB-A port also provides a way to plug in a thumb drive or other hardware at the front without needing to access the back.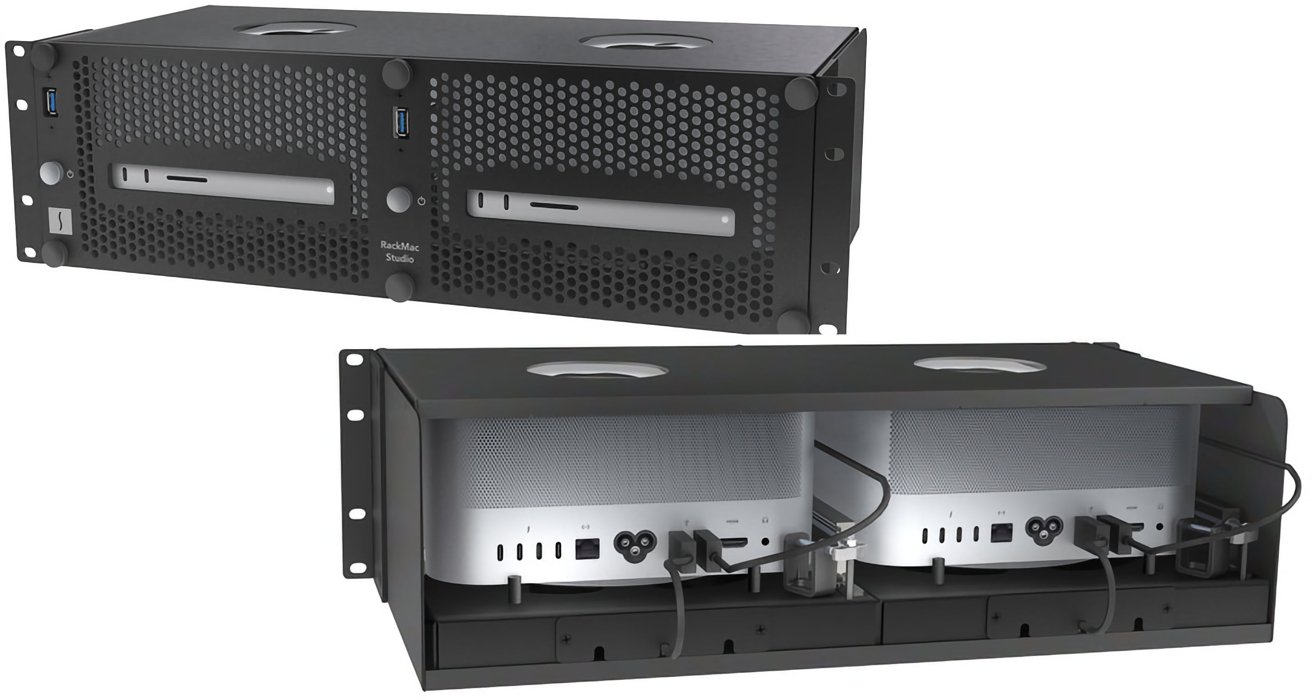 Cooling is provided via an enclosed chamber beneath each Mac Studio, ensuring cool air can be brought in through their bases, while ventilation holes allow for the expulsion of heat.
Each chamber also provides space for up to three Thunderbolt or USB-C SSDs to be installed, which can hook up to the Mac Studio's ports at the back.
The compact 9.5-inch deep, 3U size makes it able to be installed in smaller travel racks and shallow molded rack cases, opening the possibility of it being used to transport the Mac Studio for a variety of mobile purposes.
Sonnet is making the RackMac Studio available the week of October 24, priced at $449.99.
xMac Studio
Following the similar theme of holding the Mac in a rack, the xMac Studio is a 16.5-inch deep 3U rackmount enclosure that can hold a single Mac Studio. Rather than a second Mac, the enclosure instead includes a Thunderbolt to PCIe card expansion system, with the option of adding an Echo I or Echo III module, with the latter borrowed from the DuoModo expansion system.
The main enclosure includes a front power button that works with the rear power switch, as well as space to be able to access the front ports and memory card slot. However, instead of the single-port USB-A passthrough cable, the enclosure instead provides a four-port USB-A hub, which again connects around the back.
Below the Mac Studio is an SSD storage space, which is ideal for up to three SSD drives to be installed and connected to the Mac Studio's rear ports. Vent holes at the front provide access to cool air, while a completely open back is used for hot air expulsion.
While the enclosure can be acquired without any expansion modules, it's also being offered with a choice of two add-ons.
The Echo I module connects to the Mac Studio with a Thunderbolt cable, complete with a ThunderLok 3 connector retainer clip. Supporting one full-height, full-length PCIe card, it has a single x16 slot that works with PCIe 4.0 down to 1.1.
Power stems from a 400W power supply with 150W auxiliary power connectors, with dual Noctua quiet fans for cooling.
The Echo III provides a trio of PCIe 3.0-compatible cards, consisting of one x16 and two x8 slots, with support for PCIe 4.0 to 1.1 offered. All three cards can be full height and length.
Again, power is provided by a 400W power supply, this time with a 75W auxiliary power connector. A pair of Noctua quiet fans are also used for cooling.
Sonnet will start shipping the xMac Studio from September 26, with the enclosure alone priced at $549.99. The xMac Studio with the Echo I module costs $1,249.99, while including the Echo III raises the price to $1,649.99.