Arlo introduces Home Security System and Pro 5S Security Camera [u]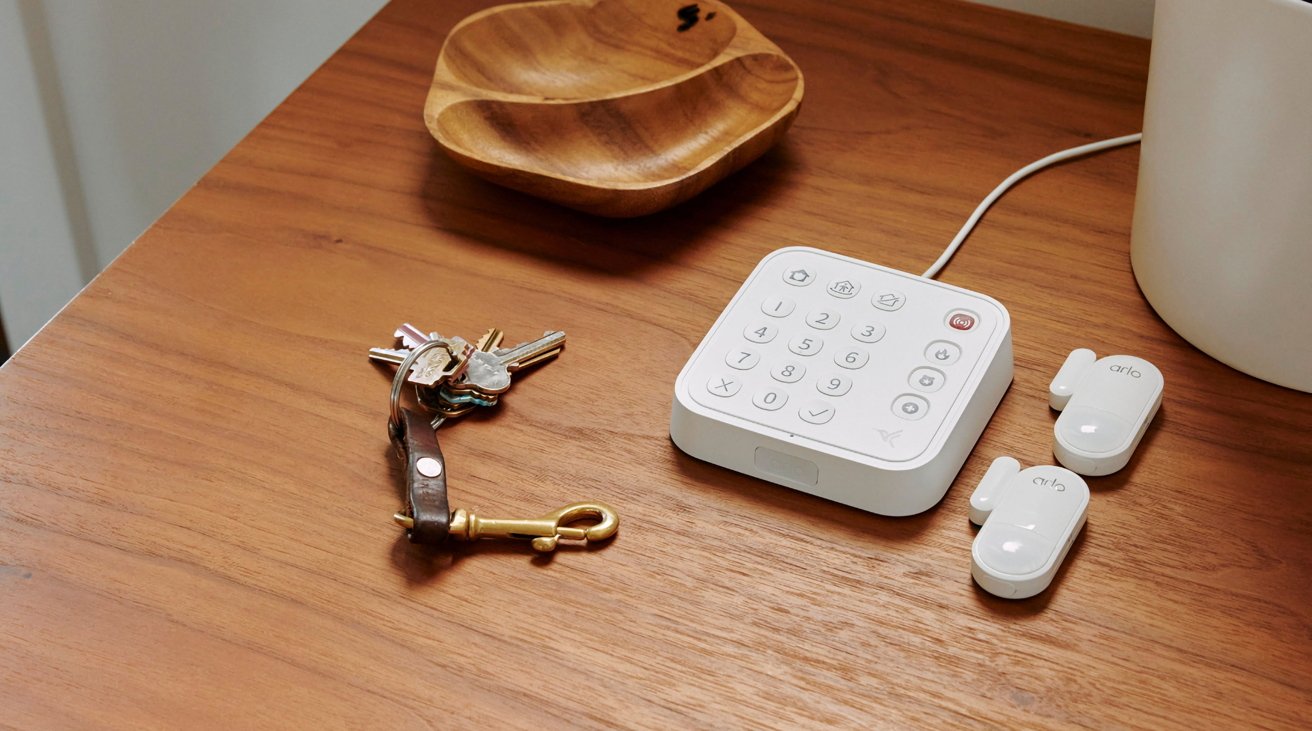 Arlo is adding to its extensive line of security products, with a new Home Security System introduced alongside a new Pro 5S 2K Security Camera.
The Arlo Home Security System is billed as a first-of-its-kind all-in-one system that is capable of eight different sensing functions.
Aside from detecting motion, the system is also able to detect door and window openings and tilting, water leaks, freezing temperatures, changes in lighting, and T3 and T4 smoke and carbon monoxide alarm sirens.
At the heart of the system is a multifunctional Keypad Sensor Hub, used to not only manage the various parts of the assembly, but also doubles as a motion sensor in its own right. The Keyboard Sensor Hub the all-in-one multi-sensor also incorporate Arlo SecureLink technology, enabling encrypted communications between elements and at a longer range.
The system also works with Arlo's 24/7 Professional Monitoring and Emergency Response system, to give users piece of mind that their home is protected.
To go with the new security system, the Arlo Secure App is being redesigned with a new user interface intended to enhance both control and customization.
When set up, real-time emergency response status updates can be sent via text or as a phone call, while emergency personnel are on their way to the home. This can help homeowners better manage the emergency, even if they are away from home.
The app also introduces various automations to trigger recurring tasks. This includes geofencing, changes in mode, alarms, scheduling, and other options.
The new Pro 5S 2K Security Camera is Arlo's most advanced offering so far. As well as offering a 2K view of whatever it's pointed at, it also does so with a high level of connectivity.
Including tri-band connectivity, the camera will connect to the strongest network available between 5GHz and 2.4GHz Wi-Fi networks. Pairing with the Arlo Home Security System using SecureLink also means the camera will be connected to the system, even during Internet or power outages, as well as using stronger encryption.
There's also increased battery life in the Pro 5S, with it potentially working up to 30% longer due to its new low-power mode.
Arlo has now confirmed HomeKit support.
"HomeKit compatibility for the Arlo Pro 5S 2K Security Camera will be available early 2023," a spokesperson told AppleInsider.
The company also told AppleInsider that the Pro 5S 2K Security Camera will cost $249.99, and pre-orders will be through Arlo.com and Best Buy. The Home Security System will be $199, and available via the same stores plus national retailers and Amazon.
Update: 14:30 Eastern with pricing details and HomeKit confirmation.