Best Black Friday Thunderbolt dock deals, save up to $100!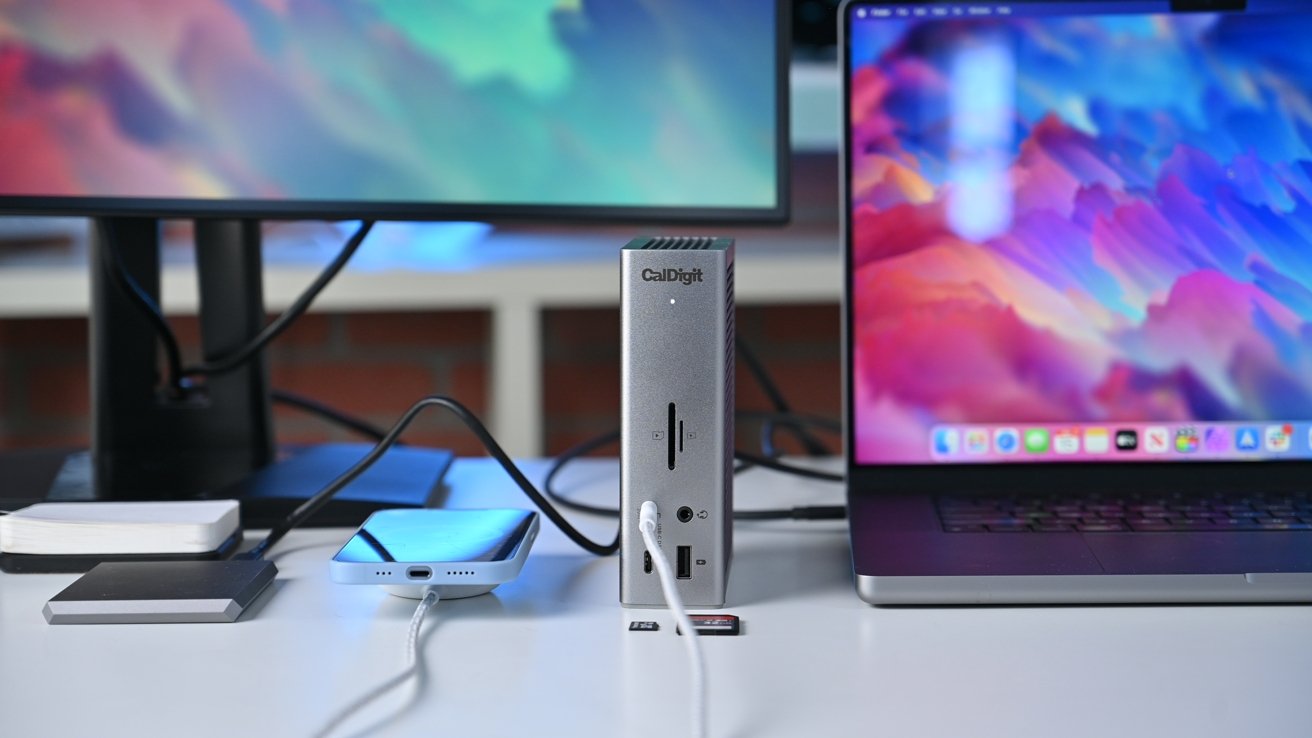 Every Mac owner needs more ports. The latest Black Friday deals include a slew of Thunderbolt docks on steep sale to suit everyone from light to heavy users.
It's Black Friday weekend, devices are on sale and perhaps only very briefly, and you can get some bargains. But let's cut right to it with the best deal of the lot.
Right now the CalDigit TS4 Thunderbolt 4 Dock is $399.99 via Amazon, for a saving of $50. It's an AppleInsider favorite and we enthused about it even at full price, so any discount is a steal.
The CalDigit TS4 Thunderbolt 4 Dock comes with three Thunderbolt 4 ports, each providing 98W. Plus it has five USB-A, two USB-C, DisplayPort, SD card slot, MicroSD card slot, audio combo jack, and Gigabit ethernet.
Choosing your Thunderbolt dock
Aside from budget, which Black Friday is going to help you with, the issues with Thunderbolt docks come down to the extra ports they give you — and the power.
The highest-end dock AppleInsider has found that's currently on sale is the Plugable 14-in-1 USB-C and Thunderbolt Dock, which is now $299, a saving of $40. This offers 100W charging power through one Thunderbolt 3 port, and has six USB-A, microSD, 1 USB-C port, SD card, gigabit ethernet, plus an audio in and out jack.
It can also run up to two displays in total via its two HDMI ports, and two DisplayPorts.
Thunderbolt 4 docks
Satechi Thunderbolt 4 Dock - 11-in-1 (four Thunderbolt 4 ports with 96W to host computer, SD card reader, Gigabit Ethernet, 4 USB-A) now $249.99 ($50 off)
Anker PowerExpand 5-in-1 Thunderbolt 4 Mini Dock (four Thunderbolt 4 ports with 85W to host computer, one USB-A port) now $149.99 ($50 off)
That Satechi Thunderbolt 4 Dock is a notable, compact port extender for the Mac that has previously recommended.
Thunderbolt 3 docks
Anker Docking Station, 777 Thunderbolt Docking Station (Thunderbolt 3 host connection with 90W max, Thunderbolt 3 downstream, USB-C, 2 HDMI, Gigabit ethernet, SD card slot, audio, 4 USB-A, SD card slot) now $249.99 ($100 off)
Anker 577 Thunderbolt Docking Station (dual Thunderbolt 3 ports with 85W to host computer, 2 USB-C ports, 4 USB-A ports, an HDMI port, Gigabit Ethernet port, SD/microSD card slots, and a 3.5 mm AUX port) now $239 after $90 saving with on-page coupon.
For light or occasional use
For more modest needs, there is the Kensington SD2500T Thunderbolt 3 and USB-C Docking Station. This features a Thunderbolt 3 port with 60W power, two DisplayPort, Gigabit Ethernet, three USB-A, one USB-C, audio jack, and SD and microSD slots
The savings are a little modest on this one, too, as it is on sale now for $204.94, which is a saving of $15.05.
Still, it doesn't matter whether you're saving 15 bucks or 100 bucks, you will kick yourself if you miss the sale and that price goes back up.