IOGear 2-port 4K KVM: Simple, cost-effective multi-Mac control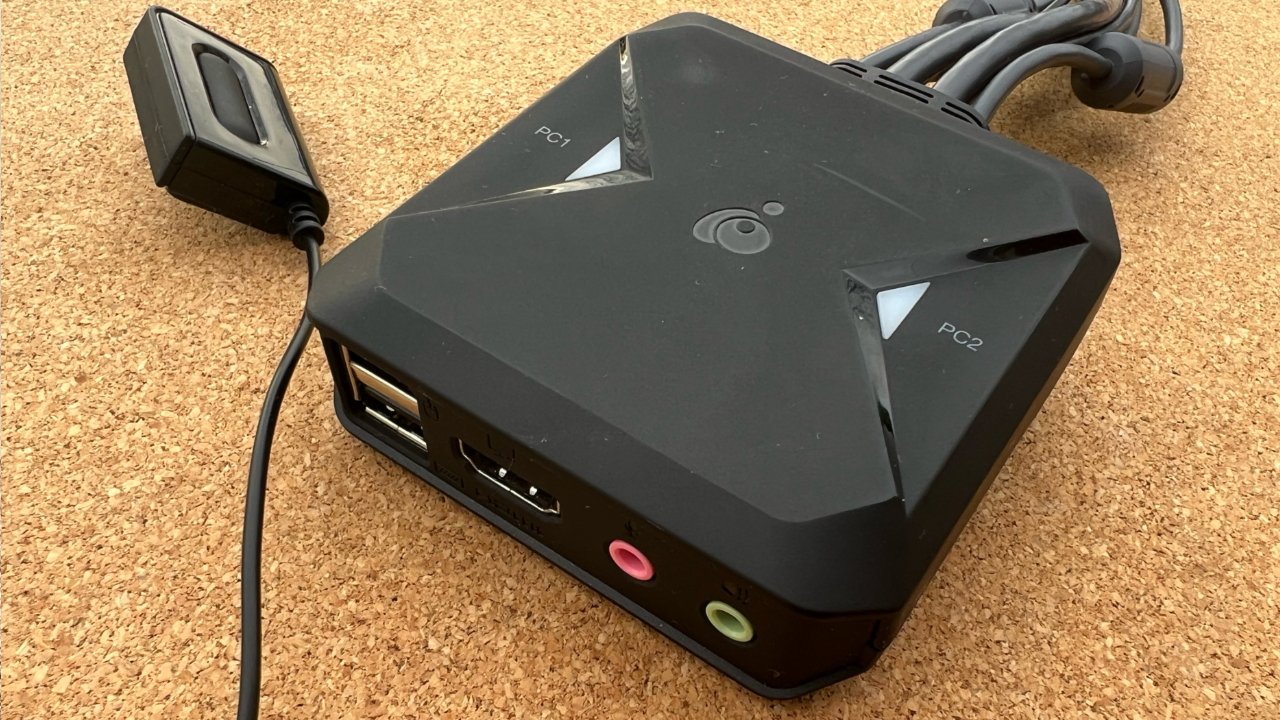 IOGear 2-port 4K KVM
3.5 / 5
---
AppleInsider may earn an affiliate commission on purchases made through links on our site.
Straightforward to set up and easy to use, the IOGear 2-port KVM is an inexpensive solution to controlling two computers with one keyboard, mouse and audio. But you do have to pick your model carefully.
Now that Macs have Universal Control, it's tempting to believe that there is no longer a need for a Keyboard Video Mouse (KVM) switch. Rather than physically plugging a KVM into two computers and using it to switch between them, you can in theory just move your Mac's cursor over to the other Mac's screen.
For once, theory and practice go hand in hand, too, as you can do exactly this. Except Universal Control is of course useless if your other machine is a PC, or it's an older Mac that you just keep around as a spare.
Plus Universal Control requires both computers to be switched on, and although they can share the same keyboard and mouse, they each require their own screen.
With a KVM, either computer can be switched off until needed, and they share everything, including the screen.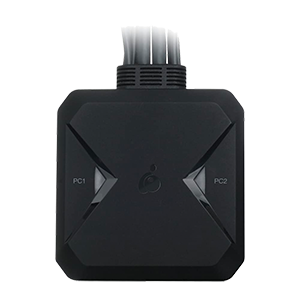 IOGear 2-port KVM
---
The IOGear 2-port KVM comes in HD only and 4K varieties.
IOGear's simple KVM design
IOGear provided two different 2-port KVM models, both with the same overall design, and both with the same overall ease of use. They're priced toward the lowest cost KVMs available, which leads to some compromises.
The difference between the two is that one was for HD or 1080p monitors, while the other supports 4K — both at 60Hz — and also audio.
The 4K model — identifiable as GCS92HU — is the better buy as it can scale up to 4K depending on your display. It's also able to route a single microphone and a single pair of speakers to the two computers it connects to.
IOGear 2-port KVM design
Once you've made the choice between the two 2-port models, IOGear doesn't just make everything else easy, it positively removes any decision making.
So the little KVM unit comes with all the cables you require — and they are hardwired in. Maybe you could make some mistakes when you plug them in to the two computers, but you'll never get them wrong at the KVM's end.
That's good, and that all the cables are included is obviously excellent. But it does mean that the KVM comes with a nest of cables that can't be changed if there's a problem with even one of them.
The hardwired provided cables are also short at 4 feet. Unless the two machines are side by side, and close to your peripherals, it's the cables are likely to be too short.
Plus they won't be long enough to give you any flexibility in routing your cables to avoid clutter.
The obvious answer there is to buy cable extensions, but USB-C, for instance, doesn't play nice with these. You can't guarantee that a USB-C extension will work.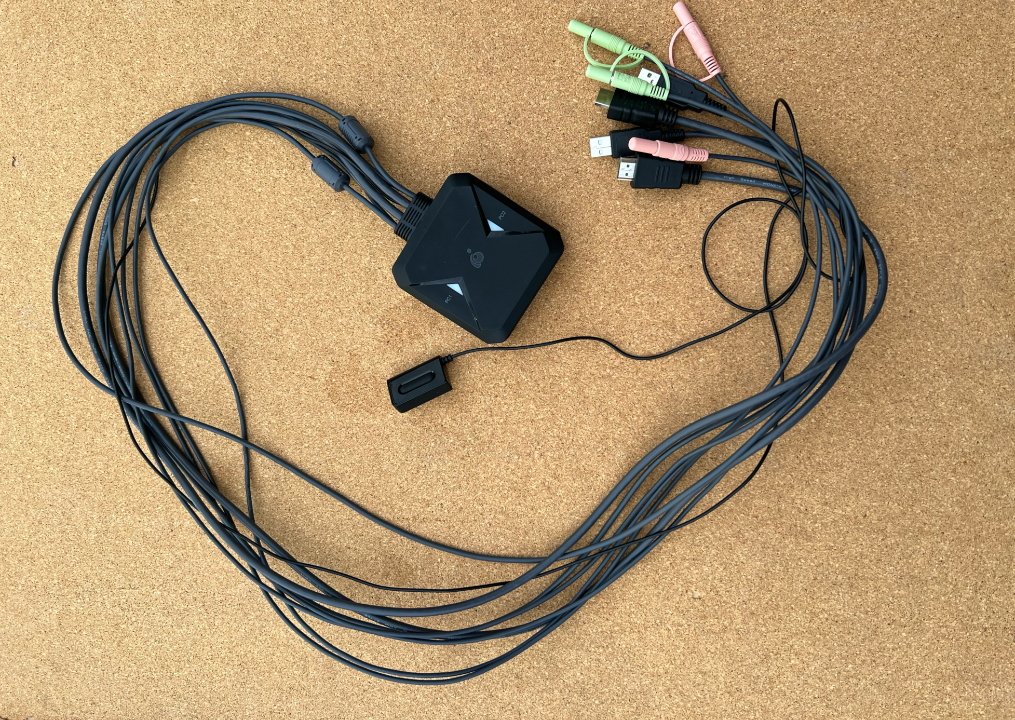 Installation and use
To fit the KVM, you plug each of its cables into your two computers. There's no separate power cable required, the unit gets power from its USB connection to those Macs.
While the KVM unit itself is small and neat, the way you control it is with an even smaller remote switch button. This is a simple push-button control at the end of a slim 4ft cable.
It's like a small puck and you will definitely lose it under books and papers on your desk, but the slim cable means it can't go very far. That's both good and bad, and it would be better if the unit itself had a button too.
Switching between two Macs is a question of finding the puck, pressing the button, and waiting just a moment. Then your peripherals are all controlling the second machine, until you press the puck once more and switch right back.
That's the way you will work the IOGear KVM in everyday use. On the odd occasion that you want to change which machines are connected, you can hot swap cables at the Mac's end.
Pros
Could not be simpler to use
More cost effective than buying extra periperhals
Does not require both machines to be on
All cables are included
Cons
Cables are hard-wired in so can't be replaced with longer ones
Only supports two machines
Rating: 3.5 out of 5
This is a case where if this KVM exactly suits your setup, it's tremendous. However, if you've ever found that somehow the connector at the monitor's end has been damaged, you know it would be good to have the option of replacing the cables.
It is convenient knowing that every cable you need is there and, as it's all hardwired in, you're not going to accidentally unplug one from the KVM. However, if you've ever moved a Mac a foot to the left to get to a port on the back, you know that having short cables is a problem.
Most other KVMs get around this length issue by simply not hardwiring the cables in. It's more common to be able to use any cabling you choose, and buy separately.
There is also a limitation here that these IOGear KVMs are both built to control two devices and you may well need more. The only option then is to go for more expensive KVMs, but in that case you are likely to also get better cable options.
Regardless of what KVM you buy, though, they do almost all require you to be using wired devices.
When KVMs were first around in the 1990s, all keyboards and all mice were wired. Now that it's at least considerably more common to have wireless peripherals, unless you do have a wired keyboard and mouse, a KVM could only save you on needing to buy two monitors.
Then if you do have wired peripherals, there is the issue of what resolution your monitor is. The lower-cost GCS32HU is limited to HD, so it's best for occasional use of secondary or spare machines.
So the 4K model is the better buy if you're going to use a KVM on your main machine.
Where to buy
The HD-only 2-port KVM GCS32HU retails for $60 from Amazon. Sales are not uncommon.
For $40 more, the 4K 2-port version not only supports a much higher resolution display, it can route a microphone and single pair of speakers to either machine. The GCS92HU retails for $110 from Amazon.