Holiday Gift Guide: best Apple Watch gift ideas from $20 to $100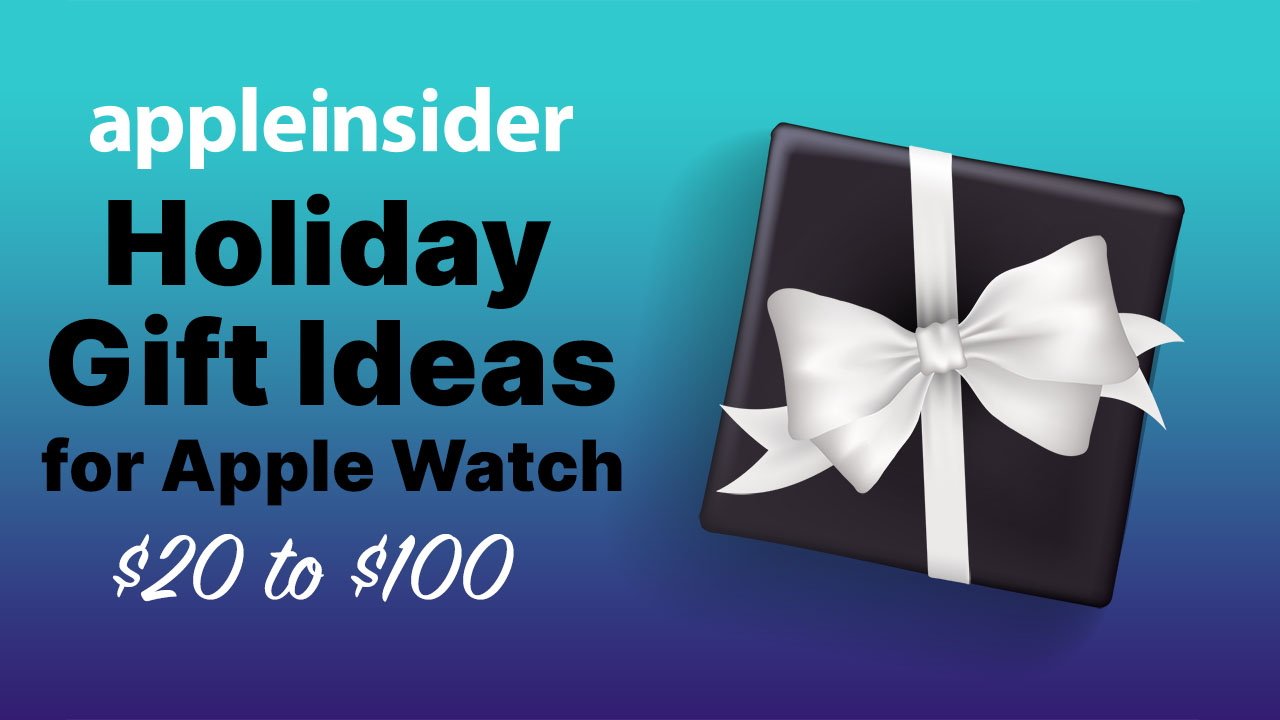 Buy the Apple Watch owner in your life something special this holiday, with a selection of gift ideas that you can get for less than $100.
The holiday shopping period is in full flow, and time is running out to secure all the gifts you could possibly get for your friends and family.
If you're in need of a present for an Apple Watch user, here are AppleInsider's suggestions of things you could get them, priced from $20 to $100.
Belkin 3-in-1 Wireless Charger
This stand from Belkin is ideal for a bedside cabinet, as it gives you a one-stop charging point for three commonly-used Apple products. This stand can recharge an iPhone with 7.5W Qi wireless charging on its vertical stand.
To the side, you have a puck that will suit the Apple Watch, while there's enough space in the loop of the Apple Watch where you can place a wireless charging case for AirPods. All neatly presented on one accessory, which also only requires one power cable.
Apple Watch Milanese Loop
The Milanese Loop is one of the popular ways to wear an Apple Watch, with a stainless steel mesh that fluidly forms around the wrist. Made on specialized Italian machines, the bands also feature a physical vapor deposition layer (PVD) to give the band a distinctive finish in its graphite, silver, and gold colors.
More practically, it's also a band that secures itself magnetically, so you can wear it as loosely or as tightly as you want.
Apple Watch Sport Band
Another Apple-produced strap for the Apple Watch, the Sport band is produced from a custom high-performance fluoroelastomer, allowing it to be both soft and strong. This also makes it a great band for workouts and fitness in general, due to the easy-clean nature of it.
Given its material, it is also available in a variety of colors to best suit your fashion needs. Around the back, it has a simple pin-and-tuck closure, so it will fit snugly onto the wrist.
Apple Watch Sport Loop
A third and last of the Apple-produced bands in this list, the Sport Loop is another fitness-focused option, but one that uses a nylon weave with breathable textile loops. This enables a variety of styles to be produced, including the highlight Pride Edition that removes some loops to add a three-dimensional texture.
On the reverse, the band holds in place using a hook-and-loop fastener, allowing you to control how tight it is on the wrist,and to quickly adjust it whenever you need it.
Apple Watch Magnetic Fast Charger
If just one official Apple charging puck isn't enough for someone, you could get them a second. The Apple Watch Magnetic Fast Charger is compatible with all Apple Watch models, though it is capable of a 33% faster charge for the Apple Watch Series 7 and newer, enabling a 80% charge to be reached in 45 minutes.
On one end, the usual system of magnets attaches the charger to the back of the Apple Watch. At the other, you can select between USB or USB-C versions, depending on the type of charger you intend to use.
Anker 533 Magnetic Wireless Charging Station and 20W Charger
Anker's take on the multi-device charger is stylish and minimal, and one that is made more for MagSafe-equipped iPhones. The 533 Magnetic Wireless Charging Station can recharge up to three devices at once, including a MagSafe-equipped iPhone, an AirPods wireless charging case, and a pop-up section to slip in an Apple Watch charging puck.
As part of the styling, the MagSafe portion can float the iPhone up in the air, held aloft by a metal angled arm, while the Apple Watch can be charged flat or on its side. It even ships with a 20W Fast Charger, so you don't even have to supply your own power brick for the assembly.
The Anker 533 Magnetic Wireless Charging Station and 20W Charger is available from Amazon for $59.99.
OtterBox All Day Case for Apple Watch Series 8 & 7
While the Apple Watch Ultra is designed to withstand the elements, you could still give some more protective assistance to the Apple Watch Series 7 and Apple Watch Series 8. The OtterBox All Day Case is a polycarbonate casing made with 90% recycled plastic components that will help protect the wearable device from knocks and scrapes.
A smooth bumper guards the display against impacts, and while the Digital Crown is exposed for ease of access, a built-in button in the case passes through to the Apple Watch button. It's also available in a variety of colors to suit your fashion sense.
The OtterBox All Day Case for Apple Watch Series 8 & 7 is available from Amazon for $23.75.