Holiday Gift Guide: best iPhone & iPad accessory gifts from $20 to $100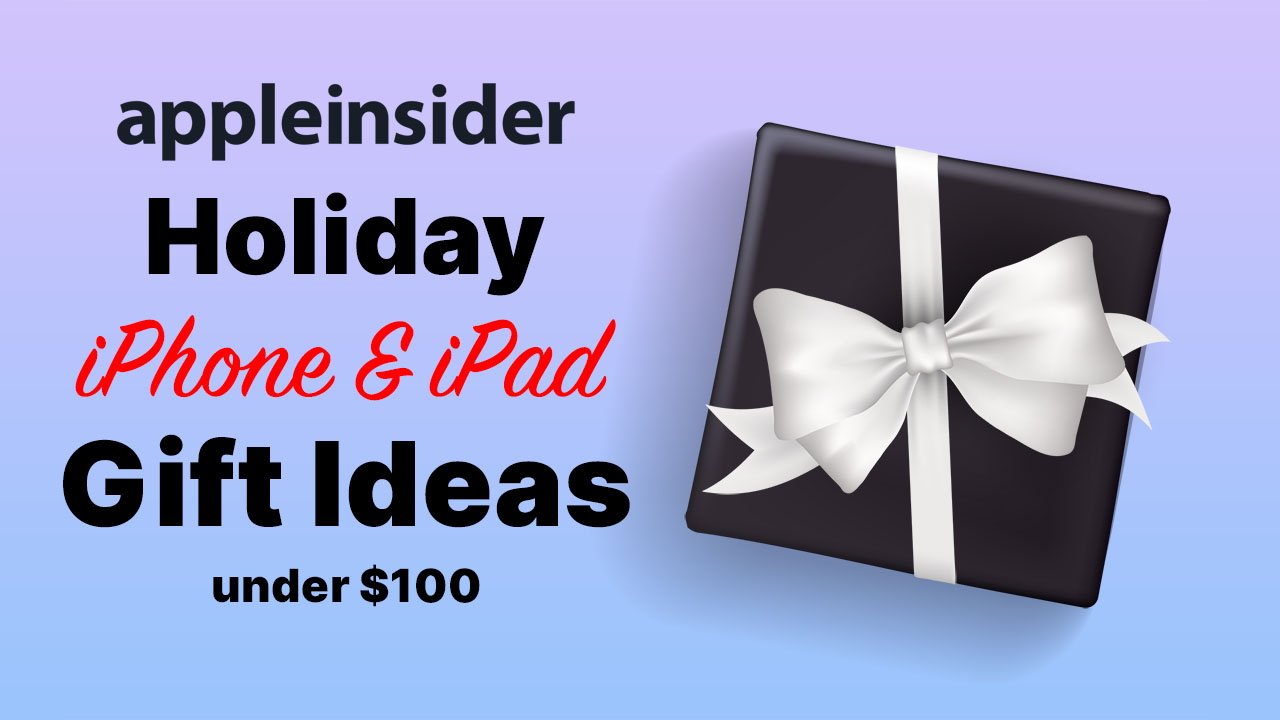 Get the iPhone user in your life a fun present for the holidays, with these accessory gift ideas for Apple's iPhone and iPad. Best of all, each one won't cost you more than $100.
The iPhone and iPad have a vast sea of accessories available, which can make choosing the right one as a gift for someone else a bit tricky. There's so much choice, it can be tough to go through all of it to find the ideal gift.
What follows is a few gift ideas specifically focusing on iPhone-related items. All of these are also priced at less than $100, so they won't break the bank.
Backbone One
The Backbone One is a gaming controller for the iPhone that holds the smartphone between two controller sections. Working with any controller-supporting games, it offers analog triggers, tactile buttons and a clickable thumbstick.
Unlike other game controllers, Backbone One also has its own app, which can be used for communicating with friends, managing your games, and for saving moments for posterity. It also ships with a month of Backbone+ access included, as well as one month of Xbox Game Pass Ultimate.
And yes, while it is made for iPhones, it'll also work with iPads, Macs, and PCs.
Anker 622 Magnetic Battery MagGo
Part of the MagGo line, Anker's 622 Magnetic Battery is a portable powerbank that can attach to the back of a MagSafe-equipped iPhone, so it can charge while stored on the device itself. Measuring 0.5 inches thick, it's a relatively small addition in size to the iPhone, and one that can be easily removed when needed.
It has a USB-C port on the side for recharging its 5,000mAh battery, which will help get users through a long weekend. Furthermore, it's also usable as a stand, with a built-in fold-out section that lets you stand the iPhone up.
Belkin Magnetic Car Vent Mount
Mounting a smartphone to the dashboard of a car or truck is never easy, nor pretty to look at. With its Magnetic Car vent Mount, Belkin has come up with a sleek option that is also easy to attach and remove.
While it clips on to the vents inside the car, the mount attaches to the iPhone using MagSafe magnets, so the iPhone will stay in place in both portrait and landscape orientations throughout the journey.
Bellroy Phone Case with Card Holder
Sure, you could add a magnetic wallet to the back of the iPhone, but Bellroy's Phone Case with Card Holder takes steps to hide the latter. Instead of an external wallet, the case has a magnetically-closed lift-up flap on one side, which can hold up to three credit or debit cards.
The flap also performs double-duty as an impromptu kickstand, when used in a landscape orientation. The case itself uses a flexible polymer for protecting the iPhone from knocks and drops, while externally it's made of leather, dyed in a wide selection of colors.
The Bellroy Phone Case with Card Holder is available from Amazon for $79.
Kodak Step Wireless Mobile Photo Mini Printer
Enjoy on-the-go photo printing with the Kodak Step Wireless Mobile Phot Mini Printer. Compatible with iOS and Android devices, the compact printer is perfect for printing selfies, pet photos and more.
The printer uses zero ink technology with Zink paper, making it a mess-free solution to toss into a purse or laptop bag.