Get the best DVD to MP4 ripper for Mac on big sale this holiday season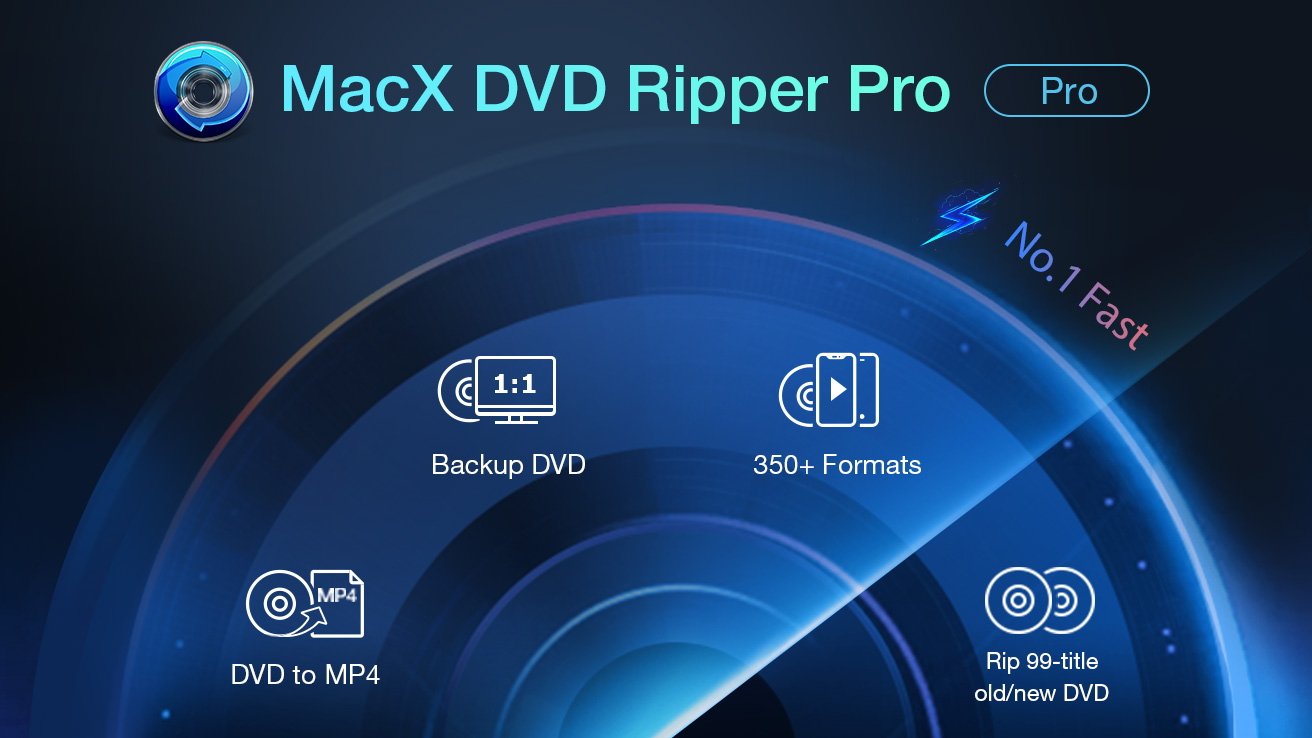 Bring films and TV shows on your physical media to the modern era, by using MacX DVD Ripper Pro to make digital versions you can watch on all of your devices. And, get it on sale for the holidays!
In a time when streaming movies and downloading TV shows from online services is fairly normal for most people, not many will think about shows and films that they have previously bought. Many people will have a pile of DVDs somewhere in their home, untouched for quite some time and taking up precious shelf space.
Instead of throwing away the DVDs, what you could do is instead convert them into digital versions for long-term storage on your Mac. By making a digital copy, you have a back-up of the content, just in case your physical DVD is damaged or is otherwise unreadable.
Aside from working as a backup, having a digital copy of a film or TV show means it can be viewed on more than just one device. Once turned into an MP4, that video file could be viewed on your Mac, your iPad, or even your iPhone, so you could take your media collection on trips away from home.
There's also the issue of scarcity, as while there's a lot of streaming media services out there, not every piece of content you're interested in will be available to watch. If you have rare or more obscure films and shows copied from DVD, it will at least be watchable with a relatively similar ease as something from Netflix, for example.
Having your DVDs put onto your Mac can also free up physical space occupied by the DVDs themselves. You could clear the shelves of DVDs and put them into storage if you have the digital versions available, so you can make your living space more minimalist and less cluttered.
Enter MacX DVD Ripper Pro
MacX DVD Ripper Pro is a DVD ripper for Mac. It's one that can allow you to rip DVD on Mac, turning content from the disc into an MP4 file within a few minutes.
There is a free trial of MacX DVD Ripper Pro that you can get for your Mac, but there's also a special holiday offer available for a limited time.
MacX MediaTrans current version limited license ($39.95 value)
MacBooster 8 six-month license ($29.94 value)
Coolmuster Data Recovery for Mac ($85.95 value)
5KPlayer
Features of MacX DVD Ripper Pro
In short, MacX DVD Ripper Pro can be used to copy and convert any types of DVD content to most of the popular video and audio formats. Once performed, this means you can play content that was on DVDs through devices that don't have a built-in disc drive, including iPhones, iPads, and most modern Mac hardware, as well as Android devices, your car media player, and set-top boxes.
The tool can take any DVD, including both newer and older discs, and regional DVDs. It's also possible to rip content from damaged discs, or those protected with encryption.
This digitizing can be performed to MP4, HEVC/H.265, H.264, MOV, FLV, MPEG4, and more than 350 other formats. It also has over 350 profiles available, so you can rip directly to a format and file size ideal for the device you're going to watch it on.
MacX DVD Ripper Pro can also perform a 1:1 backup of a DVD to an ISO image and DVD folder, without any quality loss. As for the rip itself, the software does so extremely fast, using its Level-3 Hardware Acceleration tech to pull the content from a DVD in around five minutes, aided by the GPU.
Advanced users can go beyond the standard profiles, with the ability to tweak the decoder/encoder parameters for their particular use. For example, you can change the output settings based on codecs for video and audio, bitrates, frame rates, aspect ratio, resolution, and other elements.
There are also extra tools for trimming videos, cropping the frame size, merging clips together, and to add subtitles to a video, to further enhance the experience.
MacX DVD Ripper Pro is also repeatedly being updated with improvements and new features. For example, the recent update to version 6.7.1 adds profiles for the iPhone 14, iPhone 14 Max, and iPhone 14 Pro models, as well as optimizing the picture quality for HD televisions.
Enhancements were made to the DVD analysis kernel for handling DVDs with structure protection and LaserLock, and to better handle discs with mastering errors.
There were also performance enhancements, including a speed boost for converting DVDs to 1080p resolution, and for converting to HEVC using Apple Silicon Macs.
Christmas Buy 1 Get 4 Free (Total $155.84 valued)