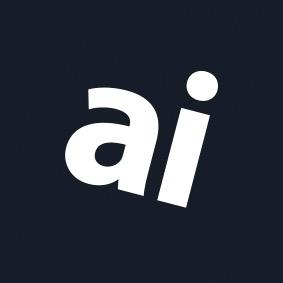 Why you can trust AppleInsider
HumanCentric Workflow Desk review: a fantastic, albeit pricey standing desk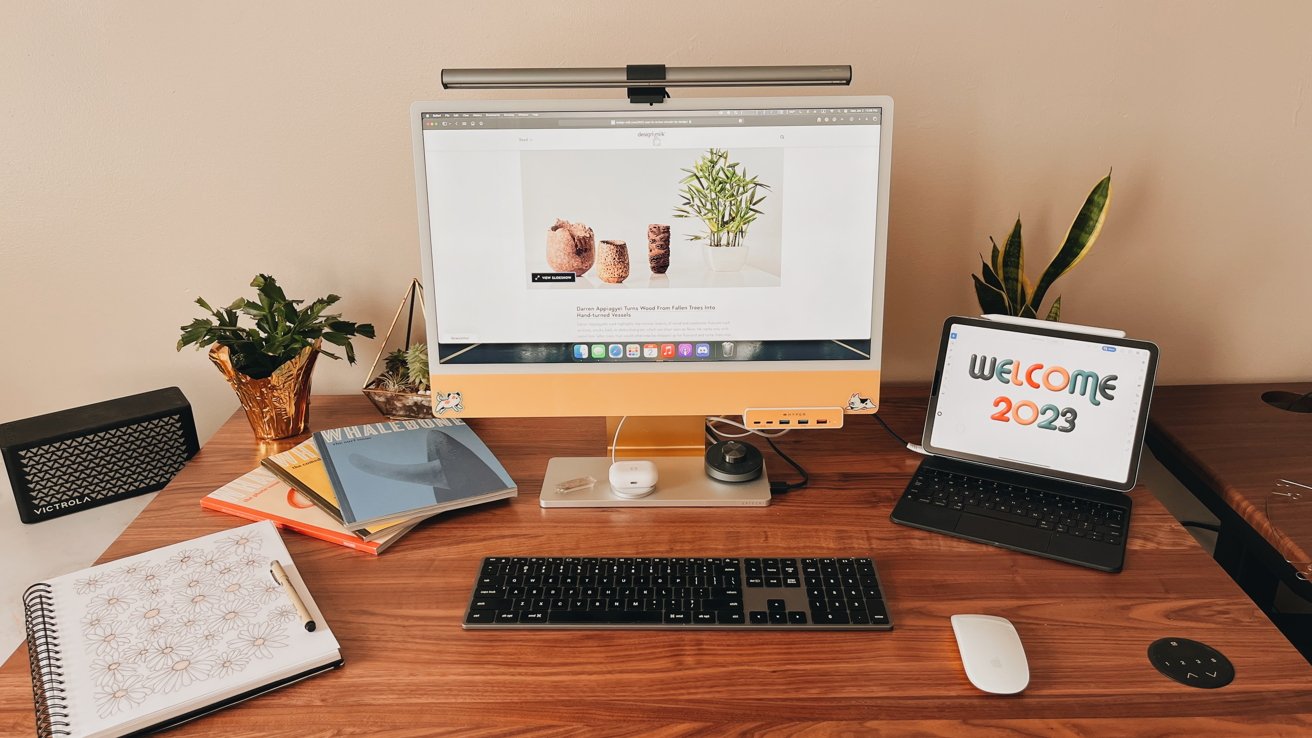 HumanCentric Workflow Desk
3.5 / 5
---
Effortlessly switch between standing and sitting while you work with the attractive and easy-to-use Workflow Desk.
The human body is designed to move, which can be difficult if you've got a desk job. That's why we're big fans of height-adjustable desks — they encourage you to move throughout your workday.
That's why we're looking at HumanCentric's Workflow Desk, a higher-end hardwood desk designed to look great while keeping you active even if you never leave your computer.
HumanCentric's Workflow Desk - Initial setup
Setting up the Workflow Desk isn't hard, but it is very time-consuming. Be sure to block out at least two hours, if not more, for assembly.
The manual is very easy to follow along, and at no point did we feel we were left guessing what came next. In fact, the instructions were even easier to follow than the average Ikea instructions.
That doesn't mean there aren't some assembly issues, though. For example, while the manual insists you can assemble the desk with a Philips head screwdriver, we did not find this to be the case.
In fact, not only did we need an electric drill, but we also needed to re-drill the pilot holes in the Workflow Desk to get the screws to insert fully. We're not sure if this is the case for all the desktops, but we found it true for the black walnut desktop.
Also, be aware if you choose one of the models that features a hardwood top, it's critical you set the desk up with at least one other person.
We had to use two people to set up the 48-inch wide desk and imagine it could take an additional person or two if opting for the 72-inch wide model.
HumanCentric's Workflow Desk - Design
We tried out the black walnut Workflow Desk, which is absolutely gorgeous. The hardwood top classes up your workspace quite a bit, making this desk a veritable statement piece of whatever room you're placing it in.
If you're not into walnut, it's also available to purchase with a maple top or white laminate top.
The hardwood desktops are made of 1.5-inch thick butcher block and are finished with a semi-gloss finish designed to keep the wood looking its best for years to come. The laminate Workflow Desk features higher-impact, scratch- and stain-resistant "3D Laminate" material that is 1.25 inches thick.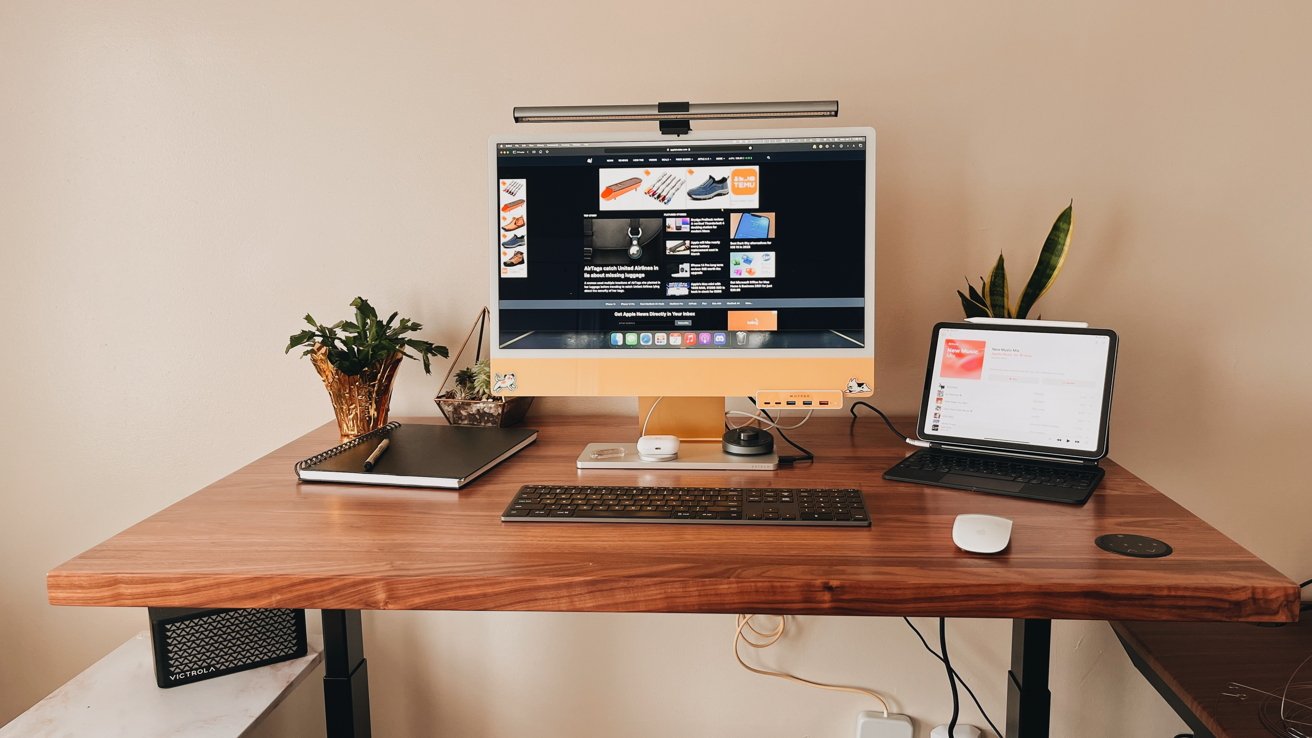 The desk is available in three widths, 48 inches, 60 inches, or 72 inches. All desks, regardless of width, are 30 inches deep.
The desk frame is available in white or black, and we opted for black to better match other furniture in our office.
The height range is decent, too. The lowest height is 21 inches, while the highest is 47 inches. The desk is raised and lowered via the touch-sensitive controller set into the right side of the desk. There is no option to place the controller anywhere else, though we thought it worked well where it was.
If we had to nitpick the design, we'd point out there's no grommet hole on the Workflow Desk like others we've looked at. Because of this, there's no option to add in-desk power, making consolidating cords a bit more complicated.
Of course, you could always grab a 3-inch hole saw and solve the problem yourself, too.
Additionally, HumanCentric doesn't offer any optional cable management, such as an under-desk wire rack. Fortunately, adding an under-desk cable tray or raceway is easy enough.
HumanCentric's Workflow Desk - Performance
Using the in-desk controller is easy, though not entirely foolproof. You have to "unlock" the controller every time you want to use it, which prevents you from accidentally raising or lowering your desk.
That's fine, but we had a few times where we accidentally locked up the controls completely by inadvertently touching the controller without noticing it. When this happened, the only way to fix the desk was to unplug it, leave it unplugged for a minute, and then plug it back in.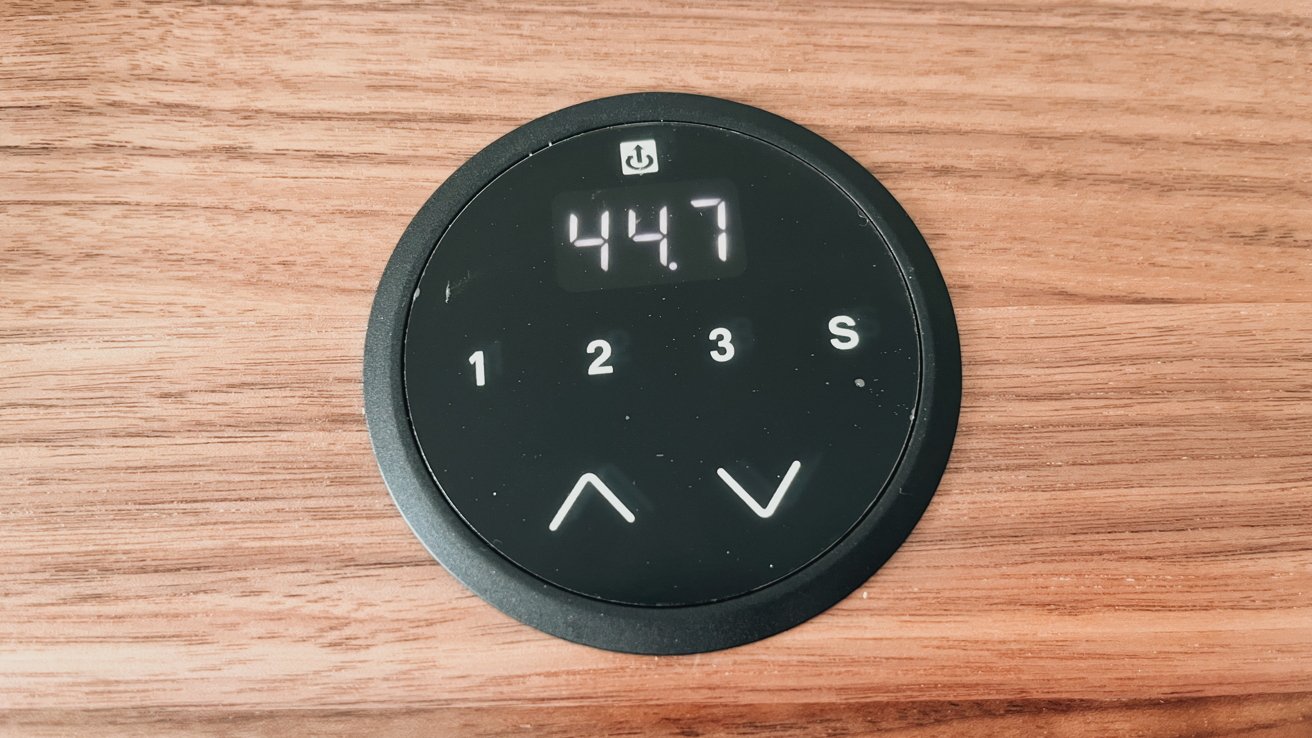 We're the first to admit this is user error, but it is still terribly inconvenient. Especially if you occasionally have to share your desk when working on a single project.
As far as the actual operation of the Workflow Desk goes, it works well. The desk seems very stable, regardless of which height it was used at. It raises and lowers smoothly, too — there's no jerking about when starting or stopping.
Lastly, the motor is relatively quiet, meaning you won't need to worry about bothering anyone else in your office or waking the kids at home.
HumanCentric Workflow Desk Pros
Inset controls
Quiet operation
Sleek design
HumanCentric Workflow Desk Cons
Starts at $1100, which is steep for features offered
No grommet holes for cable management or power adapters
No auto-ascend or auto-descend feature
The Workflow Desk is an elegant, high-end piece of furniture that performs very well overall. In addition, it looks much nicer than your standard flatpack furniture, which can help make your office space feel more inviting.
Still, the high price tag may scare some potential buyers off, especially for the hardwood options.
Rating: 3.5 out of 5
Where to buy
The HumanCentric Workflow Desk can be purchased directly from HumanCentric. Prices vary widely between models, starting at $1,099 for a 48"x30" white laminate desk to $2,299.00 for a 72"x30" black walnut butcher block desk.