Apple researching how to add a Touch Bar to the side of an iPhone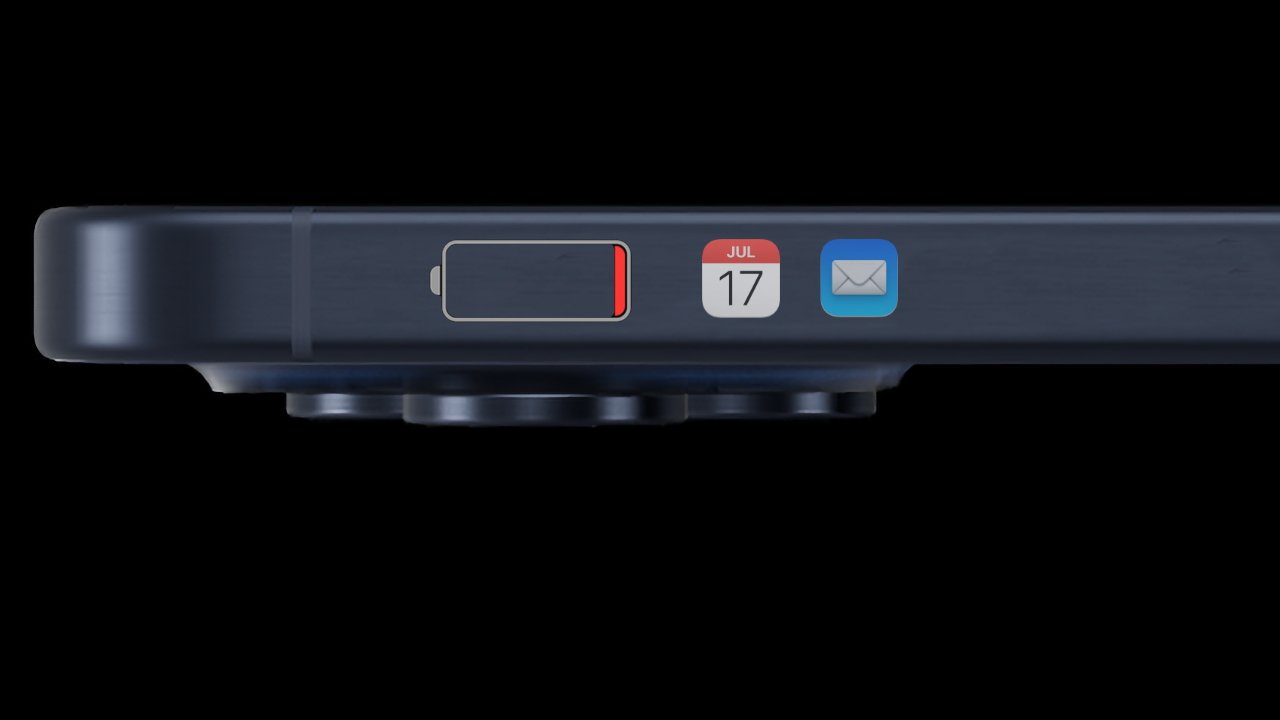 Forget solid-state buttons on the iPhone, Apple has been working for over a decade on making "sidewall" displays to show information and even include virtual buttons.
The iPhone 15 Pro was rumored to get solid-state buttons to replace its physical power and volume switches. Then it was rumored that the process was proving too technically complex.
But presumably even more complex is the idea of at least partially replacing the metal sidewalls of an iPhone with displays that could present virtual buttons. Back in 2011, Apple filed a patent application for just such an idea — and it was granted in 2014.
Only, a newly-revealed patent application shows that Apple has applied for it again in April 2023. It's not a re-application because the previous one is expiring, but there are precisely no differences in the illustrations and
The patent application is called "Electronic devices with sidewall displays" which, as the title suggests, describes a method of positioning OLED or other flexible display type around the sidewalls of a portable device.
This isn't the first wrap-around display patent to come out of Cupertino, this proposes a seemingly more manageable idea of different panels and some curvature, rather than one curved piece of glass all the way around.
As noted in the document, the invention consists of one or more flexible display layers disposed beneath a clear plastic or glass housing. The patent calls for at least one sidewall to be fitted with an edge display that is an extension of the main front-facing touchscreen.
Current iPhones already have OLED displays that are folded over, but Apple's proposal is to extend this idea to have interactive or touch sensitive portions of the side displays. These may be left uncovered, or visible to the user, while non-functional portions carrying circuitry may be masked with paint or otherwise obscured.
By extending an iPhone's touchscreen to the edges of the device, users are afforded an expanded input interface that frees up space on the main screen. At the same time, the extra display real estate can be customized to show a variety of interactive virtual controls and features not possible with static physical buttons.
In some proposals, the sidewall displays are assigned roles accessible in certain scenarios. For example, a number of app icons may be displayed when a user turns their phone on its side, or scientific functions may appear when a calculator app is in operation.
Alternative uses include music player controls, messaging readout, caller ID and system controls, among many more. All sidewall displays may be outfitted with gesture-capable touch elements, further enhancing their capabilities.
The benefits of having configurable "soft" display buttons are immediately apparent, as users can use the same sidewall display area to control or view multiple graphical assets. For example, an area of screen located between two physical volume buttons can show output levels, track name and other information.
Alternatively, a display portion may itself be configured to display volume controls, negating the need for physical actuators.
Further, Apple's patent notes physical actuators like volume buttons may be transparent. In this case, a portion of the sidewall display sitting beneath the button element can be configured to denote a specific purpose. As an example, a single button can control track transport in one scenario and switch to volume control in another.
That's similar to how the new Action button on the iPhone 15 Pro can be configured to do whatever a user prefers. Action is still a physical button, but even Apple's older idea includes a physical element as users press on the sidewall.
Because the invention uses a flexible display, a biasing member like a dome switch can be deployed just beneath the substrate's surface. When a user interacts with the virtual button, the display deforms and compresses the biasing member, thus offering tactile feedback.
The patent goes on to explain variations of the sidewall display structure that include feedback components and other alternative system implementations.
Apple's sidewall display patent was first filed for in 2011 and both that and the new update credit Scott A. Myers, Stephen Brian Lynch and Anthony S. Montevirgen as its inventors.
While the text of their patent doesn't refer to this, there is one significant difference that has occurred since the original document was filed. Back then in 2011, OLED screens were rare and now they are practically ubiquitous.
More than ten years of increasing adoption has certainly brought costs down, but presumably the technology has also developed considerably. So while it may have been optimistic to think we would see sidewall displays in, say, 2014's iPhone 6, perhaps it could yet happen for 2024's iPhone 16 Pro Max.