Apple's intricate Thunderbolt 4 Pro cable design revealed under CT scan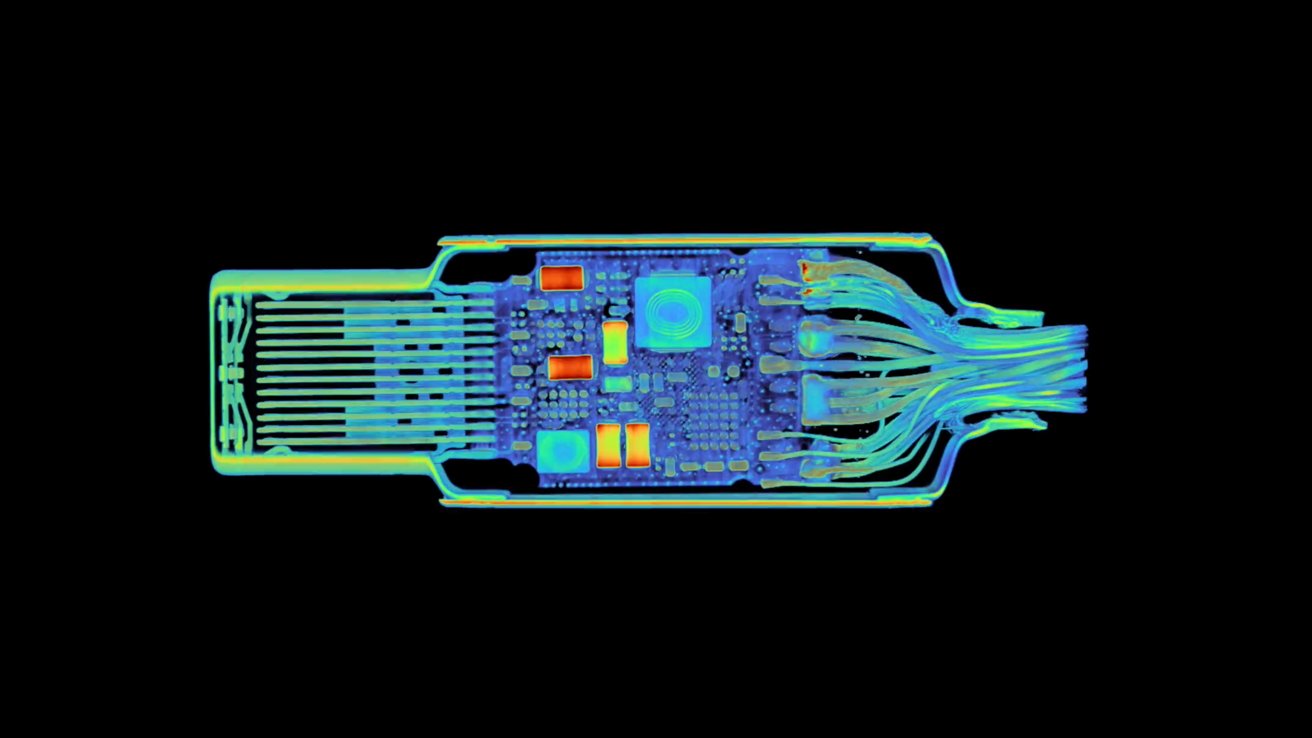 Lumafield used a powerful X-ray CT scanner to determine why Apple's Thunderbolt 4 Pro cable is $129 compared to Amazon's cheaper USB-C offerings.
Apple's costly Thunderbolt 4 Pro cable has come under a lot of scrutiny since its debut in 2022. A previous teardown showed exactly why the cable is so expensive with its complex engineering.
A company called Lumafield used its Neptune industrial X-ray CT scanner to get a closer look at the Thunderbolt 4 Pro cable and some of the cheaper options on the market. As the teardown showed, the cable has an incredible level of complex engineering unmatched by the other cables scanned.
The Thunderbolt 4 Pro cable is rated for 100W power delivery and 40 Gbps data transfer speeds. The CT scans reveal Apple went all out with a nine-layer PCBA that utilizes all 24 pins for connection.
Compared to an Amazon Basics USB-C cable costing around $10, it's a masterpiece of engineering. The Amazon Basics cable is rated for 60W and data transfer speeds at 480 Mbps.
It has 12 pins instead of 24, with eight of them jumped across for cost-cutting. This is a lower-spec cable, so the cheaper construction and engineering are warranted, but it helps show exactly why Apple's design costs more than ten times as much.
Other USB-C cables examined by Lumafield showed incredibly poor construction and engineering. One $5 option lacks a PCBA entirely, with connectors running straight to the wire.
Check out the detailed CT scans and an interactive application for viewing them on Lumafield's website.
The $129 Thunderbolt 4 Pro cable is 1.8 meters, a length many competitors offer. Apple continues to be the only reputable vendor with a 3 meter Thunderbolt 4 cable priced at $159.