Early Black Friday deals: M3 Pro MacBook Pro 14 $1,799, $79 Apple Smart Keyboard for iPad, $199 Apple Watch S6, more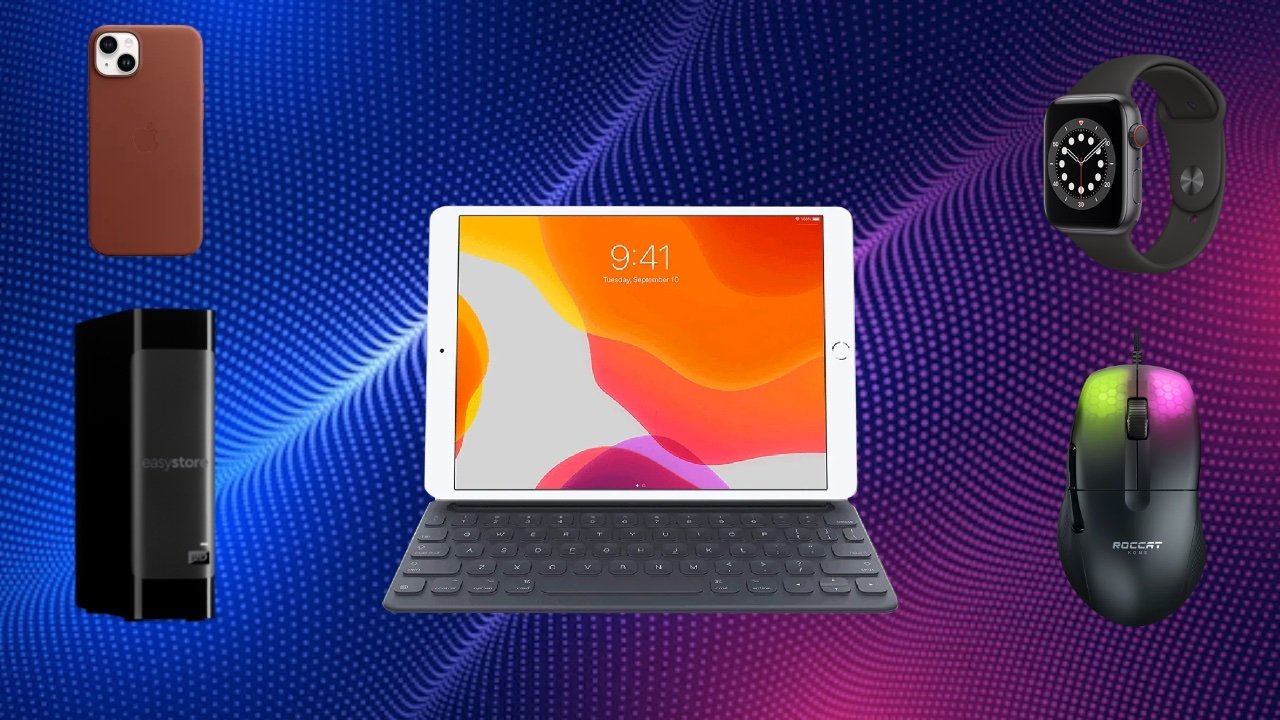 Today's top deals include 62% off a Roccat Kone Pro PC gaming mouse, 60% off an Apple leather case with MagSafe for iPhone 14 Plus, 49% off a Milanese loop Apple Watch Band, $110 off a WD easystore 14TB external USB 3.0 hard drive, and more.
The AppleInsider team searches the internet for unbeatable deals at e-commerce retailers to develop a list of amazing bargains on popular tech items, including markdowns on Apple products, TVs, accessories, and other gadgets. We post the top deals daily to help you get more bang for your buck.
Top deals for November 14
14-inch MacBook Pro M3 Pro, 18GB Memory, 512GB SSD (save $200 with promo code APINSIDER) for $1,799 at Adorama
Apple Smart Keyboard for iPad (normally $159, save $80) for $79 at Walmart
Apple Watch Series 6, GPS, 44mm, Space Gray Aluminum Case with Black Sport Band, Renewed for $199 at Amazon
Milanese Loop Apple Watch Band (normally $99, 49% off) for $50.34 at Woot
Apple Leather Case with MagSafe for iPhone 14 Plus (normally $59.98, 60% off) for $23.99 at Verizon
Three Months Free with a Three-month Plan at Mint Mobile
Roccat Kone Pro PC Gaming Mouse (normally $52.99, 62% off) for $19.99 at Woot
Bosma Aegis Smart Door Lock with WiFi Gateway (normally $119.99, 50% off) for $59.99 at Woot
Microsoft 11.6" Surface Laptop SE, 8GB RAM, 128GB Storage, Windows 11 (normally $349, 27% off) for $254.99 at Woot
WD easystore 14TB External USB 3.0 Hard Drive, Black (normally $309.99, save $110) for $199.99 at Best Buy
Official Creality Ender 3 Max Neo 3D Printer (normally $429, 19% off + $70 off on page coupon) for $279 at Amazon
4K Roku Streaming Stick (normally $49.99, 40% off) for $29.98 at Amazon
Cadrim Color Changing Puck Lights 6-pack (normally $22.99, 25% off) for $17.25 on the Woot app
Explore past tech deals
Most of the deals we posted on Monday are still available. Check out the top discounts from yesterday to get the lowest prices.
Check out even more November bargains
Retailers are ramping up their holiday savings, meaning you can cash in on some excellent deals well ahead of time, saving you stress. Check out some of our favorite deals below and always find the lowest prices on our Price Guide.