Driver of flipped Jeep saved by iPhone 14 Emergency SOS via Satellite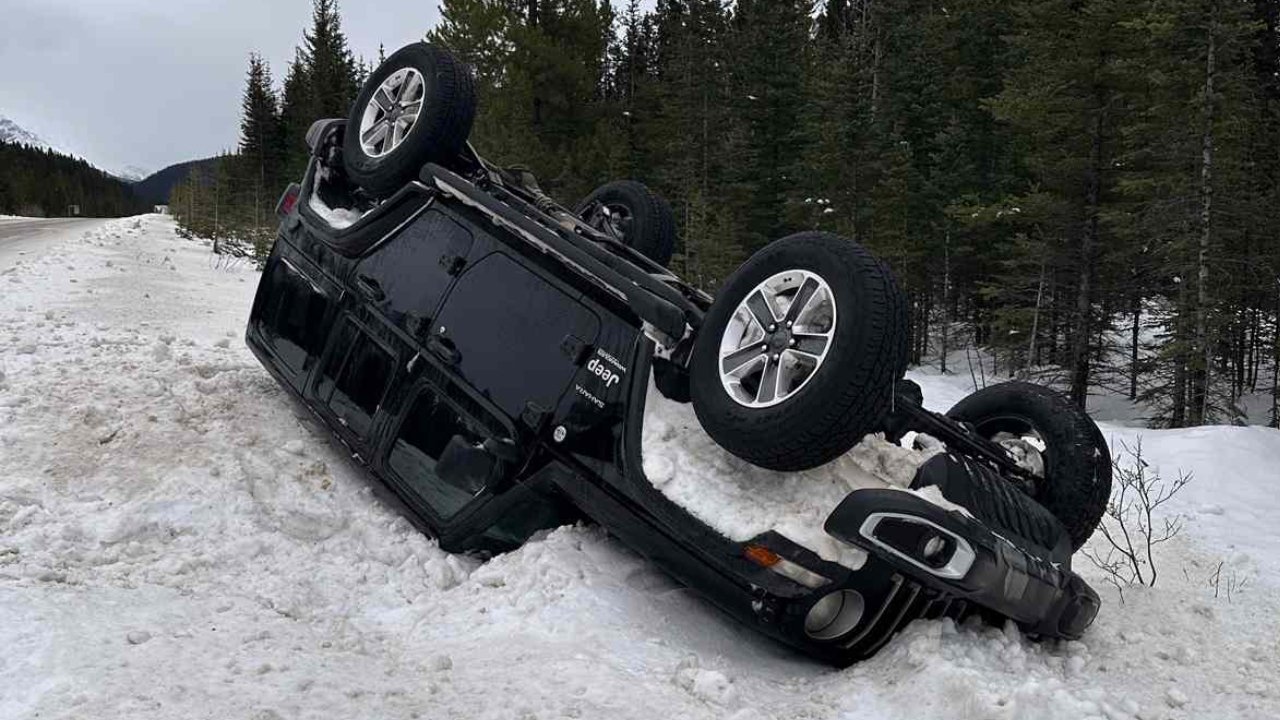 As Apple extends its free iPhone Emergency SOS service, a driver has described how it once saved his and a passengers life when their Jeep turned over in snow.
Apple offers Emergency SOS via Satellite free for two years to all iPhone users — and has now extended that for an extra year specifically for iPhone 14 owners. Speaking to People magazine, one driver is now urging people to be aware of the feature, since he credits it with saving his and his passenger's lives.
Ryo Lu, from San Fransisco, and a friend were driving in Banff in January when there was suddenly an unexpectedly severe snow fall in the area.
"We were driving our rental Jeep towards Lake Abraham to take pictures," says Lu. "The car just started drifting and then it went completely out of control — it flipped over on the snowbank next to the road and we were stuck there."
Once they were out of the vehicle, another driver passing by invited Lu and his friend to sit in their own car. None of them had any cell connection, though, and Lu says that he then remembered Emergency SOS via Satellite.
Using Emergency SOS via Satellite
"It was kind of cool because you start pointing the phone to the sky," he said. "And then it started to gather key information for the emergency responders."
"It's designed in a way that is just super simple," he continued. "It has really clear diagrams."
"You turn the phone and then it shows you where the satellite is, and then when it's in a good spot, it turns green," said Lu. "And then you can tap some buttons to answer questions, and get in touch with the emergency services."
While describing the feature as "the quickest way to get help when you don't have a connection," Lu and friend still had to wait in their passerby's car for two hours before responders reached them.
But he says that the initial call for help using the service took under ten minutes from picking up his iPhone, to being told a tow truck was being dispatched.
Plus despite the rental Jeep turning over onto its roof in the snow, Lu says he feels lucky.
"If we [had driven] a little bit further ahead, I think there was a cliff we could've been dead," he says. "This was a happy ending."
Lu adds that Emergency SOS via satellite is "really great."
"You don't think about it until this kind of stuff happens," he continued. "And then when it happens, you get help. It feels magical that this stuff exists."
"I feel really grateful I'm still alive," he concluded.
Apple's Emergency SOS via Satellite was launched with the iPhone 14 in 2022, and is also available in the iPhone 15.