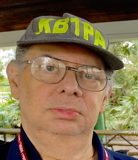 Barry Porter


---
I graduated Milton(MA) High School in 1971, Graduated Springfield College in 1975.
I served in the US Navy as a Hospital Corpsman from 1978 to 1986, where I was trained
as a certified paramedic and Aerospace Medical Technician.
My career in EMS and IT and volunteer work at the Boston Computer Society (founding Member)
kept me quite busy, Serving on the BCS Member Services Committee, Chair of the
On line Services Committee, Sysop for the BCS Mac User Group, Founder of the
BCS Amateur Radio SIG, Contributor to "The Active Window"among many other activities.
In 2004 I moved to Florida. I worked at the Apple Store in Boca Raton for a
year and then started my own computer consulting business, which keeps me busy
to this day.
As an Active Ham Radio operator (KB1PA), I have been the American Radio Relay League
Section Manager for the Southern Florida Section since 2018.