AirPods Pro Lite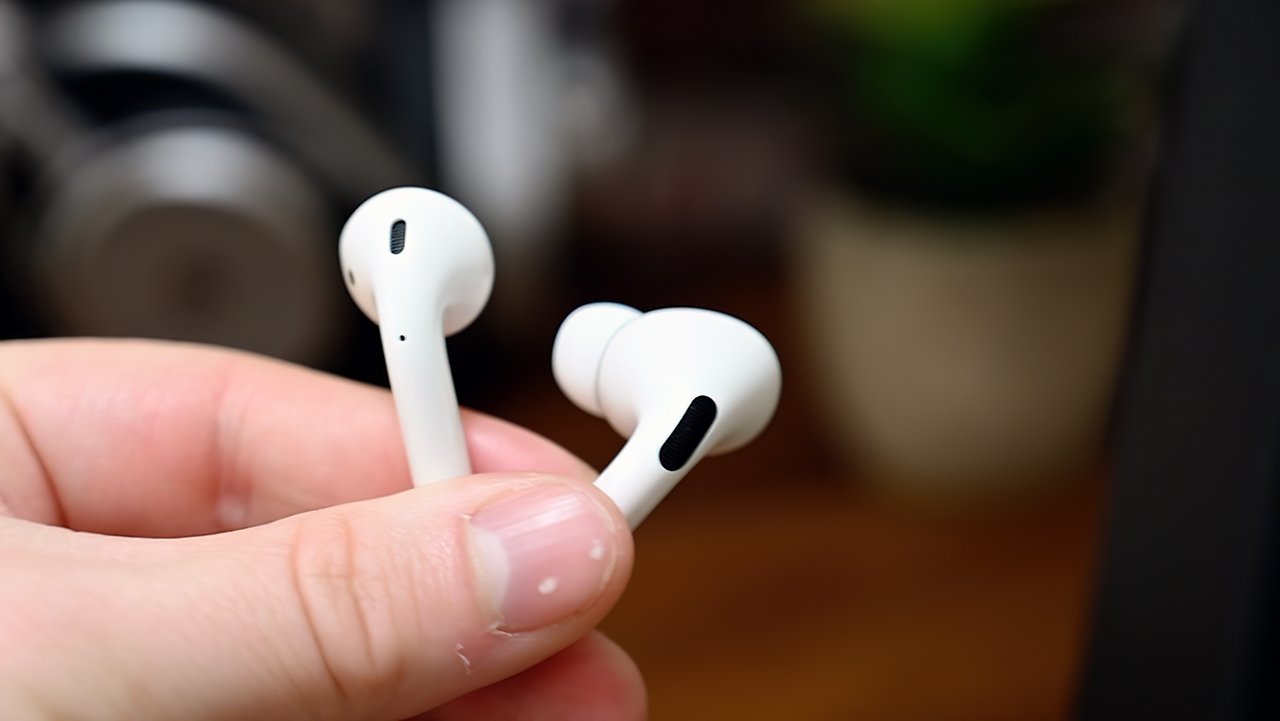 The AirPods Pro are classified by their new design and functionality when compared to regular AirPods. Little is known about the possible "AirPods Pro Lite," but rumors point to a cheaper model with similar features like the changeable ear tips with reduced functionality.
● Rumored product
● Changeable ear tips
● Transparency Mode or reduced ANC
● New AirPods Pro design
● Cheaper price point
---
Get Apple News Directly in Your Inbox
AppleInsider is supported by its audience and may earn commission as an Amazon Associate and affiliate partner on qualifying purchases. These affiliate partnerships do not influence our editorial content.
---
As AirPods Pro continue to sell like hotcakes, a new product borrowing from the expensive earbuds may be on the way. "AirPods Pro Lite" would sacrifice some features of the more premium model to offer a better entry price point.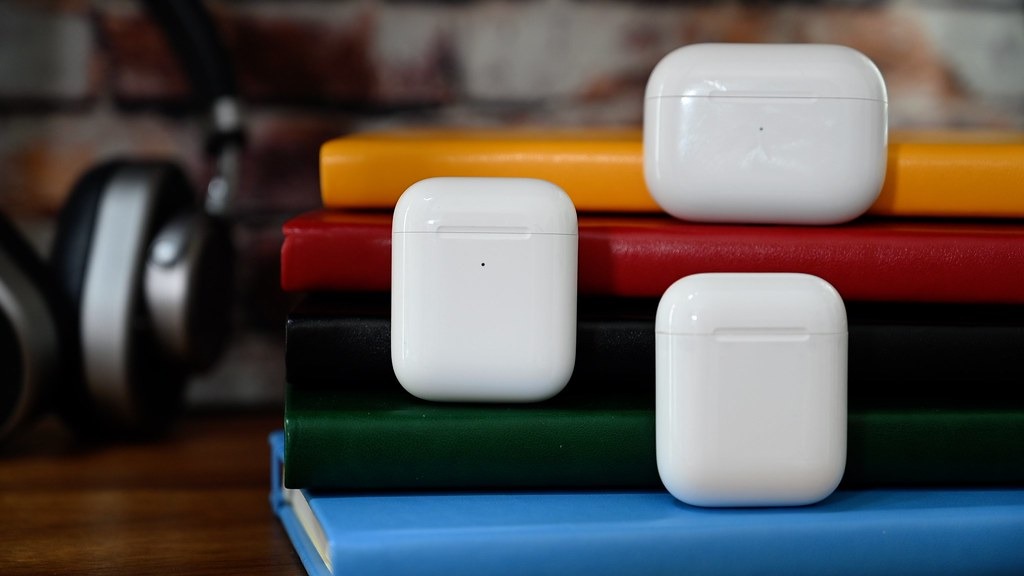 It is hard to pinpoint exactly what the "AirPods Pro Lite" may be because it certainly isn't a marketing name. They could be all-new AirPods that fit somewhere in the lineup or just a placeholder name for the upcoming "AirPods 3."
Rumors about "AirPods Pro Lite"
As with all unreleased Apple products, it is likely this product falls into one of three camps: it doesn't exist, it exists and is never announced, or it exists and is imminent. Very little concrete information exists, and even the part that does exist is only a name from the supply chain. Treat the above information as speculation until further proof or an announcement occurs.
A rumor from avid leaker Jon Prosser in April 2020 placed a release of new AirPods products sometime in October, though that didn't come to pass. Apple released the over-the-ear Airpods Max in December with no indication of other AirPods refreshes coming.
Reports from The Elec, a South Korean material supplier with a weak rumor history, suggest that the new earbuds would start shipping in early 2021 and fall into the $199 price point. They were apparently ready at the end of 2019, but the popularity of the more expensive AirPods Pro pushed the release back.
As we go further into 2021 it is apparent they either never existed or got scrapped last second in favor of other products. Again, there is always the possibility the "AirPods Pro Lite" is a different product that already released, like the Beats Flex.
Rumors about a March 2021 event suggest AirPods refreshes will occur. Supposed images of a set of AirPods and a charging case that look like a fusion of the AirPods Pro and standard AirPods have been shared. They are said to be the "AirPods 3," but it is unlikely that Apple would invest so much of its AirPods Pro technology into a standard set, and leave behind the one-size-fits-all approach.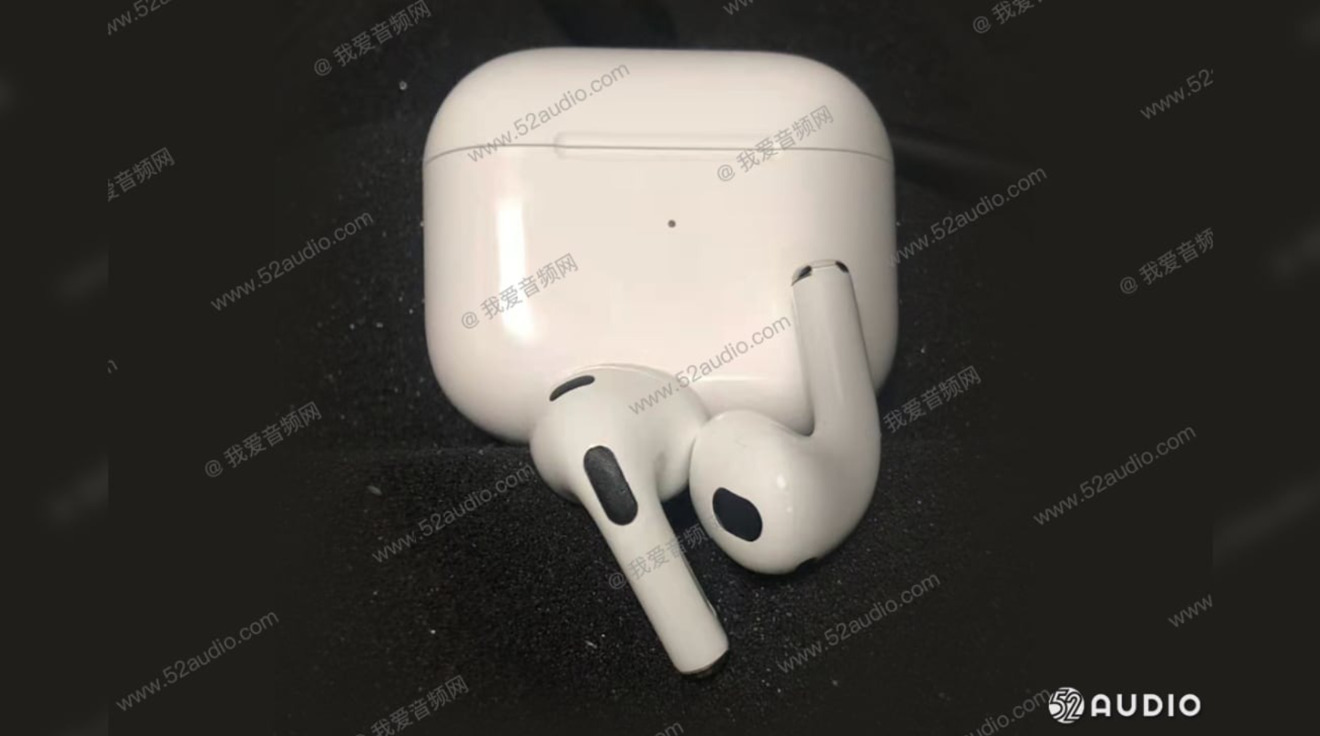 The AirPods depicted above could be the "AirPods Pro Lite." The same source that leaked the name has suggested Apple will ship the cheaper AirPods Pro sometime in the first half of 2021.
Apple released an unusual amount of products with color in them in 2020. Instead of Apple's usual all-white design, the next AirPods could include multiple colors.
The iPad Air 4 comes in five colors: green, sky blue, silver, space gray, and rose gold. These colors appeared in a recent rumor for the "24-inch iMac" as well, so there is some chance that AirPods could also get the color treatment.
Potential Lineup Changes
If these are an AirPods product, then a change in the lineup for a more obvious upgrade path would be in order. Right now, wireless charging is a premium in the line, and as Apple has continued production of the wireless charging case, it may have cheapened the cost of including the more versatile case.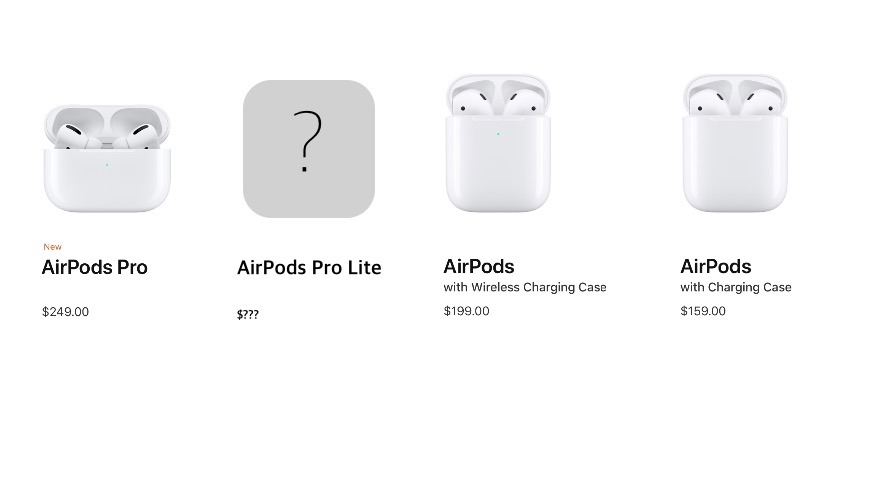 As it stands, there is very little room for such a product to exist, and Apple may need to move or remove something else in the line to make way. This could mean eliminating the no wireless charging case option, move the current AirPods with wireless charging case down to the $159 price, then place the new product at the $199 price.
There also is a demand for a set of non-expensive AirPods that also have changeable tips. Removing ANC capabilities to cheapen the product may be enough to push the price in a range of more budget-minded consumers.
Possible Beats Product
Another possibility is the term is likely a placeholder, and may not even be AirPods at all. The rumored cheaper AirPods Pro could be a Beats by Dre product as well, and it's also possible the rumors were referring to Beats Flex, which was the 2020 update to BeatsX.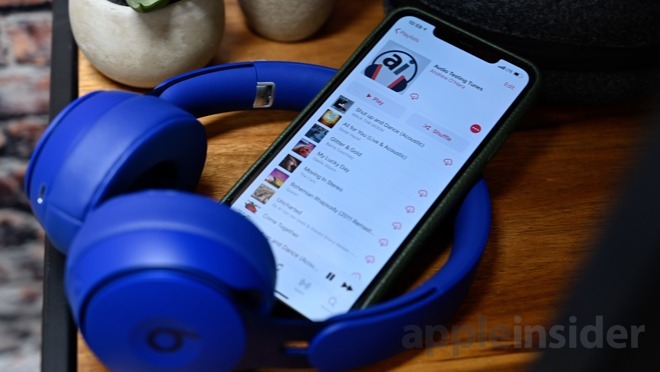 As Apple continues to push "pro" updates to the Beats line, we can expect a "Beats Studio Pro" or a "Beats X Pro" with updated H1 technology to come to the line. Supply chain observers never get the full picture when looking at a specific part or company, so Apple could easily be developing new Beats products that are similar to AirPods and use a codename to reflect that.
"AirPods Pro Lite" Pricing
A new earbud falling between the one-size-fits-all AirPods and the premium AirPods Pro seems unlikely, as the two device sets are already very close in price and have an obvious upgrade path. However, there is some chance Apple would diversify its headphone line with some kind of combination of new design with lesser features.
The current device line starts with AirPods at $159, offering the basic AirPods experience. Throw on a wireless charging case and you're at $199 for the same AirPods with wireless charging case.
For a premium $250 you'll have AirPods Pro with a new design and all the bells and whistles Apple offers like ANC and changeable ear tips. So, where would the "lite" version of these fit in?
Likely battery life, ANC, and waterproofing are the most expensive portions of this product that would be sacrificed for a cheaper model. A smaller earbud with a more "pro" design, changeable ear tips, and a better audio experience would likely be enough to sell users on the product above the standard AirPods.
If you are in the market for totally wireless earbuds, it likely won't benefit you to wait for the unannounced "AirPods Pro Lite." Check out AppleInsider's Price Guide for deals on AirPods.