» »
The best Apple headphones you should buy for back to school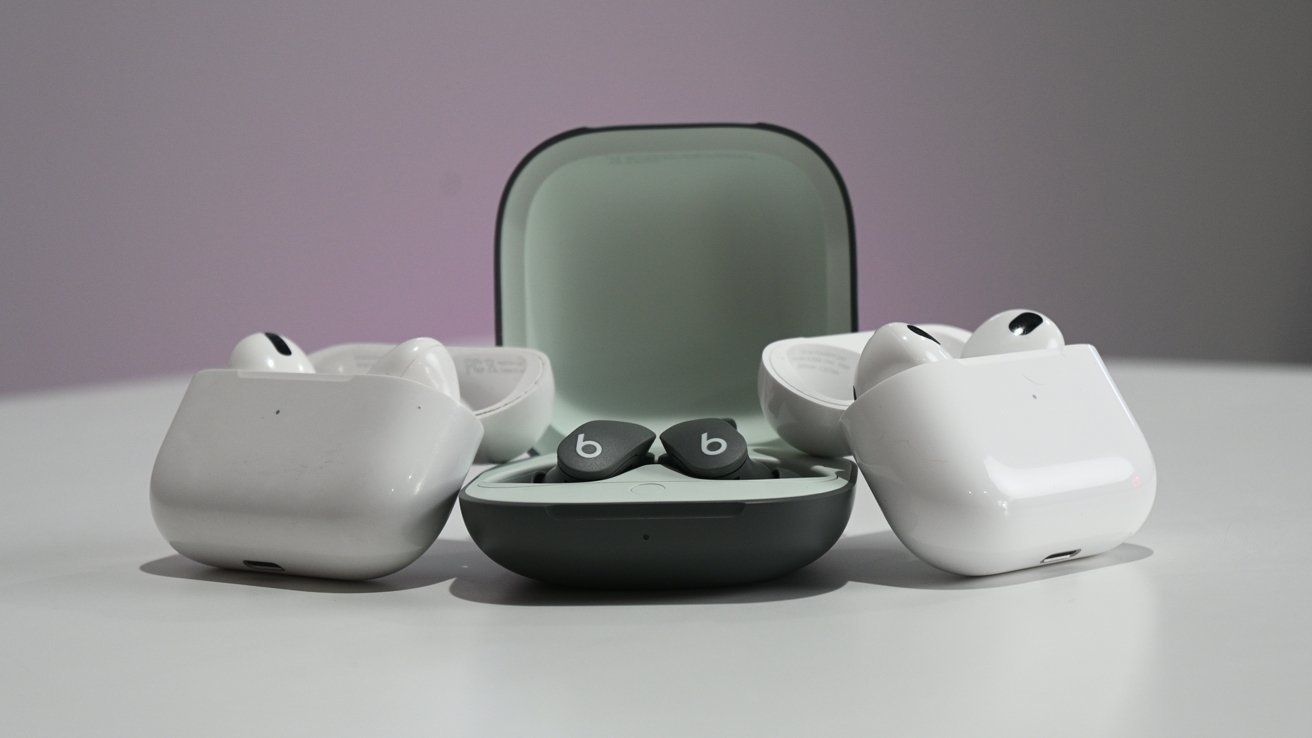 There are several Apple headphones and earphones that cover a variety of use cases. Here's what students and their parents should look at when buying personal audio accessories for the school year ahead.
Sound is an important part of everyone's life for many reasons. For kids going to school or for students heading to college or university, getting audio right is especially crucial when it comes to studying and for personal time away from learning.
Under the Apple brand and Beats, there is a fairly sizable collection of earphones and headphones you can purchase for younger generations. Especially if you know what their particular needs are before the year begins.
After looking at the range, these are AppleInsider's suggestions for Apple headphones and earphones that best fit the Back to School category.
Beats Studio Buds+ - Best bang for your buck
In terms of value, the Beats Studio Buds are fantastic, but while the first generation is good in its own right, the second-gen model is even better. Launched in May, the Beats Studio Buds+ takes what the originals provided and adds even more.
From the outset, you have a fairly reasonably priced pair of earphones with Active Noise Cancellation and Transparency, which puts them into a different league from Apple's similarly-priced standard AirPods. This time, there's 1.6 times more power for ANC, larger microphones, and a new chip to help with Transparency.
They also sport support for Apple's other features, such as one-touch pairing, Spatial Audio, and Find My. Android users also get one-touch pairing, automatic switching, and always-on voice assistance.
Battery life with the charging case now reaches a total of 36 hours. There's rapid recharging of the earbuds, too, with an hour of playback provided with a five-minute charge.
Beats Studio Buds+ cost $169.95, and are available in transparent, black, and ivory color options.
Beats Fit Pro - Best for active lifestyles
People who do a lot of workouts, such as those on athletics or sports teams, have to be more careful about what earphones they wear. Since they're more likely to move their head quickly, they cannot rely on silicone plugs alone to hold them in place.
The Beats Fit Pro have been around for quite a while and solves the problem fairly robustly. Using wingtips to wedge in the folds of the ear, the Beats Fit Pro are supported a lot more in the ear and are unlikely to be dislodged while working out.
They also offer the usual collection of Apple headphones audio features, including ANC, Transparency, Spatial Audio, and Find My support. Android users are also supported via the Beats app.
There's IPX4 sweat and water resistance so that they will survive most workouts you could throw at them. There's a six-hour listening time with ANC on for the earbuds alone, with the case offering an additional 18 and Fast Fuel charging.
Beats Fit Pro are available for $199.99 in a wide variety of color options.
AirPods Gen 2 - Best for budgets
If money is tight and you want wireless earphones for the upcoming school year, you can't go far wrong with the second-generation AirPods. With a classic design, they offer a fashion statement while not necessarily costing as much as others in the Apple headphones range.
You get a lot for the money, including a five-hour listening time from one charge, up to 24 hours when using the case, automatic device switching, "Hey Siri," and tapping controls.
Of course, there are no advanced features such as Spatial Audio or ANC, or even an adaptive EQ, but if it's the budget option you want, this is what you should get.
The AirPods Gen 2 are usually priced at $129.99, but sometimes they can be found on offer for as little as $99.
AirPods Max - Something a little special
For those leaving home for the first time and anticipating they need great audio for late-night study sessions, a premium Apple headphones option may be better. In this case, AppleInsider would opt for the AirPods Max.
Aside from being a statement piece, the AirPods Max are over-ear headphones that enhance noise reduction and comfort. The built-in ANC and Transparency modes come as standard, with eight of the nine onboard microphones used to power the two modes.
Other standard features include Find My support, Spatial Audio, Hey Siri, and an Adaptive EQ. Battery life runs up to 20 hours from a single charge, regardless of whether you're using ANC, Transparency, Spatial Audio, or talk-time. A five-minute charge will also provide 1.5 hours of listening time.
Available in a choice of five colors, AirPods Max cost $549, but are often discounted.