» » »
Apple Music Guides: how to use them to find concerts, shows, and more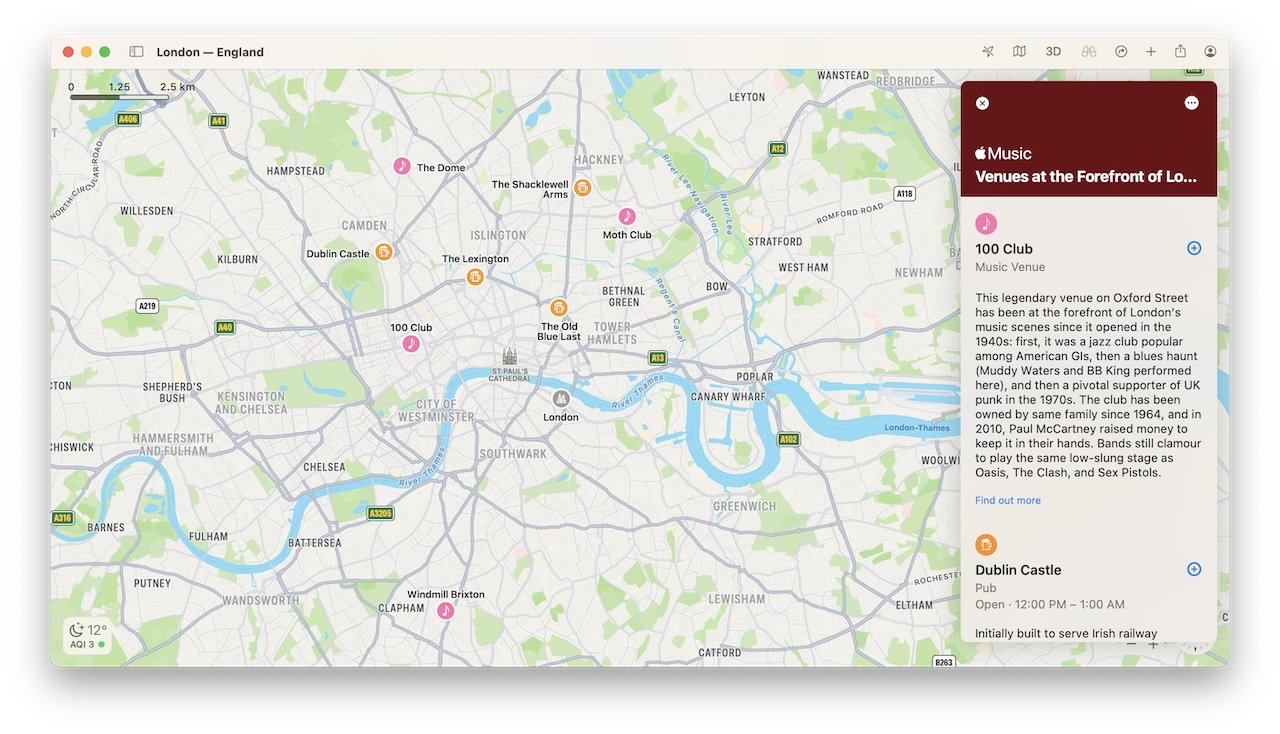 Recent updates to Apple's various OS versions include some cool music-oriented features in both Maps and Apple Music, but they are strangely hard to find. Here's how to use them to find concerts, set lists, and venues to see your favorite artists.
Along with the release of iOS/iPadOS 16.5 and macOS Ventura 13.4, Apple also launched new concert discovery features on Apple Maps and Apple Music aimed at encouraging music lovers to get out and support live music. Maps has added more than 40 new Guides, curated by Apple Music editors, spotlighting some of the best venues to hear live music across ten major cities worldwide.
Within these Guides, it is possible to surface these venues' upcoming shows via Apple's Shazam app, which itself debuted the concert-listings feature last spring via a connection to another live music discovery app, Bandsintown. The problem is that finding the Guides that are music-oriented, and their concert listings, is kind of tricky — and because this is a new feature, the number of artists featured thus far is pretty small.
In addition to the Guides, Apple Music now has a new semi-hidden feature called Set Lists, which showcases the songs certain artists are featuring on their latest tour and playlists of those song's official versions. From there, users can also browse the schedule for upcoming shows — but again, at its debut, the Set Lists feature has a very small roster of artists.
Music Guides in Apple Maps
For those who have never used the Guides feature in Apple Maps at all, you can find them on the Mac by clicking in the Search box, then scrolling down. Depending on where you are, you may see a Guide for your city or a nearby big city, and from there, you can click "See All" to access all the currently-available Guides.
On iOS or iPadOS, the Guide feature is a little more hidden. Type in the name of a major city in the Search box, scroll down, and the Guide for that city and the option to see more Guides will appear.
Most of the Guides in Maps cover major attractions, cultural features, and the history of a given city, with many major cities and capitals around the world included. You can also create your own personal Guide covering your favorite places for any city you've been in — including your own reviews.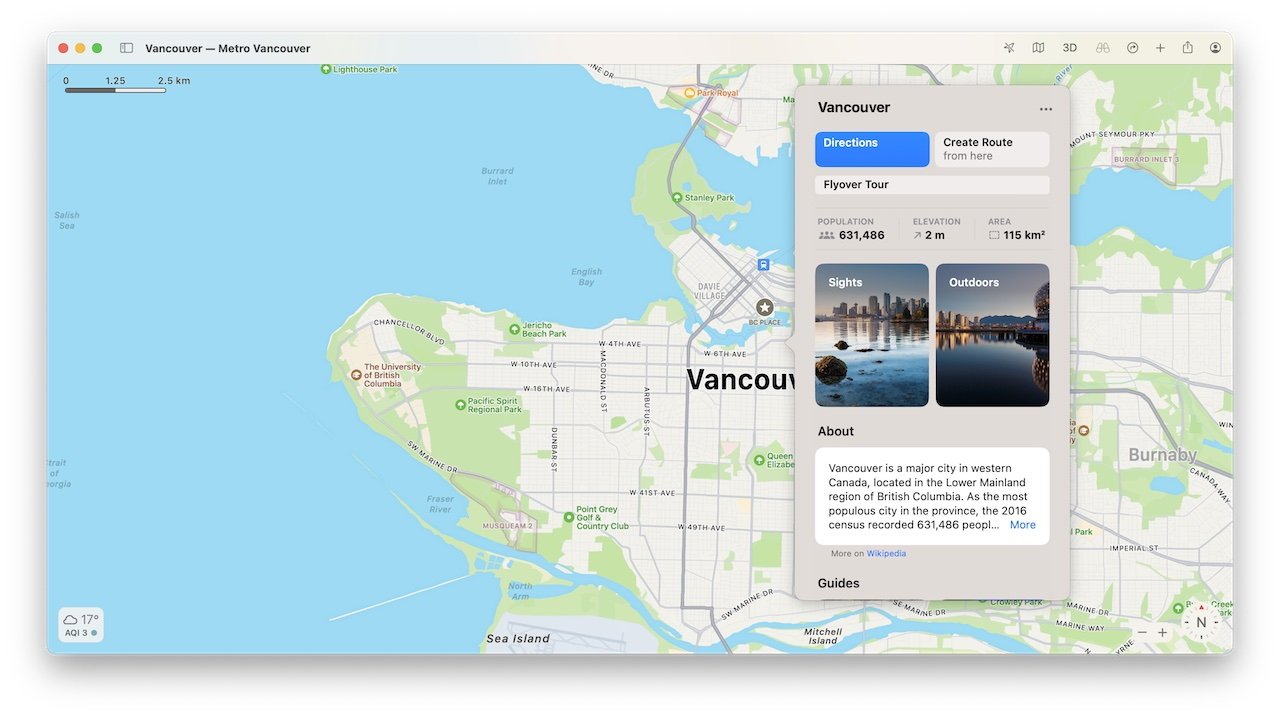 There are two quick ways to find the Apple Music Guides. The first is to go into the Apple Music app, scroll down until you see a section called "Discover More of Apple Music," and tap "Live Music Guides on Apple Maps," which redirects you to the Maps app and opens the Music Guides.
Alternatively, you can open any web browser and visit apple.co/MusicVenues — yes, .co not .com — which will open Maps and bring you directly to the Music Guides. It's possible that iOS 17, preparing to launch later this year, will make surfacing these Guides easier within Maps.
The new feature originally debuted with just ten cities as Guides, but Apple has already added a few more. The current list includes Berlin, Chicago, Detroit, London, Los Angeles, Melbourne, Mexico City, Nashville, New York City, Paris, Sydney, Tokyo, and Vienna, along with a list of notable venues in California and New York.
Some of the music Guides are devoted to specific genres of music in certain cities (Classical, Acoustic, Jazz and Blues, Alternative, Queer, Hip-Hop). There are also some Guides covering Essential venues, Dance Clubs, DIY spaces, and a few Historical venue Guides.
Set Lists in Apple Music
Again, Apple has not yet found a way to make this new feature more obvious within the Apple Music app, but this might change in iOS/iPadOS 17 and macOS 14. So far, the only way we've found to get to it within the Apple Music app itself is to search "Set List" — two words, no "s" at the end — and it finally appears as a category in the top results, alongside some of the specific Set Lists of the artists featured.
Alternatively, you can get to the feature indirectly by opening any web browser and typing in — and then bookmarking — apple.co/setlists. This triggers the Music app to open and brings you to the category page for Set Lists.
Currently, only eight artists are featured in Set Lists, but all of them are rather popular — Blink 182, Ed Sheeran, Sam Smith, Taylor Swift, Peso Pluma, BlackPink, Kane Brown, and Beyonce. Clicking on their name will take you to a list of songs performed on the current tour.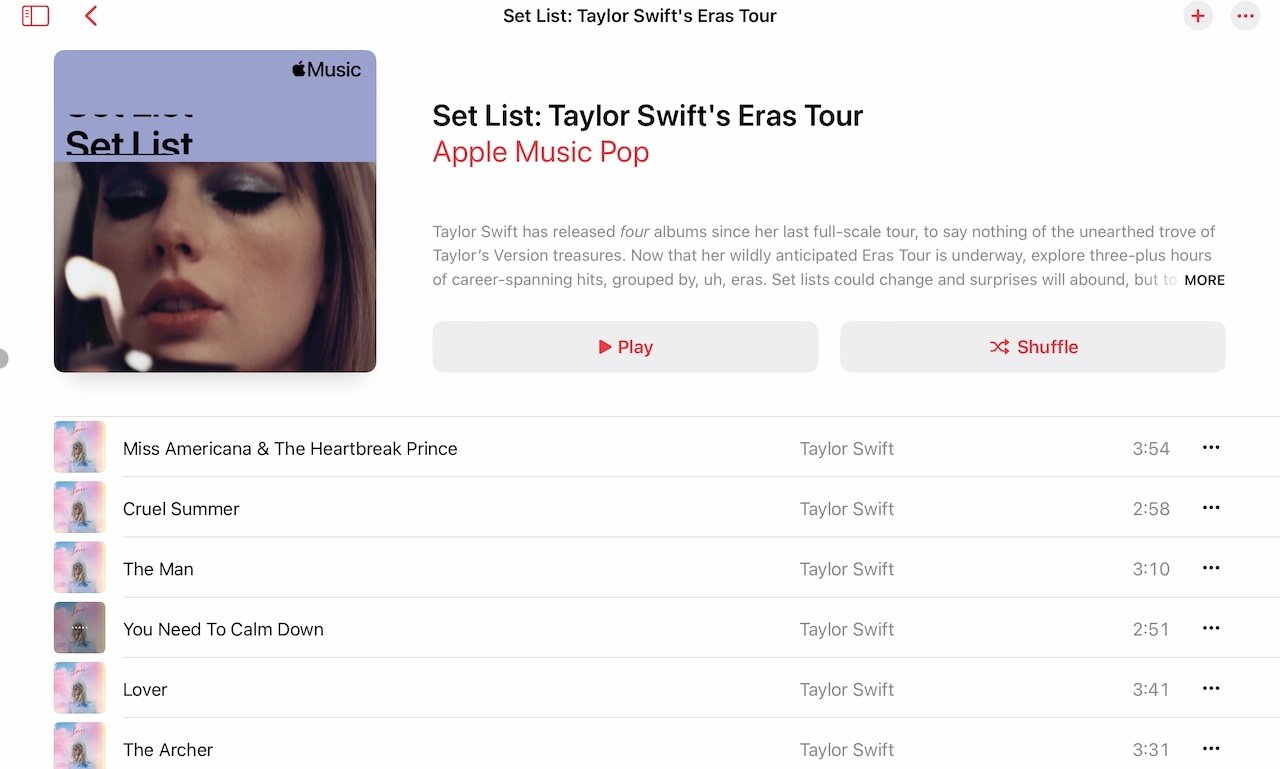 To be clear, these are not live recordings of songs from recent concerts; they are the standard studio versions of songs on Apple Music known to have been performed on the current tour. Any given performance may deviate somewhat or include other numbers as well.
The main Set Lists page also has a button under each artist's Set List link that allows fans to browse upcoming shows. These are the same lists that appear in the Shazam or Bandsintown apps.
If you want to see a list of upcoming shows by venue instead, you can do that through the Music Guides in Apple Maps for a specific venue. You can also use the Bandsintown app.
These new features are in their nascent stage at this point, but if Apple can find a way to make them more obvious and add a wider range of artists that are on tour, they could be very helpful to fans who want to experience live concerts from their favorite artists. Hopefully, the forthcoming OS updates this fall will make them more visible and useful to fans of all tastes and ages.