» »
How to make sure you get an iPhone, instead of a swapped Android fake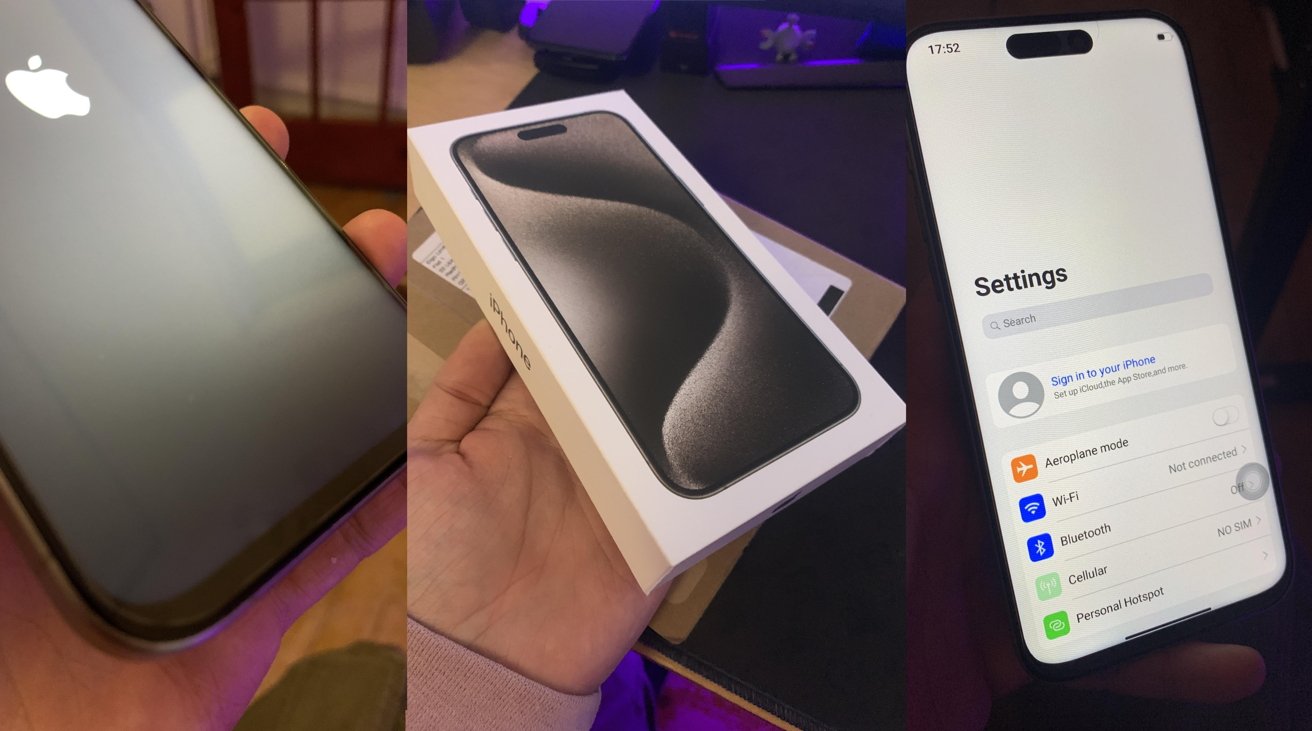 While most iPhone orders happen normally, there's a small chance that you could end up with a fake iPhone. Here's what you can do to check if your iPhone has been swapped with a fake before reaching your hands.
Tales of stolen packages and fake products shipped to unwitting customers are an everyday occurrence. In the case of one customer, they received an unusual package after ordering directly from Apple.
In a Reddit post by user u/theEdmard on Monday, it is explained that they had received an order for an iPhone 15 Pro Max, which they had ordered from Apple's UK website directly. All phases of the order process went through as expected, complete with confirmation emails from Apple and tracking details from courier DPD.
However, when it arrived, the Redditor "immediately knew it wasn't right" after opening the box and seeing a screen protector applied to the display. After initially thinking they had received a returned device, they then spotted further issues when turning it on.
The screen lit up in a way that was "clearly not OLED," with the base having a "chin" that the iPhone does not have in its design. After going through a "very poor setup process," they determined that it was an "Android device in a skin," complete with "actual Android toasts popping up."
Frequent crashes, a slideshow-like camera, and preinstalled apps like TikTok sealed the deal that this wasn't a real iPhone at all. A look inside the iPhone box also revealed unusual tearing, as if someone opened the box and worked to reseal it.
The recipient of the bogus iPhone confirmed they already have a ticket open with Apple support.
While receiving a fake phone instead of their purchase is concerning, the Redditor's main worry is "that there are many people out there getting these phones and some may think it's legit and then log in to them using their Apple IDs, Facebook accounts, Google, etc."
They also questioned how the external appearance of the phone seemingly matches the specification of the ordered iPhone. "Why go to the effort of matching my order?" they asked, before wondering if whomever made the device wanted access to Wi-Fi networks or other accounts.
Questions were also raised about how the fake device actually made it to them in the first place. The DPD packaging seemed untampered with, and the entire process seemed as smooth as usual for an Apple purchase, making it hard to work out exactly when the switch took place.
Check your orders
The ordeal is a sobering reminder of the risks of online shopping, and to be vigilant about purchases. Even if they seem to come through a legitimate process from a genuine source.
AppleInsider recommends checking the packaging orders are set to you for signs of tampering before opening the package itself. For example, if it was sent in a plastic security bag, check there are no cuts that are resealed with tape, or evidence that the glued-down opening flap hasn't been unglued and reglued.
For the iPhone box, make sure there aren't any other tamper signs, such as the perforation tabs being removed from the base of the box, glue residue if they are replaced, and any other creases or tears.
Another thing to do is to only place the order through genuine sellers, such as Apple itself, a carrier, or a prominent retailer. While it doesn't guarantee it will arrive without interference from being in transit, it will at least mean a genuine Apple product will be dispatched from the retailer itself in the first place.
If all seems above board but the iPhone itself seems a bit wrong somehow, don't hesitate to contact either Apple or the retailer you bought it from.