Apple seeds third Mac OS X 10.6.5 beta with one known issue
By AppleInsider Staff
Thursday, August 26, 2010, 12:25 pm PT (03:25 pm ET)
Apple on Thursday seeded with developers the third beta of Mac OS X 10.6.5, its latest security and maintenance update for Snow Leopard, with just one known issue.

People familiar with the latest build, reportedly known as 10H531, said the lone issue is associated with VMware. Having it installed can cause USB devices to not work when the Mac is awoken from sleep mode.

Those same people said Apple has asked developers to focus on a few key areas for the latest beta, including iCal, Mail, USB Devices, QuickTime, Time Machine and 3D graphics. The delta update is said to be a 557MB download.

The latest beta comes just a week after the last build was supplied to developers. And the previous, first build arrived only six days before that.

Mac OS X 10.6.4 was released in mid-June, packing fixes for trackpads on Apple's notebook computers, and also addressing issues with Adobe's Creative Suite 3. It also included Safari 5, Apple's latest Web browser.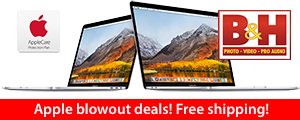 2018 13" Touch Bars
Price
Save
2.3GHz/8GB/256GB (Gray)
$1,649.99+
$150
2.3GHz/8GB/512GB (Silver)
$1,849.00+
$150
2.3GHz/16GB/256GB (Gray)
$1,949.00+
$50
2.7GHz/16GB/512GB
$2,449.00+
$50
2.7GHz/16GB/1TB
$2,849.00+
$50
2018 15" MacBook Pros
Price
Save
2.2GHz/16/256GB/555X
$2,099.00+
$300
2.6GHz/16/512GB/560X
$2,399.00+
$400
2.9GHz/16/1TB/560X
$3,199.00+
$300
2.9GHz/32/2TB/560X (Gray)
$3,999.00+
$700
tr class="model">
2.9GHz/32/4TB/560X (Gray)
$5,999.00+
$700
Click here for dozens more configurations
+ Free shipping within the contiguous U.S.
Lowest Prices Anywhere!

13" MacBook Pros
Price
You Save
3.1GHz/8GB/256GB Gray
$1,679.00
$120.00
3.1GHz/8GB/256GB Silver
$1,704.00*
$95.00
3.1GHz/8GB/512GB Gray
$1,849.00*
$150.00
3.1GHz/16/512GB Gray
$2,099.00
$100.00
15" MacBook Pro
Price
You Save
2.8GHz/16/256/555 Silver
$2,199.00*
$200.00
2.8GHz/16/256/560 Gray
$2,299.00
$200.00
2.9GHz/16/512/560 Gray
$2,599.00
$200.00
2.9GHz/16/1TB/560 Gray
$2,999.00
$200.00
3.1GHz/16/512/560 Gray
$2,799.00
$200.00
3.1GHz/16/2TB/560 Gray
$3,899.00
$300.00

*

price with Promo Code:

APINSIDER

prices.appleinsider.com for more configurations