Apple's Mac Pro to sport modified Power Mac enclosure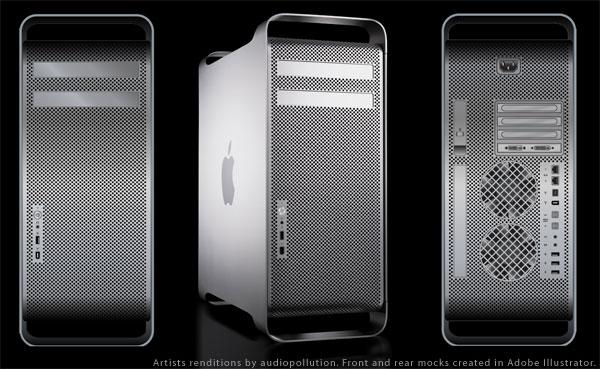 Contrary to published reports, Apple Computer does not plan to introduce new enclosures alongside its first Intel-based Mac Pro desktops and will instead employ only slightly modified Power Mac G5 casings, AppleInsider has learned.
The current Power Mac G5 enclosure — first detailed by AppleInsider back in June of 2003 — is believed to be well suited for Apple's first Intel-based professional desktops due to the similarities in size and shape between the new Mac Pro logic-board and the one presently shipping in the Power Mac G5.
People familiar with plans for the next-generation Apple desktops say there appear to be only a couple of cosmetic differences between the Mac Pro and Power Mac G5 casings, specifically the addition of a second optical disc drive slot on the face of the Mac Pro.
In a move that is somewhat reminiscent of recent Windows PC designs, Apple also appears to have relocated the computer's power supply from the base of the unit up towards the top, those same people say.
The additional optical disc drive slot and bay are likely to ship empty in the first Mac Pros, which will allow users to adopt emerging but pricey high-definition DVD drive standards, such as Blu-ray and HD-DVD, at their discretion.
Artist rendition of Apple's forthcoming Mac Pro desktops, click for larger image.
Sources previously reported that Apple has chosen Intel's relatively new dual-core Xeon 5100 (Woodcrest) series of processors to power the next-generation desktops, and that models will be available in both single and dual processor configurations.
Since AppleInsider's report on the subject, an unauthenticated Mac Pro product specifications sheet has been making the rounds, indicating that Apple may forgo inclusion of Intel's 3.0GHz Xeon 5160 chip in its three Mac Pro standard configurations.
The spec sheet, which was sent to several other Mac news sites, is being posted by AppleInsider purely for speculative purposes. Of interest, it suggests that Apple will return to using graphics chips from ATI Technologies within its professional Mac desktops, similar to a move the company made with the Intel-based iMac and MacBook Pro.