Apple to drop ship MacBooks for 47-store Best Buy expansion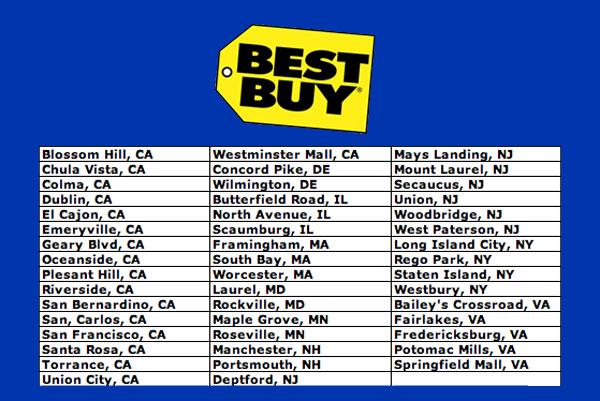 Exclusive: Apple Computer and Best Buy this week began final preparations to extend a pilot program, aimed at promoting Mac sales, to 47 Best Buy locations nationwide, AppleInsider has learned.
The expansion, which builds upon an initial test pilot of approximately six stores, is due to roll out the week of Nov. 26 and include 17 stores in California, 7 in New Jersey, 5 in Virginia, 4 in New York, 3 in Illinois and another 3 in Massachusetts.
Each of the stores is due to receive a full array of Apple hardware, including desktop systems, notebooks and displays. Stores will also stock a select array of Apple software, as well as Apple accessories like notebook bags, power adaptors and connectivity cables.
Best Buy locations participating in the program should start receiving inventory of Apple products through their distributor over the next two weeks, people familiar with the program say. The exception being 13-inch MacBook notebooks, which Apple will drop ship to each Best Buy store on its own in order to assure ample product flow throughout the holiday shopping season.
Apple has asked that Best Buy locations keep their new Mac inventory under lock until a team of Apple personnel arrive on site later this month to help set up special in-store displays. Each store will feature a newly designed planogram (or product display) that feature specifically assigned placements for each Apple product.
"Best Buy and Apple have been working together for some time on a partnership. It makes sense to put a very successful brand of computers in the most successful national retailer," Best Buy told staff members in a memo earlier this week. "One of our goals with Apple is to become the partner of choice with them versus having them team with one of our competitors. We will prove to Apple that Best Buy is the best place and has the best sales people to sell their products."
People familiar with the program say approximately half of the stores will employ Apple Solution Consultants (or ASCs), which are dedicated sales consultants hired and paid for by Apple. The other half will be allocated an additional 25 hours per week of staff assignment from Best Buy's PC Home Office sales team.
Best Buy store listings for expanded Mac pilot
Beginning this week, the electronics retailer is making available five distinct e-learning courses to help its staff become acquainted with Apple's product offerings. It is encouraging that all staff members complete the courses, but requires that only one employee from each store complete all five and become an "Apple Expert" ahead of the Nov. 26 program expansion.
"We understand that these will be difficult to complete during the busy month of November, but it's very important that employees know the Apple product prior to this launch to ensure a successful holiday season," the retailer told employees.
According to those familiar with the program, Best Buy in February will ask stores that do not feature an ASC to elect a member of their sales team to fly out to Cupertino, Calif., where they'll attend an extensive training session at Apple's headquarters.
In addition to offering a vast array of Apple products, the 47 Best Buy outlets joining the Mac pilot program will also be authorized to service and repair Macs, those same people said.
Apple originally announced that it would be expanding the Mac pilot program at Best Buy during a quarterly conference call with analysts last month.
In research reports released earlier this year, analysts said a full expansion of the program to Best Buy's 900+ locations could generate as much as $400 million in additional Mac revenue each year.
Apple is also evaluating a similar pilot program at a handful of Circuit City stores, but thus far has not provided any feedback on that initiative.