Apple seeks patent on radio-transparent zirconia CE casings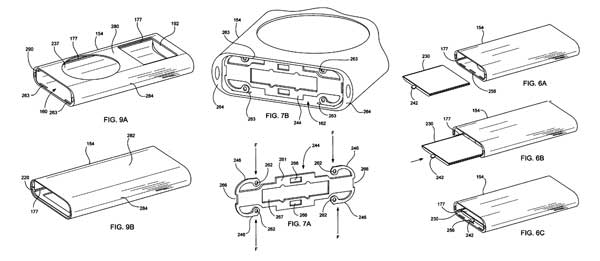 AppleInsider is supported by its audience and may earn commission as an Amazon Associate and affiliate partner on qualifying purchases. These affiliate partnerships do not influence our editorial content.
Apple Computer in a new patent filing discloses that it has been experimenting with consumer electronics casing designs comprised of radio-transparent ceramic materials such as zirconia, which would allow wireless signals to pass through the enclosure and potentially enhance transmissions.
In the August 7, 2006 filing, published Thursday by the United States Patent and Trademark Office, the iPod maker said zirconia — often used to replicate diamonds for costume jewelry — offers advantages over other materials, such as aluminum, in that it is structurally strong, stiff and radio transparent.
"This is especially important for wireless hand held devices that include antennas internal to the enclosure," Apple said. "Radio transparency allows the wireless signals to pass through the enclosure and in some cases enhances these transmissions." Cermaics would also allow for a "a smaller and cheaper antenna may be used" which could be "integrated with other components and placed at almost any location within the enclosure," making devices smaller and reducing manufacturing costs.
Other reasons for using ceramics cited in the filing are that they are highly scratch resistant, have color embedded in it (no paint or coatings), can be made into a wide variety of colors, and provide a variety of surface finishes including smooth and rough. Additionally, the Cupertino, Calif.-based company said the density of ceramics is typically higher than other materials, which would make for heavier electronics devices that feel more robust and exude greater quality.
In the filing, Apple noted that ceramics have been used in a wide variety of products, including electronic devices such as watches, phones, and medical instruments.
"In all of these cases, however, the ceramic material have not been used as structural components. In most of these cases they have been used as cosmetic accoutrements," the company said. "It is believed up till now ceramic materials have never been used as a structural element including structural frames, walls or main body of a consumer electronic device, and more particularly an enclosure of a portable electronic device such as a media player or cell phone."
Apple added that zirconia casing can be applied to a handheld computing device, cell phone, or iPod digital music player, and could come in a variety of colors including white, black, navy blue, ivory, brown, dark blue, light blue, platinum, and gold. "The colors may for example be created by adding doping materials to the ceramic material," it wrote. "Other materials may also be added including Yttrium, which helps keep the crystalline structure intact across all temperatures especially for maintaining strength as the part cools down."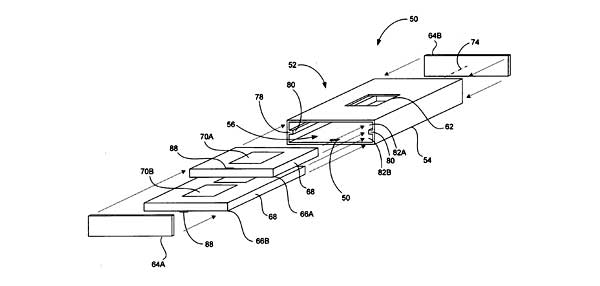 In some cases, Apple said it may be necessary to applying a protective coating or protective features to the outside of the ceramic enclosure. "The coatings or features may for example be formed from deformable materials such as silicon, foam or rubber materials," the company said. "The coatings or protective features are typically positioned on the exterior surface to prevent cracking and protect the ceramic shell from undesirable forces as for example when the ceramic shell is dropped."
Also covered by the filing are methods of manufacturing a consumer electronics device with the said enclosures. One method "may include extruding a tube, cutting the tube to a desired length, forming one or more access openings in the face of the tube, inserting a user interface assembly into the tube, and thereafter locating and supporting the user interface assembly behind the access openings."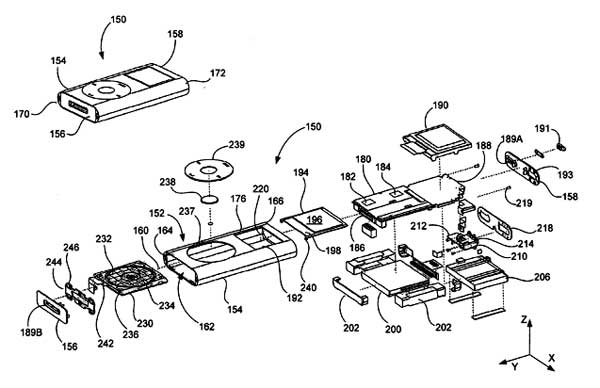 "The ceramic material may be in a form ready for forming or it may be in a raw state," Apple said. "If in a raw state, raw material processing is typically performed to ready it for forming. For example, a co-precipitation method may be performed in order to produce Y2O3 stabilized zirconia."
Although not shown in the filing, the iPod maker said internal components of some of the described devices could include support for FM, RF, Bluetooth, and 802.11 wireless frequencies.
"In one embodiment, the device is or includes functionality for supporting cellular or mobile phone usage," the company said. "In this embodiment, the device includes processors, transmitters, receivers, and antennas for supporting RF, and more particularly GSM, DCS and/or PCS wireless communications in the range of about 850 to about 1900 MHz."
The filing is credited to Apple employees Stephen Zadesky and Stephen Lynch.