Luxpro seeks $100m in damages from Apple over iPod shuffle knockoff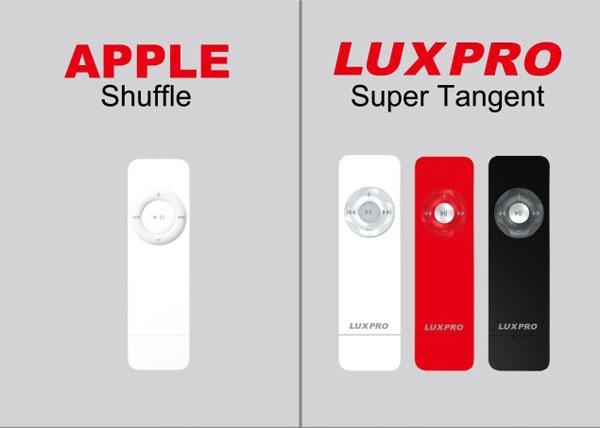 Luxpro Technology, a digital media player manufacturer which successfully defended a lawsuit from Apple Computer over an imitation iPod shuffle, said Wednesday it now plans to countersue the iPod maker for $100 million in damages.
In March of 2005, the Taiwanese company created quite the ruckus when it began showing off a near carbon copy of Apple's first-generation iPod shuffle during the CeBIT technology show.
Luxpro originally called the player the "Super Shuffle" but upon making the device available for sale changed the name to "Super Tanget." Nevertheless, it was nearly identical to Apple's original flash-based player in size, shape, color and weight.
The abridged version of the ensuing story is that Apple filed suit four months later in a Shihlin District Court. The court ruled in Apple's favor, granting an injunction that barred Luxpro from selling the iPod knockoff.
Luxpro then appealed to a Taiwan High Court which reversed the decision. The tennis match ensued, with Apple filing its own appeal to the Taiwan Supreme Court. Apple lost that round as well, and the original inunction was eventually lifted.
"Taiwan has a very sophisticated electronics technology, and we can't just let a multinational corporation take advantage of its market force to put down Taiwan's industry at its will," said Luxpro Chairman Wu Fu-Ching.
The Taiwanese company now says it plans to file a $100 million compensation suit, which seeks damages from Apple's "continued and illegitimate provisional disposition motion" that prevent sale of its products over the last 18 months.
A full copy of Luxpro's press release on the matter — title "David vs. Goliath: Apple Computer Inc. Loses Lawsuit, Luxpro Technology Files US$100 Million Compensation Claim" — can be seen in its entirety, below.