Apple to re-enter the sub-notebook market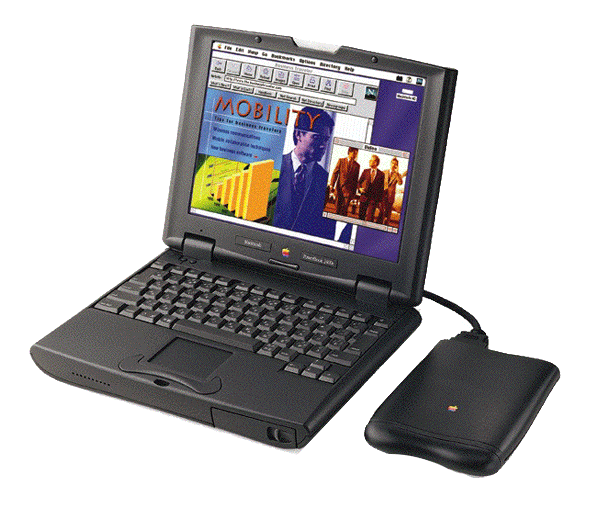 AppleInsider is supported by its audience and may earn commission as an Amazon Associate and affiliate partner on qualifying purchases. These affiliate partnerships do not influence our editorial content.
A tiny sub-notebook on its way from Apple Inc. is expected to re-establish the Mac maker as a leader in the field of compact computing while drawing parallels to the legendary PowerBook 2400 along the way.
It's been nearly ten years since the Cupertino-based company dabbled in the realm of sub-notebooks, but for a stint of several years in the early-to-mid '90s, its PowerBook series help set the benchmark for ultraportable computing as we see it today.
By introducing the PowerBook 100 in October of 1991, Apple pioneered innovations that are now de facto standards on all notebook systems, such as the rear placement of the keyboard, a palm rest for users to place their hands, and the inclusion of the trackball (which eventually gave way to the trackpad).
A year later, the PowerBook Duo was born. Extremely thin and lightweight for its time, the Duo was arguably one of the first true sub-notebooks for the masses. It packed a bare minimum of features, otherwise relying on a docking station for extra video memory, storage space, connectors, and connectivity to external displays.
But as the late '90s rolled around, the Duo had run its course and Apple as a whole appeared to have misplaced its focus on the sub-notebook market. At one point, it seemed the company was churning out new compact designs simply to discontinue them; the PowerBook 2400, one of the most adored Macintosh computers ever developed, didn't even last a year. It was overpriced, under-advertised and subsequently put to rest in March of 1998 — just ten months removed from its debut.
Although a revision to the PowerBook 2400 remained available for a little while longer in the Japanese market, for which it was partially conceived, it would never see a successor. It was around this time that Steve Jobs took back the helm at Apple. And while it would be unfair to say Jobs did not appreciate the innovations in the ultra portable space that preceded his return, Apple was in a dire state. There were bigger fish to fry, so to speak, and he likely saw little urgency in 'fixing' the company's sub-notebook troubles. Therefore, he shelved them.
So it's almost uncanny that Jobs, nearly ten years from the day the PowerBook 2400 first saw light, will revitalize Apple's footprint in the sub-notebook sector with a petite MacBook that promises to be everything a modern day 2400 should be, and much, much more. (Ironically, it also took the company nearly a decade to introduce a notebook that was more compact than the original PowerBook 100. The Titanium PowerBook G4 introduced in 2001 measured 127 cubic inches compared to the PowerBook 100's 168.)
The Apple PowerBook 2400 with its external floppy drive.
This new tiny MacBook, people familiar with the project say, remains in development ahead of its target launch date around the time WWDC rolls around mid-year. It will be both lighter and more compact than any other Mac portable Apple has put forth in recent years, bundling a display of similarly smaller proportions.
Also setting the new model aside from its existing counterparts, those same people say, may be the conspicuous absence of an optical disc drive. Although Apple's original plans for the notebook called for its inclusion, reports are that the daunting ergonomics have recently driven company engineers to make a concession, forming yet another parallel between the new notebook and the defunct PowerBook 2400.
At the same time, the new MacBook model is expected to introduce some features not yet available with Apple's existing notebook offerings, such as onboard NAND flash. Plans reportedly call for the notebook to be the first of the company's MacBook offerings to utilize the solid-state memory in order to improve power efficiency and facilitate near instantaneous boot times. This feature, however, had not been frozen upon last check.
For Apple, the pint-sized MacBook should do more than just fill a niche in its notebook arsenal. In fact, management is hoping the new model will strike a chord in Japan, where consumers have a near-fetish for compact, cutting edge electronics. Hopes are also that the system plays its part to offset some of the declines adversely affecting the region's home computing market.

Apple's performance in the Japanese sector, despite being on par with industry-wide trends, has been an undeniable sore spot as of late. Sales of Macs were down some 14 percent year-over-year for the company's first fiscal quarter of 2007 ended December. Revenues in the region slipped even further, down 20 percent.
"The market in Japan is among the weakest in the world," Apple's second in command, Tim Cook, told analysts during a recent company conference call. "However, having said that, we're not pleased with our performance there and we've got a number of activities underway to attempt to improve them."
As a first order of business, Apple got cracking on localized versions of its "Get a Mac" television ads, which were warmly received by both Japanese consumers and the local media. And while those spots are helping to restore the Mac in the nation's public consciousness, it'll be the MacBook mini that truly gets the ball rolling in Japan once again.