3G iPhone could arrive overseas by early 2008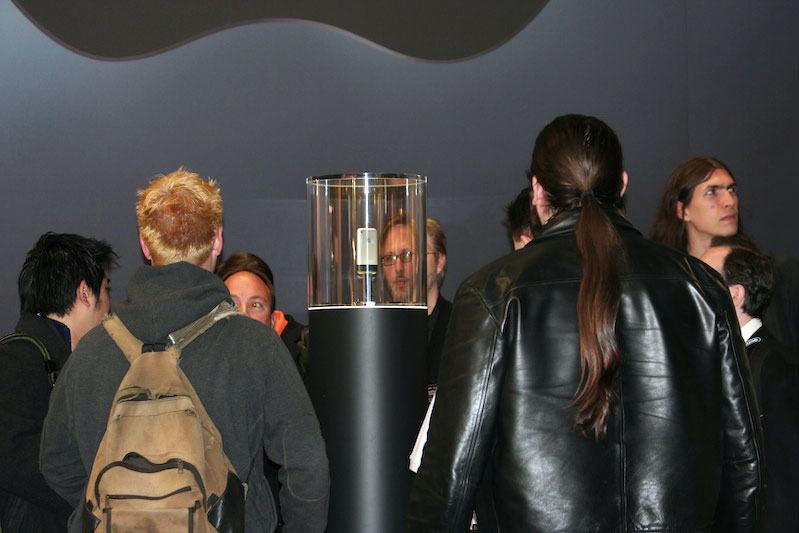 Even though its vanguard cellphone isn't yet out the door, Apple is allegedly preparing a quick follow-up model with 3G wireless installed.
After threatening to drop a large-scale cellular service contract based on concerns that it would lock itself out of a trade-up to the iPhone, a Swedish firm has received assurances from its liaison at the provider that the coveted gadget would arrive as soon as September — and, startlingly, that a version of the handset with 3G (third-generation) wireless Internet access would be in the provider's hands as soon as January of 2008. The contact at the carrier was especially confident, sources said.
If true, the new model would signal a revision to the iPhone just seven months after its slated June 2007 launch. It would be an even quicker response for European customers, who were originally told not to expect the Apple candybar phone in any form until late this year.
Apple hasn't been especially shy in beating the drums for its long-term 3G plans, as Apple chief executive Steve Jobs himself mentioned 3G in his Macworld keynote and later had his story backed by Cingular (now AT&T) distribution chief Glenn Lurie.
Most cellular-based Internet access in the world today, including the AT&T EDGE network which the iPhone will first use, is considered second-generation (2G). Few would mistake 2G-level wireless for a truly fast connection. Downloads typically crest at a few hundred kilobits per second even under ideal conditions; uploads are regularly far worse, frequently hovering around just above dial-up access.
3G ultimately amounts to the addition of extra channels on a cellphone network to boost those anemic speeds, particularly in terms of uploads. Where downstream access rarely exceeds 800Kbps on present 3G networks, upstream levels are a much healthier 400Kbps. The technology smoothes out wrinkles in mobile Internet access that make some tasks impractical or even impossible on 2G networks, such as uploading large photos in e-mail attachments or video messaging.
Apple's choice of cellphone networks would obligate it to use a particular form of 3G known as High-Speed Download Packet Access (HSDPA). At first, this would seem to be something of a misstep: the standard has barely lifted off the ground in the Cupertino-based company's home turf. Only a handful of US cities currently offer AT&T's particular brand of 3G to subscribers.
Attendees at January's Macworld Expo marvel over an iPhone prototype on display.
The situation was discouraging enough that Apple reportedly left out the technology in its inaugural phone due to the limited amount of HSDPA coverage in the country.
Thankfully, HSDPA also happens to represent Apple's best shot at selling the iPhone beyond American borders. In Europe, cheaper data rates and widespread 3G networks encourage Internet access from smartphones to the extent that many cellphone giants lavish more attention on their phone lineups for that continent than anywhere else. Nokia's range toppers, for example, are often badged as "multimedia computers" rather than cellphones.
It remains to be seen whether or not Apple will add any features to the Euro-friendly version. Most 3G cellphones outside of North America ship with front-facing cameras for video calls, but those phones released in the US (such as AT&T's BlackJack) have typically gone without added features beyond the extra speed.